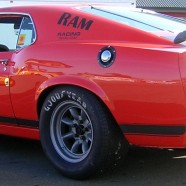 May

21
Tags
Related Posts
Share This
The Ultimate Muscle Cars ? Historic Trans-Am at Infineon May 09
With their pony car lines and brutal, utilitarian, race preparation, these Trans-Am cars are, IMHO, amongst the finest looking post war tin-top cars ever designed. Especially appealing to us Europeans is the fact that they were designed for road racing, so are able to corner and stop, rather than only be able to impress over a standing ¼ mile.
The Trans-Am series was at its zenith in the sixties and early seventies, attracting Formula 1 and Indianapolis caliber drivers – Mark Donohue, Sam Posey, Panelli Jones, Dan Gurney and George Follmer. Engines were small blocks, limited to 5 litres / 302 cubic inches; in race spec they produced 400-450hp.



Top drivers, muscle cars, a legendary racing series, sidepipes and minilite wheels….yes, for me, these are the Ultimate Muscle cars.
More pictures here, and archive film below: