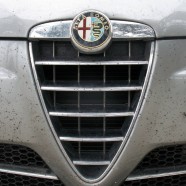 Jul

12
Tags
Related Posts
Share This
At the Targa Florio
Sicily stands apart from the Italian mainland in more than simply geography. Always strategically significant, Sicily has experienced a continual stream of invaders over the past few thousand years, each leaving their own distinctive layer. There are spectacular Greek and Roman ruins, and in Palermo Norman and Moorish influenced churches alongside the single most impressive piece of Facist architecture I have seen outside of Rome's EUR; walk another few hundred yards and there are buildings unrepaired since the bombing of WW2. Browsing in a Palermo flea market, in amongst the old televisions, floor cleaners and porcelain ornaments were Nazi relics. Badges from uniforms, stamps and ashtrays, one with a map of the Greater Germany in relief. Truly, Sicily is cultural smelling salts.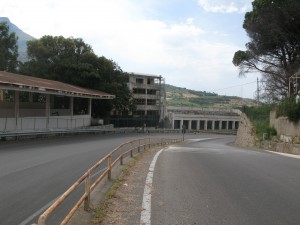 Sicily's motoring heritage equally is equally layered – at the same time as Indianapolis was first being run, and Hugh Locke-King was opening Brooklands, the world's first paved banked motor racing track, just outside London, at the other end of Europe Count Vincenzo Florio, a Sicilian nobleman, decided to create a his own motor race. Originally a full lap of the island, the Targa owed more in conception to the Gordon Bennett city to city races of the first few years of the century, than it did to the purpose built circuit racing which would come to dominate the twentieth century. Always slightly wild and something unto itself, the Targa was an epic test of man and machine, best described as a tarmac rally in twenty first century parlance. The course changed over time, and for much of its life the Targa used the Piccolo Madonie course, a 44 mile loop running along the coast, then running inland and winding up into the mountains.
To drive today, the Targa is an astonishingly pure experience. The Piccolo Madonie course is almost completely preserved. Only the coastline straight is disfigured by modernity – now, like in period, this is the only place to rest on the lap from the continual stream of corners. There's a new Autostrada been built which bisects the course, and all but local traffic uses it, leaving the route quiet, and clinging spectacularly to the mountainsides, it's surface gently subsiding in places, potholed and graveled in others. It was quiet enough for me to feel I understood something of what Nuvolari and Varzi felt, quiet enough for me to try much harder than one ever should on the public road – harder than I had at the Nordschleiffe.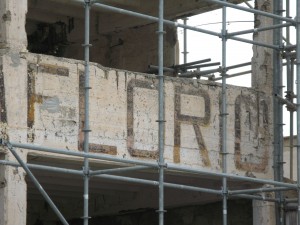 I had a 130hp Alfa 147 turbo diesel. It was a bit cheap inside ( I think I have maybe said that about modern Alfas before ! ) and developed an off-putting squeak at the front end in the time I was using it, but it was willing enough, and I liked the styling and its spirit – every time you sit in an Alfa, there are elements of the design which make you feel just a little special, it is as if even when trying to turn out a Kiyundai, the Italians cannot help but imbue it with sexy looking seats and a nose which is a work of art. My wife was stunned when I had turned down a BMW for the Alfa – but to me, it is the Italian idiom to work a little car hard.
For years, I have read of the "offset Italian driving position" but only in Rome Airport, picking up the 147, had I experienced anything this extreme. Naturally, my right foot hovered between clutch and brake, my left in a void. But on the Piccolo Madonie, all you need is second and third gear. You sit hunched up against the transmission tunnel, always ready for the next shift; with those hills and no power, keeping the engine spinning up is key. Then I had an epiphany – the pedals aren't offset at all – they are just right for thrashing up and down Italian mountainsides…..
And that really is the headline at the Targa – hunting between second and third gear, soon picking up the circuit's rhythm, with successive lefts and rights dropping you downhill into a little valley with a narrow bridge, followed by a climb up the other side of the valley with a similar series of lefts and rights. It is hypnotic, and it goads more speed out of you. Following the locals does that too. For half a lap, downhill towards the coast, I followed a guy scraping the pegs on a Honda Hornet, and began to learn not just the racing lines, but also where I could count cars.*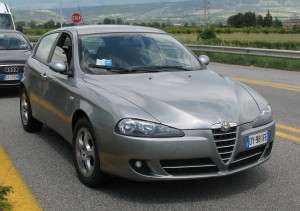 As I began to learn sections, I realized the truth of Vic Elford's words, in the video, below – it is all about carrying speed where you can – knowing where you can use the full road width and making sure you look ahead at the right time, remembering which bridge has the especially narrow entry with a high kerb, which sweeping corner tightens and has a liberal covering of gravel on the exit. By the afternoon, I found I could take fourth on some of the short straights, invariably terrifying myself at the next corner, and I was no longer being caught by any locals, even the bikers.
Le Mans may be more well known, the Carrera Panamericana tougher, and the Mille Miglia more of an all round challenge, but nowhere else did the corners come so thick, so fast as at the Targa, and nowhere else can one drive so deeply in the wheel tracks of the greats, and really feel something of what they felt. My advice is go and drive it now, before the surface breaks up too badly for you to be able to do any sort of speed. Slideshow
*On a twisty, familiar piece of road, it is sometimes possible to look several corners ahead and see if there are cars coming, counting them as necessary, or noting the last car before a gap, enabling one to overtake into oncoming traffic around blind corners.