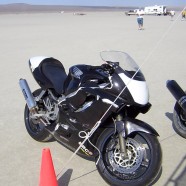 Nov

03
Tags
Related Posts
Share This
El Mirage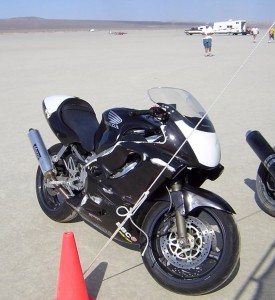 When John Cobb and George Eyston dueled at Bonneville, trading the Land Speed record in the late thirties, and pushing it from barely 300 mph to nearly 400 mph, it took days to send back to San Francisco for parts if required. We face a similar issue with Bonneville – to visit, and to be sure of time to run despite the weather – requires significant time off from real life. The drive alone is nine hours each way. El Mirage, on the other hand, is only an hour or two from The Fabricator's base in Los Angeles. The difference is here is a trip which can be accomplished in a weekend for me from San Francisco. Thus in recent months we have looked to run out at El Mirage.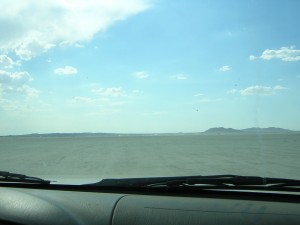 El Mirage is out in the desert east of Los Angeles. It too is a dry lake bed, about 10 miles outside the town of El Mirage, but the brown sand is nowhere near as picturesque as Bonneville's salt. The unremitting hostility of the weather is similar. It has a Land Racing heritage every bit as rich as Bonneville's – in the fifties, the early hot rod guys used to come out here with their belly tank specials.
We have a track specific bike, a '99 Honda CBR600F4 ( A Learning Experience ) so it seemed sensible to use it for practice and familiarization, instead of further chewing up the Gixxer. Our thinking is that by the time we are confident extracting the maximum from the CBR ( perhaps 160mph ? ), we may have encountered a Land Racer ready to part with a Hayabusa. After all, why re-invent the wheel building our own bike ? It would seem much easier simply to buy a bike we already know is capable of 200mph. The sport is terribly informal, grass roots, and participants friendly. At an event last year we got talking to a couple in their seventies with two Hayabusas, one nitrous, one turbo. Both had run at over 200mph. Both had custom bodywork made of carbon fiber. The quality of workmanship was impeccable – infact, it was military grade, since the guy used to make the carbon fiber bodies for cruise missiles…..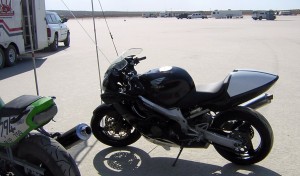 There are about half a dozen events at El Mirage each year, beginning in the spring and ending in the autumn. We attended a couple during 2009, but weren't able to run due to failing scrutineering. Even in a production bike class, organizations like the SCTA who put on events at El Mirage insist on metal valve stems and a metal chain guard, even though most OEM chain guards are plastic. The SCTA issue a rule book; more fool us for not reading it thoroughly. One weekend, we drove out there only to find the whole event was cancelled, due to flooding. Yes, that would be flooding in the desert – on the rare occasions when it rains, the water drains off the surrounding hills to the middle of what used to be the lake, briefly making it if not a quite a lake again, then rather swampy right where the course is marked.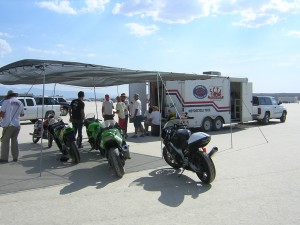 The CBR is now capable of passing scrutineering, so we await the arrival of spring, and with it the promise of 150mph+ on a loose dirt surface…..