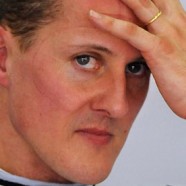 May

30
Tags
Related Posts
Share This
Single Minded Focus and the Formula One Driver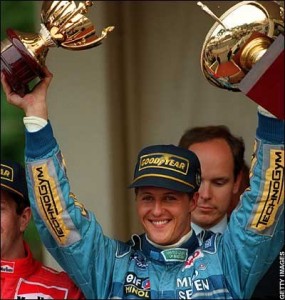 By coming out of retirement, as he did a few years ago, Michael Schumacher could only stand to lessen his reputation. Were he dominant again, people would have no different an impression of him than from before; were he to stumble and not win endlessly to the point of monotony his reputation of peerless invincibility – whether you liked him or not – would be gone.
Being Michael, and by definition remarkable, he came back anyway, in a Mercedes no less, and the Silver Arrow has indeed become tarnished. Michael himself, now 43, seems more relaxed than ever, and offered a remarkable insight at the recent Monaco Grand Prix. He was asked about good memories of Monaco:
"We always as a race driver, talk about the flow, being at one piece (sic) with the car, just getting everything perfectly right. It is very difficult to achieve. The first time I remember I had this was the qualie lap that I did in 94. It was just…….massive."
Why not put that qualie lap in some context ? This is but one weekend after two drivers have been killed, one the fastest and most complete driver on the grid, and hitherto Michael's main competition. A third driver, not only a fellow German, but one of two others who came through the Mercedes young driver program with M as a teenager, now lies comatose in hospital after a practice crash at the Monaco harbourside.
The Formula One God in the making puts those thoughts out of mind, to squeeze everything out of himself and the car for those eighty odd seconds it takes to get from the pits up the hill to the Casino, and then back down again past the Tip Top Bar, through the tunnel and around the Monte Carlo waterfront.
Michael made his comments and I drafted this piece before he put the car on pole for the 2012 Monaco Grand Prix. The Arrow may be tarnished, but that incredible, unholy ability to focus remains, and Bigad it is exciting to watch.
NB: I was delayed in watching the Monaco GP because I was busily catching up on Indianapolis 500 history, since ESPN were screening races from the sixties, seventies and eighties. Similarly exciting to watch and possessed with that same unholy focus was four-time winner A J Foyt, remarkable as the only man to win the Daytona 500, Indy 500 and Le Mans – the Blue Riband events in three top motorsport disciplines: stock cars, single seaters and sports cars, on a blend of high speed ovals and road courses. A blunt and often curmudgeonly Texan, the Le Mans win – coming at his first and only try – conjours an absurd comparison with Bentley Boy and De Beers owner, Woolf Barnato, who competed and won three times in three tries. Amusingly, Foyt described the Le Mans course as "a lil' ol' country road."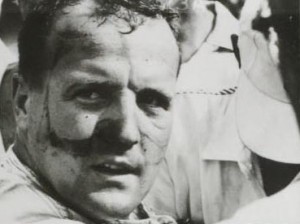 Footage from a Ford GT40 not disimilar from Foyt's winning car on the lil' ol' country road just south of Le Mans: