Jul

15
Tags
Related Posts
Share This
Imola Part 2: Summers on Spanish TV ?
One of the recent touches I have incorporated into my motoring travel is trying to stay in the hotels where drivers stayed years ago. Like method acting, I like to walk where they walked as far as possible, if that isn't too pretentious. Late one night I was surfing idly, wondering if Senna had had a usual hotel he stayed at in Imola. Well, apparently, he did. Its not in Imola, but the next town down the SS9 / Via Emilia, Castel San Pietro Terme. It is a nice enough hotel, surprisingly modest for a Formula 1 Champion, certainly not as "high end" as an American used to the Four Seasons might expect, on the outskirts of the town, with a decor stuck in the mid-nineties. Any doubts I may have had about whether I stay there were expunged by the fact that there was a Senna book launch and signing at the hotel on April 30. Moreover, Suite 200, where Senna spent his Last Night would be open. What would I find ? Who else would be there ? This I had to see.
Suite 200 and Spanish TV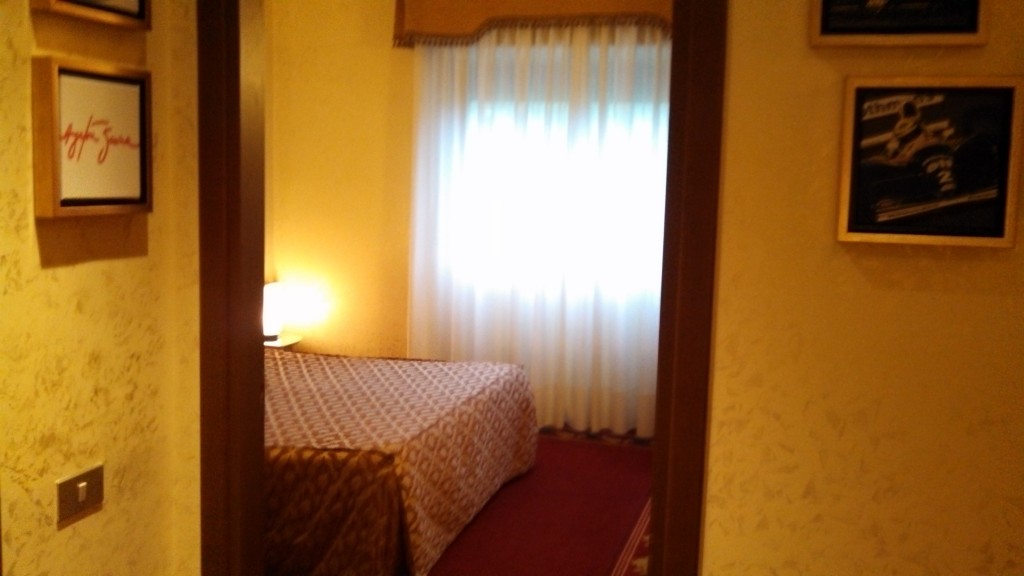 In the middle of Rome, near the Hard Rock cafe, is a church with a twist. In the basement, there is the tomb of the Capucin Monks. This equates to lots of monk bones. LOTS of bones, some on shelves, all the tibias on the left, and the fibulas on the right, others arranged in patterns. Piles of skulls. Loose teeth on the floor. There are complete skeletons of two of the nephews of one of the Popes, and it is just like the Slayer lyric "On My Wall Your Head". The overall effect is surreal and faintly macabre; above all, no one quite knows what to make of what they are seeing, or quite how to behave. And so it is with the Senna Suite.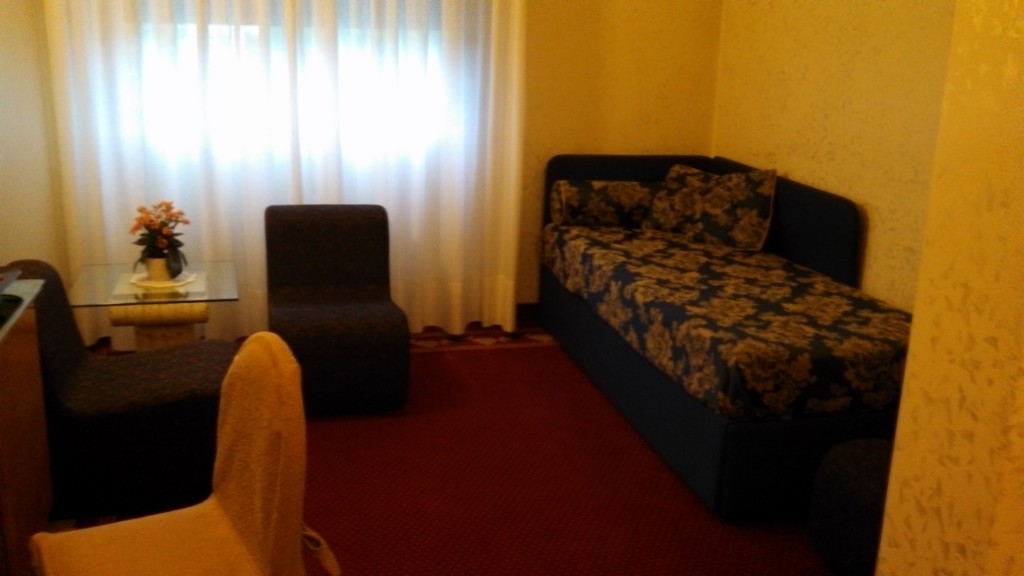 The room was a slightly better one than I had, having a sitting room which I was told was where He would have His massages. There were lots of mirrors and that nineties-rific carpet, decor and furniture. The room was opened up for me by an employee who has worked in the hotel for 22 years, so remembered seeing the Great Man, although nothing specific or memorable about him. She assured me the bed "was the one He slept in" , and I saw relief in her eyes when I responded "Bloody hell, that is odd, do people ask that ?????" Apparently they do, apparently people request to sleep in the bed.
The room itself is staged, with photos of Senna in McLarens and Williams in the little entrance way. So it isn't "as it was on his Last Night". There's a Guest Book ( in a hotel room !?! ) ; attempting to process what I was experiencing, I sat down to write. At that point three guys showed up, obviously a TV crew, camera, sound and the front-of-camera journo. I was about to stand up and step outside when they said "No, stay there and keep writing, we'd love to film you Signing The Guest Book." We got chatting, and the journo told me "....we work for one of Spain's top channels, this should go out on the evening news tonight…."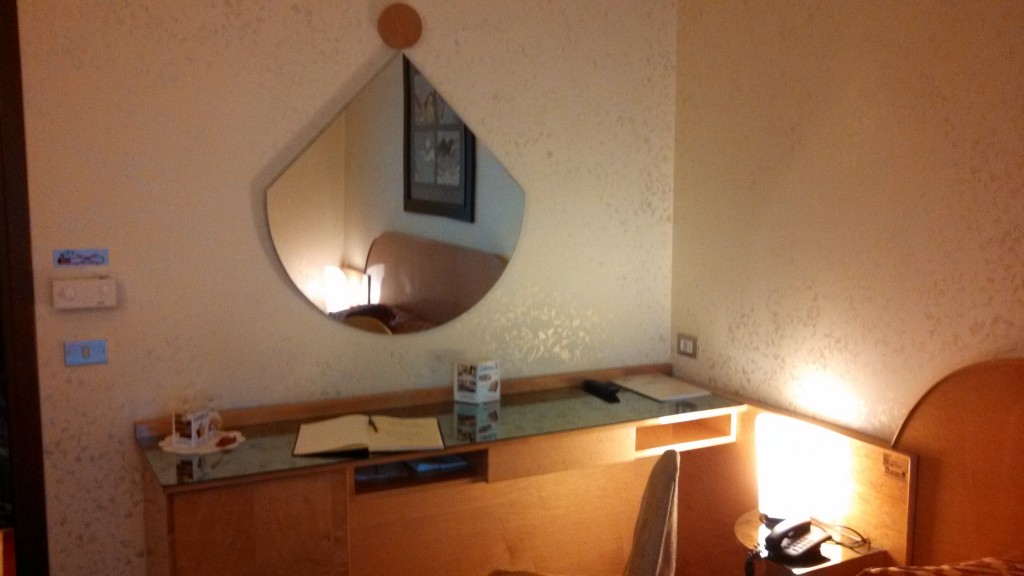 So did millions of Spanish eyes see me hunched earnestly over the Guest Book ? Who knows, Senna and I may have just ended up on the newsroom floor because there was a "better" story. I can't even remember what I wrote in the Book, I was so stunned: by my presence I had become part of the staging of the room, and hence part of the Myth of Senna.
[Booking the hotel is easy, and it is very reasonably priced, although the in house dining, Restaurant Willy, is perhaps best avoided. It was probably available in 2004 but I wasn't aware of it then]
What better measure of Senna's capture of the contemporary zeitgeist ?