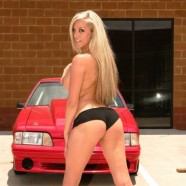 Oct

07
Tags
Related Posts
Share This
Flawed Icons of Americana: 1987 "Fox" Mustang GT
Tulsa, Okla
10th April
Mr. Henry Ford
Detroit Mich.
Dear Sir: —
While I still have got breath in my lungs I will tell you what a dandy car you make. I have drove Fords exclusively when I could get away with one. For sustained speed and freedom from trouble the Ford has got ever other car skinned and even if my business hasen't been strickly legal it don't hurt anything to tell you what a fine car you got in the V8 —
Yours truly
Clyde Champion Barrow
This letter was sent to Ford by Clyde of "Bonnie and Clyde" 1930's public enemy folklore, and was written not long before the law made sure there wasn't breath in his lungs. When I visited the Henry Ford museum, it sat in the first hall in a glass case right alongside Eisenhower's Presidential limo and the red Ford MkIV Gurney and Foyt used to win Le Mans in 1967. It is considered by museum curators to be a critical part of Ford's history, because, in this letter, the history of the Ford Motor Company is infact the history of the USA. Ford delivered not one, but two miracles: mobility to the masses with the Model T, and to America he also delivered the cheap V8.
Amen. Because what a gift that was. I grew up in England driving ten year old Fords – my Father tacitly agreed that "for sustained speed and freedom from trouble…" European Fords did indeed have "…ever other car skinned…", and on the face of it, my 1987 Fox Mustang GT is striking similar to these Europeans, at least in parts bin details. It has door handles from my first car, an '81 Cortina 1.6; dash board like my parent's '77 Ford Fiesta; shift knob like Escorts. But while all these cars had aneaemic inline 4 cylinders of less than 2 litres, producing between 50 and 100hp, the Mustang has the famed 5 litre V8, and this gives the car a character, a loudness, an over-steering swagger, gobs of torque and a dose of speed which makes it as different from the automotive crapola of my youth as Texan Cheerleader is from a Torquay Pensioner. The animal V8 makes this something more than merely a cheap car, it makes it a complete, sensory experience, and one which is merely enhanced by a quarter century of abuse – the interior reeks of adrenaline, fear, fun.
There is so much car here, in terms of driving experience and yet mine is such a raggled, worn example. It is similar to a black '83 Ford Capri 2.8 Injection I bought despite a breakdown on the test drive, awful but somehow awesome at the same time. My choice wasn't for want of looking. Most cars at my price point – $2k – seemed to be in primer black. One ad even showed photos of the car doing a burnout, which gives a fair impression of the mindset of the vendors I encountered.
Buying
I eventually settled on a car in East L.A. It was a bit of a trek to get it, and I used a one way rental for the leg to LA. Having test driven, and agreed a price, I then had the seller – 18, Mexican, at Wyotech studying autoshop -"my Dad will be glad I am getting rid of it, he says I spend too much money on it…." – follow me to rental return spot, which happened to be Disneyland in Anaheim. Finding the rental drop off proved challenging; Disneyland was thronged with annoying slow moving people; impatient, I U-turned where I wasn't allowed, crossing the corner a small lawn/flower bed; gamely, Jose tried to follow, but was waylaid by Disney brown shirts. I left him and my new purchase to them, dealt with the rental, and returned to the tyre scarred lawn to find the hubbub quieted, and an agreement in force stating that we were allowed to leave on the condition that "this Mustang never comes back to Disneyworld". Amen to that.
Driving
One of the other ads I perused, for a primer black car in Fresno, described the car as a "beast" and that really is the word here. Compared to a 2001 example I own, the '87 is much cruder and rougher. Interior trim is greasy and tired, collapsed seats, windows rattling in brittle, cracked door rubbers. The idle is uneven, the exhaust holed. There's no stereo, the blower is feeble, and critically there is no traction control or ABS. Just you, the crude chassis and the V8. "Be careful", the Fabricator warned "….that fu**er will swap ends on you so fast…." – sage advice indeed. Like me, it loves the open highway – achieving 25mpg+ rolling at 65/70/75mph, with more torque than the 01 so it is actually better to drive at these speeds. Like me it becomes irritable and hot in traffic, and the clutch, heavy and sharp at the best of times, judders. Brakes are good for one meaningful press, beyond their performance tails off. In that respect, it needs to be driven like a sixties muscle car, looking a long way ahead, using the brakes and transmission to slow the car.
One always learns more about an old car as one drives; wipers are activated not from the stalk, but a switch on the base of the column. And some juggling of the lock barrel. Lights, interior and exterior headlights and spotlights are a creepy green. Some 4000 miles in, I realized the ignition key was mere play acting. Turn the lock barrel, and it will fire up, whether the key is in the ignition, your pocket or sitting at home. It leaks oil from the pan, a little brake fluid from a rear cylinder on occasion, and has a perrennial problem loosing oil from the transmission, which has resisted various half-hearted attempts at a fix, meaning there is typically a smell of burning around the car. I even bought a fire extinguisher. It has been fully functional for 5000 miles now: a little frightening, not terribly fast but oh so wonderfully engaging; if this Mustang is Conan the Barbarian, brutal, brawling, and womanizing, most modern cars are supermarket Customer Services staff, beige, timid, boring, so much more does the Mustang fill the definition of CAR.
Not so long ago I went to see Whitesnake, who of course had their zenith with the album 1987, and this car is craggy with hard living and experience, just like David Coverdale.
Love of automobiles tends to be wrapped up in our childhood or our teenage years: what we loved then, what we grew up around or dreamed of. I wrote more about this here, and certainly this goes a long way to explaining my feelings about this, the Best and the Worst car I have ever owned.
Nowadays you cannot move for people bleating about how teenagers don't care about driving anymore. Well, I have a solution: mandate that everyone's first car has to be a V8 stick shift Fox Mustang. I am sure teenagers would fall passionately in love cars and driving; interested as they may be in cell phone apps, the visceral, I-could-die-if-I-screw-up experience of a simple old car, that really is "keepin' it real".
Finally, when tyre kicking an E39 BMW M5 a few years ago, a salesman told me that "a better class of person owns the M cars…" well, I always thought that was sales patter, but driving a Fox Mustang, one can truly claim to meet a totally different class of person – these from one forum 😉
Somehow, I doubt Ford had this in mind when he launched his V8 in 1932…..