Sep

23
Tags
Related Posts
Share This
'71 Camaro – True Muscle
It is a noted fact that men tend to collect the cars they loved as boys. As a boy, I was hypnotized with the idea of muscle cars – American V8s with similar raw power to European supercars, but mass produced and correspondingly far, far cheaper, both when new and today. The Dukes of Hazzard's "crappy orange hot rod" – a 1969 Dodge Charger – represents the genesis of my interest.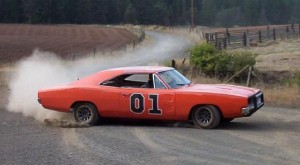 The 440 cubic inch V8 in the Charger was rated at 375hp, the same as the automotive porn gracing every European boy's wall during the seventies, the Lamborghini Countach. Nowadays, I often say to Americans that growing up in England, with all our under 2000cc, barely 100hp 4 cylinder econoboxes was like eating Vegan for the first thirty years of my life.
Ownership of the Countach has always needed a pretty healthy bank account; not so much the Dodge; in 1995, a 21 year old Jon Summers worked in the US for a summer, and there in the staff car park of the Six Flags theme park where I was working was a '70 Charger, in Plum Crazy, for just $3k. Such a car would be worth closer to $30k now, but I was surprised and gratified to find that true muscle cars can still be bought for less than the price of a service on the Lambo. Clearly one has to forgo shiny paint, and the Beyonce-beautiful voluptuous curves of the Charger, making do with something less loved by baby boomer collectors. My criteria was simple: pre-73, so free from any emissions and smog check worries, a V8 with manual transmission, and something I could actually test drive, as opposed to something needing work to move. There's a lot of choice out there for only $3-5k. The accepted definition of a muscle car is a mid-size body with a large engine option. Implicit in that is some crudity. I began to feel that it was the crudeness, the roughness which it was I was lusting after – the closer the car was to the Ford Falcon XB used by Mad Max, the more I wanted it.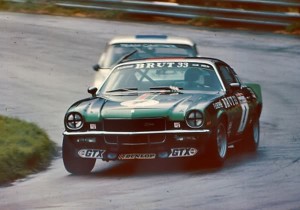 [Photo Credit: Alan Cox]
Which brings me untidily and ramblingly to Frank Gardner, British Touring Car Champion in 1973, the year I was born. The car he used was a generation 2, "F-Body" Chevy Camaro, a car never sold in Britain. A similar car, raced by TT Winner Stuart Graham made it onto my childhood bedroom wall, a cover from Motor Sport, in this marvelous Brut livery. The video at the bottom of the page shows an onboard lap of Oulton Park, in Gardner's Castrol car, with some amusing and understated commentary from – and shows just what an animal the car was. I had been, if you will, pre-sold onto F Body Camaros. Surfing Craigslist and ebay, I realized that due to their extreme commonness, values are weak; better still, most come with the immortal 350 ci Small Block Chevy, making performance parts cheap and plentiful too. Believe it or not, the same motor still powers not only many GM trucks and SUVs today, but also the Corvette, including the 645hp ZR1. Truly, then, the Heartbeat of America.
When looking at a potential purchase, I try so hard to be objective, to make the decision with my head, since usually my heart is sure of a direction once I have laid eyes on the prospect. In order to make a more balanced decision, the Fabricator came with me to tyre kick. I was attracted to this particular car because 350 had been taken out to a 355 and it already had a 5 speed transmission, allegedly "from an '86 IROC-Z" ; 4 speeds might be period correct but they make high speed cruising expensive and noisy. With it's thuggish bad guy looks the car fitted into the part of Torrance where we found it perfectly, right down to the LA Raiders sticker on the rear windscreen. It lurked under a tarp at the end of the guy's drive, and enthusiastically fired right up; inside, there was literally no cloth or vinyl and barely any plastic, no driver door glass, no instruments, no seatbelts…..just plenty of matt black steel, that V8 exhaust note, and the Mad Max look.
If I hadn't been sold when I first heard it fire, I definitely was on the test drive; turning right onto a quiet street 200 yards from the seller's home, the Fabricator gave it full beans in second; the torque threw me back in the seat, and burst the glove box open, with registrations from the 80's flying out the window, and broke the passenger seat back, leaving me in a newly reclining position, looking up at the roof, wondering exactly how far below asking price I was going to offer.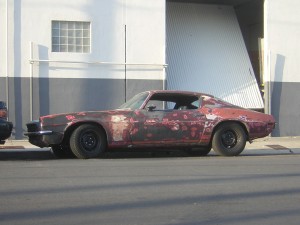 To drive, I was surprised how similar it is to my thirty years younger Mustang, although it has a lot more low end torque, and won't rev with the same enthusiasm. Despite the intimidating appearance, and peculiarities like a throttle pedal which is merely a broken stump, the controls are easy to operate. I don't often drive cars with manual steering racks nowadays, and the wide BF Goodrich rubber I put on it makes parking speeds a work out. There is also about an inch of play in the steering – first time I drove it on Interstate 10 across LA, I gave it plenty of giddyup down the on ramp, and so was doing probably more than 100 mph four lanes out when I realized that I had no idea how much input the steering required to get around the freeway sweeper I was approaching…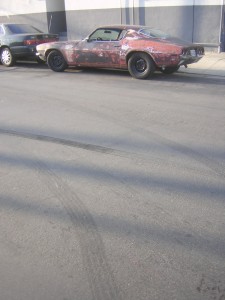 The amusing postscript of this is that through the Blackhawk Museum, I spoke to a fellow who does Concours judging for Camaros, and mentioned the steering, and before I could even finish he said "you need to expect an inch to an inch and a half of play, they were like that from the factory…."
No glass, no interior and a big V8 make it a hot place to be driving around LA. The heat pours into the cabin through the transmission tunnel, where the shift lever pokes through the naked steel. I love that you can see the road rolling by underneath, like a particularly rusty Cortina I had as a teenager where the floor had fallen out. It has always been a willing starter, however there is some challenge around the undersized battery it currently has, which means if it doesn't fire immediately, you have to find a battery booster. Best not to switch off at gas stations, in my experience. The most amusing part of the driving experience is the way other road users respond. I've never driven anything with a better "get out of my way" quality – if I fitted a flashing blue light, people wouldn't step aside any more swiftly.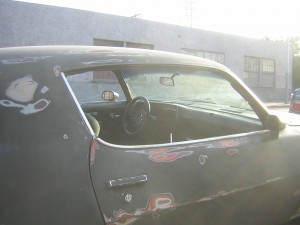 A VIN decode revealed that the car was built in the now-closed Van Nuys plant in August of 1970, a 350/3 speed manual , orange with a sandlewood interior – the absolute apogee of seventies cheese, especially with that swoopy styling – and an LA car its whole life. Strange to think of it rolling around LA as I was born, had my first day at school, watched the Dukes of Hazzard for the first time…..
I have friends in Venice, so the car has spent some time street parked there. The other day, a hipster dude came up to me, "hey, is that your car ? Me and my friends have been looking at it, and we think it is SO COOL. Is it a movie car ? What film is it going to be in ? It is SO minimalist, SO Mad Max, I just love it, you mustn't do anything to it, it has to stay just like that…."