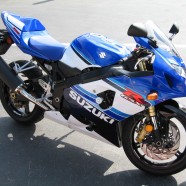 Oct

21
Tags
Related Posts
Share This
The Free Motorcycle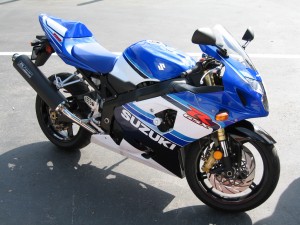 In September 2005 I went to see the AMA bike races at Fontana Speedway, in Southern California. Suzuki were having a big razzamatazz over twenty years of the GSX-R, their mould-breaking super sports bikes, and today the best selling sportsbikes in the USA. There was a competition to win a GSX-R Anniversary Edition. Entering involved writing a story about "an amazing experience you have had on a GSX-R". I knew at once I could win. My first bike had been a GSX-R. I had never tired of telling people it was the best money I had ever spent, the most fun you could have with clothes on. All that was required was to effectively communicate that passion to Suzuki's marketing team. My personal circumstances at the time were a powerful motivator: my wedding was right around the corner, and the pot of money I had religiously saved up to replace my woefully unreliable '78 Yamaha XS650 had all been spent on trivialities like engagement rings. I wrote and re-wrote the story, in response to the advice of friends, in order to be right on the GSX-R brand message.
Weeks passed after I sent in my entry, and I called Suzuki – I already had the names of people in the marketing department, since I had called to check some of the competition entry rules – " deluge of entries / still ploughing through / few weeks til we announce…." and that was that. Over the next few months, I was very busy with the rest of my life. I moved house, and a couple of weeks after the move I was back at the old place collecting mail. I thought to check answer machine messages too. One of the messages was from Kevin Schwantz, 500cc motorcycle World Champion in 1993, for Suzuki. He had called to let me know I had won. I had always believed they picked particularly excitable folk to appear on gameshows, the type of shout and jump around foolishly when they have won, but having behaved that way myself, I think it may be spontaneous.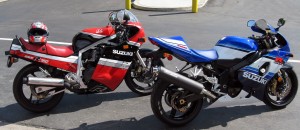 Suzuki would have delivered the bike to me, but since I live in California I offered to go to their offices in Los Angeles to pick it up. I have to say I was a little "shaken not stirred" when we arrived, having ridden pillion on The Fabricator's red and black original '85 Gixxer you see in the pics. We were a bit late in leaving, so needed to make up time. That, plus LA's bumpy freeways contrived to "make the front wheel very light" as The Fabricator put it. That is why I look a little wan and pale outside in the picture in front of the office building, and perhaps why I can't remember the names of the Suzuki top brass you see me shaking hands with in the pictures.
I am not one to read the Omens, but winning certainly seemed like an affirmation for where my life was going – a Blessing from the Gods of Speed, that although poor and soon to be wed, I would have the glorious, magnificent, irresponsible excess of a sportsbike, Amen.