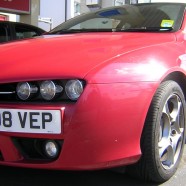 Aug

10
Tags
Related Posts
Share This
Alfa Brera at the Nurburgring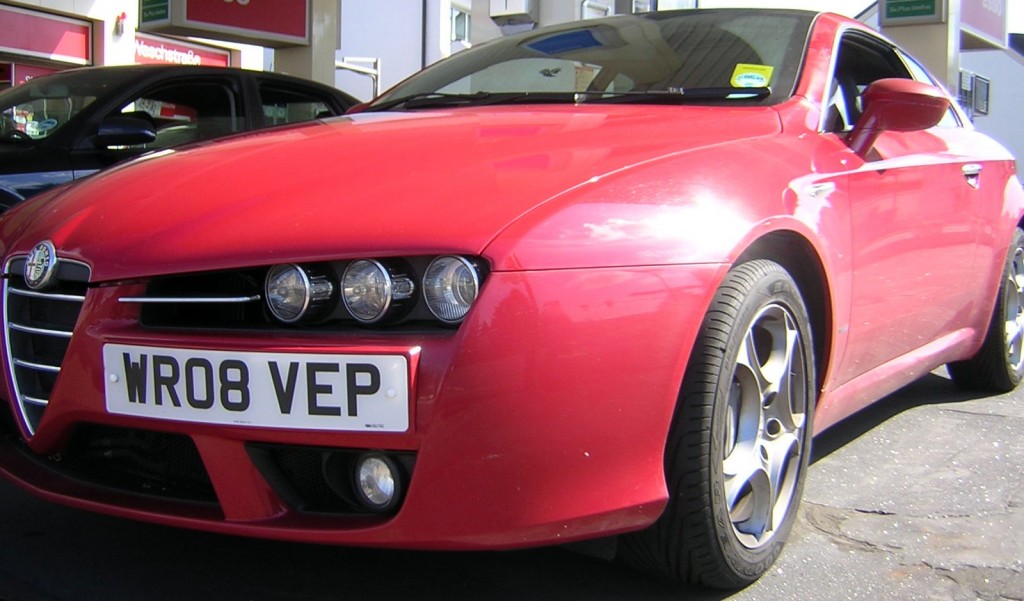 My steed for my first Nurburgring visit was a red Alfa Brera. If you've only seen the pictures, they look better in the metal. Jeremy Clarkson, he of Top Gear fame, and that wonderful spokesman for misogony, often says that one cannot claim to be a true car lover unless one has owned an Alfa Romeo. According to that criteria I pass muster; I owned a gun metal 80's Alfa 33, a 1.7. I fell in love on a Saturday morning test drive on the Worcester ring road. Despite rust on every body panel, and 80k on the clock, it would enthusiastically spin up beyond the redline, indeed it was unwilling not to wheelspin on damp roads – this enthusiasm was completely unlike the Ford / GM product I was used to, here was a car which seemed to understand me, it wanted to GO like I wanted to GO when I got into a car.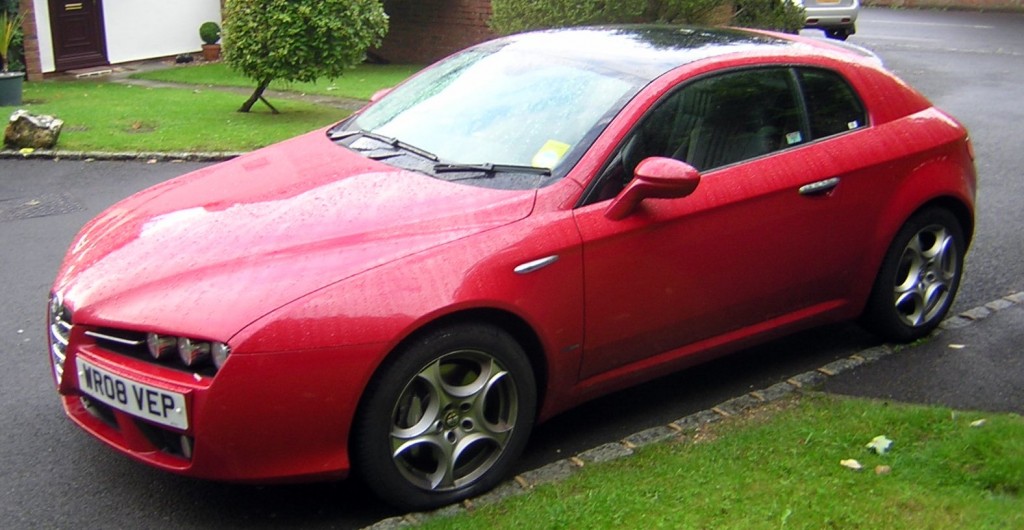 The Alfa Romeo myth is wrapped up with that of Ferrari. Before Ferrari built his own cars, he was Alfa Romeo Racing Team Manager. The famous Ferrari pracing horse graced the side of Alfa Romeos before anyone had heard of Enzo Ferrari. Even the Alfa badge is a wonderful work of art, and features a man being eaten alive by a giant serpent. Post war, Alfa moved down market, delivering family cars, but with a unique Italian sporting flair.
When I picked the Brera up, straight after a transatlantic redeye, I wasn't in the mood to be taking in details – I did 1000 miles in it before I noticed the aforementioned beautiful Alfa badge sewn into the headrest of the front seats. The example I drove had the 2.4 JTD motor, and according to a kick plate by the door, it produced 210 CV. Overall it was usefully rapid, since the turbo cut in early, even in top gear at motorway speeds – but only remained spooled up if you really went deep into the throttle. There is a useful power band from 2000 rpm to 4000 rpm – so the usual diesel low rev ceiling. All the same, it pulled well if you were ready to drop a few gears. It also had a little boost gauge – reminded me of a school boy friends father's black '83 Saab 900 Turbo. To me, Alfa Romeo is revvy, not torquey power, so something of a disappointment there, but a diesel will always be a diesel.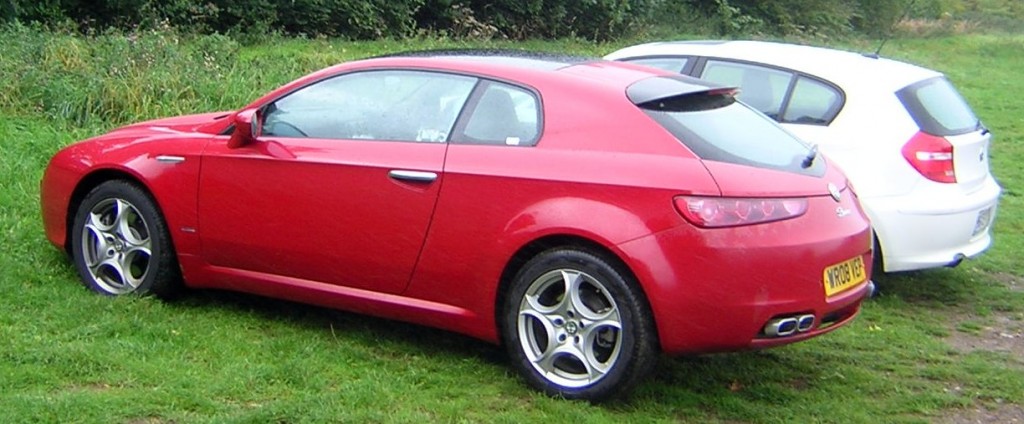 On the way out, across Belgium, we were running behind schedule, and the weather was miserable driving rain. Even at 100mph+, the tyres seemed able to clear away the water – even as the wipers, at double speed, were struggling.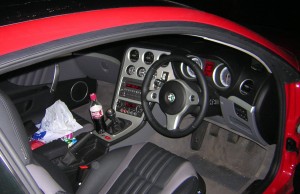 Inside it was rather German – black and faux brushed aluminium, the pieces on the doors not quite matching those on the dash. It is, however, churlish to criticize an Alfa on these grounds. The longer I had it, the more it grew on me – the grille/headlight/nose treatment is easily the best of any modern, mass produced car; the tail lights and door handles were beautiful too. It had a full length tinted glass roof, creating a lovely airy sensation inside. It is hard to put a value on the pleasure the Alfa Romeo script on the red painted brake calipers gave me. The exterior shape is also pleasing from all angles. Overall, there is design flair like no other car at this price point.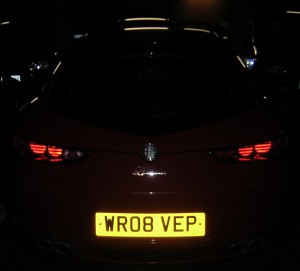 It was also somewhat Germanic in that it worked, continually and faultlessly. You see, the only time I ever enjoyed that Alfa 33 was that once on the Worcester ring road. I also spent weeks pushing it around the office car park, trying to create the impression its owner arrived early and left late, whilst it was non-functioning. A landlord had decreed it could no longer languish on my front lawn, and the office car park charade was my only choice. By that time it had a myriad issues, and I had completely failed to be able even to repair the handbrake. Shortly afterwards, it disappeared on the back of a trailer.
The 33 wasn't transportation; the Brera most definitely was, and with a petrol motor, I have no doubt it would have inspired me just as the 33 did as a callow youth. With the diesel, it remains a fine car, if not perhaps a full fat Alfa Romeo. That great looking girl who when you have a date with her turns out to be a bit boring. The same week as I had the Alfa, I also drove a Focus ST; whenever you came on the gas it gave a little growl, before lunging forwards. Despite the death by black plastic interior on the Ford, I would have chosen that over the Alfa to drive every day. Unless the Brera 3.2 petrol could be had inside my budget…..