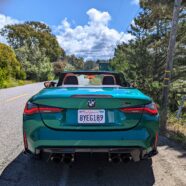 Sep

16
Tags
Related Posts
Share This
New Cars Thumbnail: How Goes the Electrification Revolution?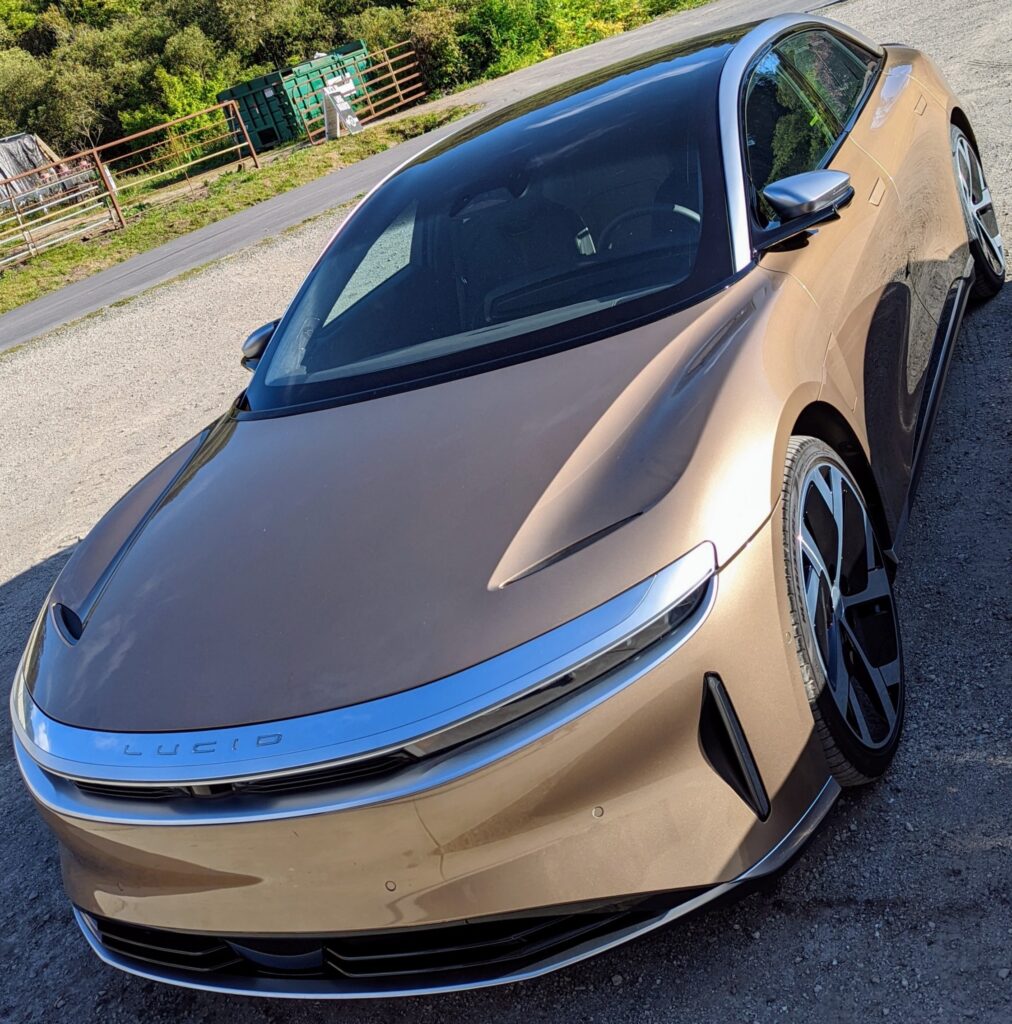 A wise man once said that history is not about the past, but about the future. At first this feels counterintuitive, but the more I have considered it, the more true I think it is. It is why, as a Historian, I write about new cars. I recently drove some, in a setting where they could be easily compared, along roads that enabled swift understanding of their capabilities. It has been some weeks since the experience. The most memorable things were:
1. Lucid Dream Edition 

The future is now. It's that good.

As a car enthusiast your first thought is 1100hp, how the f*ck does that feel? Truth be told, that is twice the power of anything else I have driven. Aside from a Formula 3000 on a track day (Thanks Jonathan Palmer) my nearest reference point is sportsbikes. There you're outside in the wind, clinging on, with the front wheel trying to come up and your chin on the tank. Sat down in a comfortable big sedan, the feeling is of being pinned in the seat in a manner similar to Roger Moore's James Bond in Moonraker, when Drax has him in the centrifuge. The rep told me the 70-130mph time is more impressive than the 0-60, but it's not politic to brag about that number. As a point of reference, the BMW i4 M50 I drove along the same route had a yet more savage power delivery, although I should point out that I didn't play with the mode settings on the Lucid to make direct comparison.

I have a friend who is underwhelmed by Lucid in part due to the "blobby styling". To that I say look closely at the details. They are lovely – the silver bar across the back of the passenger compartment, the headlight pattern at night. The pair of moon roofs make it feel airy, like a convertible. This is a different kind of language, the opposite of Rolls Royce's or Mercedes' giant chrome grille and their wood and leather interiors. If it sounds like I drank some Lucid koolaid, I suppose I did: I spent a while chatting with the design team. They say it was designed from the inside out, that is they thought about how the car feels to be in first. Hence the moonroofs, the first class plane seat ambiance and the grandstand seating for backseat passengers, which makes the back seat feel like a first class plane seat too. They call it "California Luxury" and it feels like you just walked into Restoration Hardware.

It was engineered to drive like the E39 M5, the benchmark four door sport sedan. The CEO had one as his daily driver. They would go out in it, to help them decide how to calibrate the Lucid. Without wanting to be all "here comes the science bit" the motor is bespoke and a performance revelation – the way Lucid put it:

 Lucid Air's impossibly compact electric motor is the world's most powerful for its size and weight — with each unit generating up to 670 hp while weighing just 163 lbs. It's so lean it fits in an airplane carry-on. 

While on the subject of performance, the range is class-leading too: the model I drove had a whopping 520 miles range; the entry-level models have more than 400 miles, at least according to the EPA figures quoted by Lucid here. Stop and think about that; by the raw measures of range and power, the Lucid moves the art and science of automotive design forwards. 
I found the design team approachable, and this reflected the approachability of the car. Lucid themselves are keen to avoid Mercedes S-Class comparisons, but that is really where we are with this car, at least in my opinion. I asked why they did a big sedan, not an SUV, since consumers want SUVs. The response was that to establish credibility, you have to do a big sedan. By that they mean we intend to be like Hyundai's spin off luxury brand, Genesis, or Lexus back in the eighties with the original LS400.
The interior ambience completely overturned the impression I had formed some months before when I sat in a Lucid at a showroom in a mall in Silicon Valley. As we discussed the car, the rep didn't want me to sit inside. When we did get inside, I could see why. It had the most terrible cheap plastic interior. McDonalds straw grade plastic. It looked awesome from ten feet away. Up close, not so much. To touch, eww. Obviously this was a pre-production car with a cheapo 3d printed interior, only no-one told me that.
Not all Lucids will have 1100hp. Indeed, most won't. Most will have 480hp, some 620hp. There's a model with 1050hp available now, although the 1100hp Dream Edition I drove is now off the market. Having the cars tested by journalists being a special limited edition of the model felt like a bit of a bait and switch, but infact this is a practice as old as the car itself; manufacturers have always provided test cars with the best options instead of the models bought by most people. To be clear, the lowlier Lucids will still slaughter all but the most muscley muscle cars in most any performance metric, including as a way to peacock at the golf club. Moreover, a $250k "1200hp+" model is due next year.
I now realize my objection to Teslas wasn't their power source, but their design. I have a lucid (sorry) perspective on the Lucid, and I believe this is the first vehicle to move the notion of "best car" forward since the Tesla Model S. Bravo to Lucid for developing a new design ethos to put with their best-of-breed engineering. Overall, like a 100 point white wine, really nice, really good, but somehow not to my taste.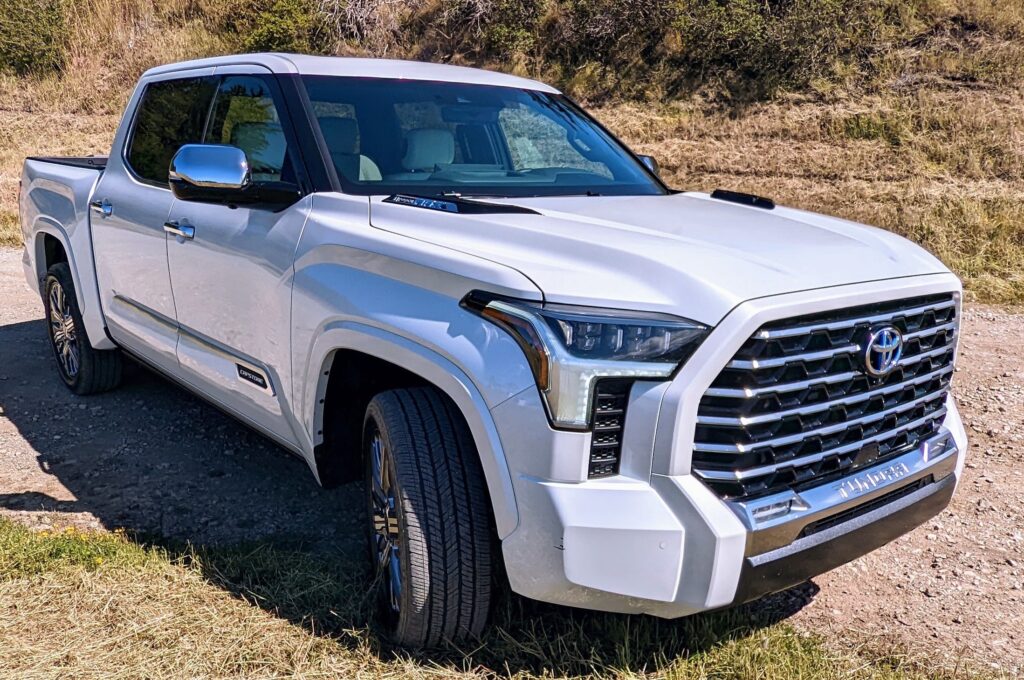 2. Toyota Tundra Capstone
This was far more to my taste. My notes, jotted down immediately after driving this truck were:
Turbo roar
Launch in 2wd to [redacted]mph!!
Muscle roar
Cabin is awesome, Lexus grade
Moonroof
Every time I drive a modern full-size truck I want one
Superb driving position
It is significant that I wrote "roar" twice in my first three thoughts. The launch was more like a muscle car or a Toyota Le Mans car than a traditional pick-up truck. There are hybrid and turbo boost gauges and it is cool watching them sweep around their LCD dials as you listen to the Dodge Charger soundtrack. The rate of acceleration is faintly surreal for such a tall, heavy vehicle.
If you have not driven recent generations of full-size trucks, you should. I drove an F150 a few months ago, a 2.7 Turbo (325hp; 400ft/lbs @ 3000 rpm) and it was awesome: luxurious, fun, plenty of giddyup, fine everywhere in suburbia, if too big in the city. This Tundra was all that with an added dash of charisma I would never have expected from Toyota.
I looked at the truck the night before I drove it, and was impressed by the quality of the interior just by looking through the window. Be clear, this is the latest/best tech/luxury features in a load-up-your-dirt-bikes or a camper, tow-just-about-anything, go just-about-anywhere package. Until you drive trucks like this, you just don't get them.  
The launch wowed me; the Lexus interior wowed me; how much I wanted one wowed me. Of the half dozen vehicles mentioned in this article, this was the one I most wanted.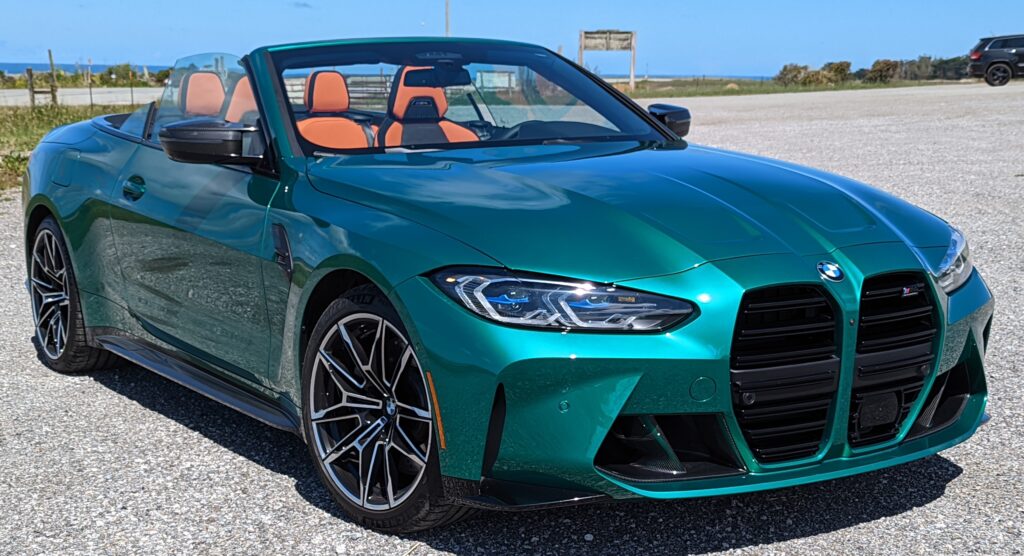 3. BMW M4 Competition Convertible
Actually, this should be the number 1 memorable moment, not least due to the inspired bottle green over saddle leather colour combination of the test car. I put the Lucid – the most significant car here by far – first because Historian. I put the Tundra next because I loved it so. But when I think of the test day, the M4 is the car I think of.
The fashion at the moment amongst motoring scribblers is to bash BMW for being less driver-focused than they once were, and to say that the latest design thing (today's big kidney grille; yesterday' Bangle Butt ) is the Worst Thing Ever, The End Of BMW. I just don't get it, because whenever I drive the cars, they're the same as they always were. Sure, there are modes to toggle for, as I found with the F30 328, or compromised architecture as with the 218 diesel front wheel drive minivan, but fundamentally when driven hard BMWs still feel "right" to me. Such was the case with this M4. It was an exciting bit of Wagnerian theatre at speeds far below its potential, feeling like a DTM car dressed up to pose in Monaco, a UFC fighter in a designer suit.
The driving modes were easily tweakable using an intuitive display on the screen. With experience, you could do it on the fly, boulevard cruiser Jekyll to track day Hyde in a swipe. Like Stephenson's characters the effect is both unnerving and impressive.
That green, and it being a convertible to boot was a lot. More Diddy/Kardashian than middle-aged leadfoot writer. The drive was commensurate. I liked it on the day, but the day was sunny, I was driving for pleasure and we were on one of the most beautiful roads in the world. I'm not sure I would drive it that much if it were in my garage. It was altogether too attention-seeking. But an M4 coupe, in a dark blue, and the package would be more attractive than the absurd but wonderful Tundra Capstone.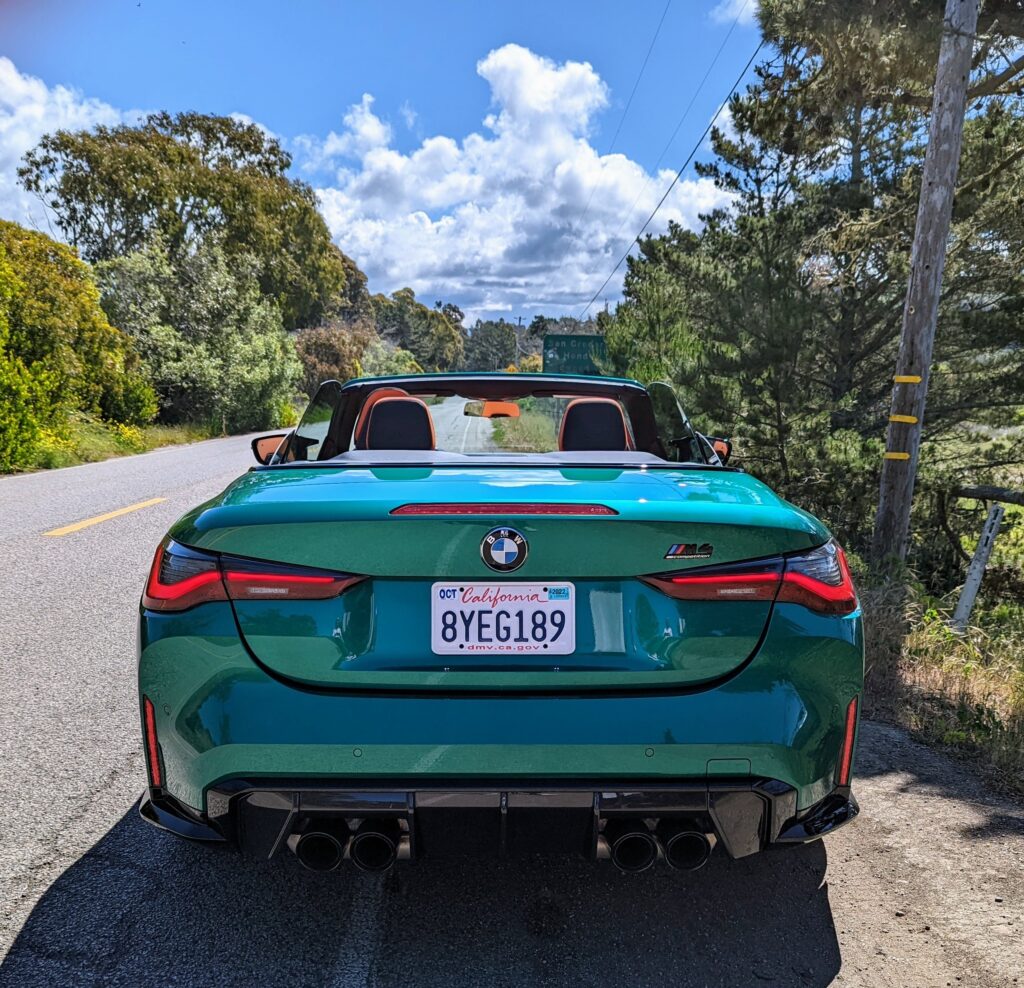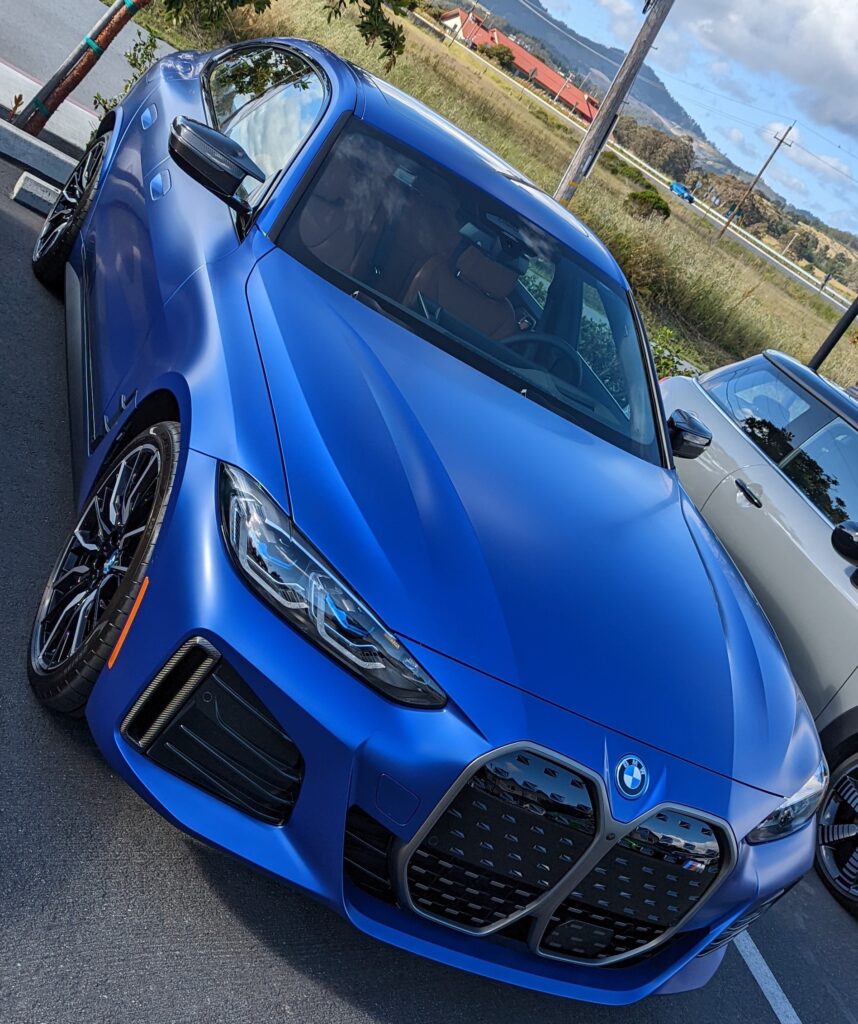 4. BMW i4 M50
The power delivery of this first electric M car is stupefying. It manages to feel as if you were inside the hotrod radio controlled car my 15 year old neighbour races up and down the street, getting air each time it crests the top of the hill. The acceleration is positively violent; unless you hold your head against the restraint it will be moved around as if you are on a rollercoaster.
My next significant impression of the i4 M50 (a confusing, forgettable name, IMHO) is that it has engine braking, just as you find in a sport/race calibrated ICE car with a modern automatic transmission. When you come off the gas, it feels like a gas car. It drives just like other BMW M cars.
At first glance, on your phone or on the street, the styling seems similar to the M4, but look a little more closely and the differences are clear: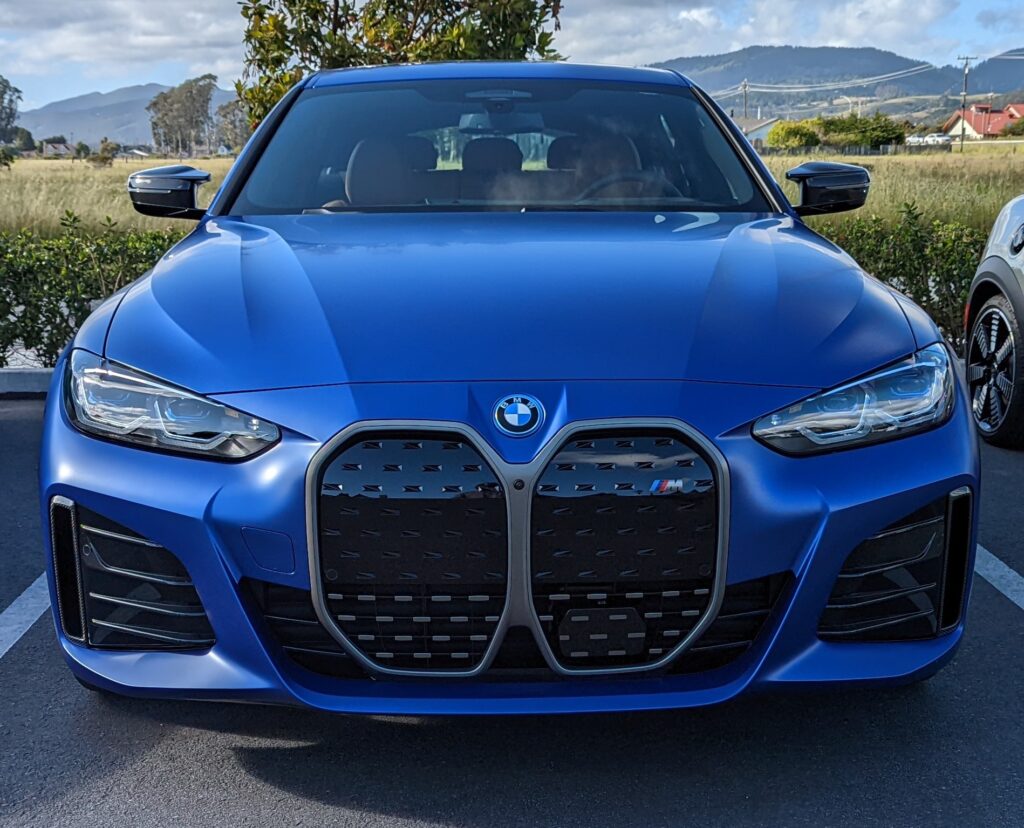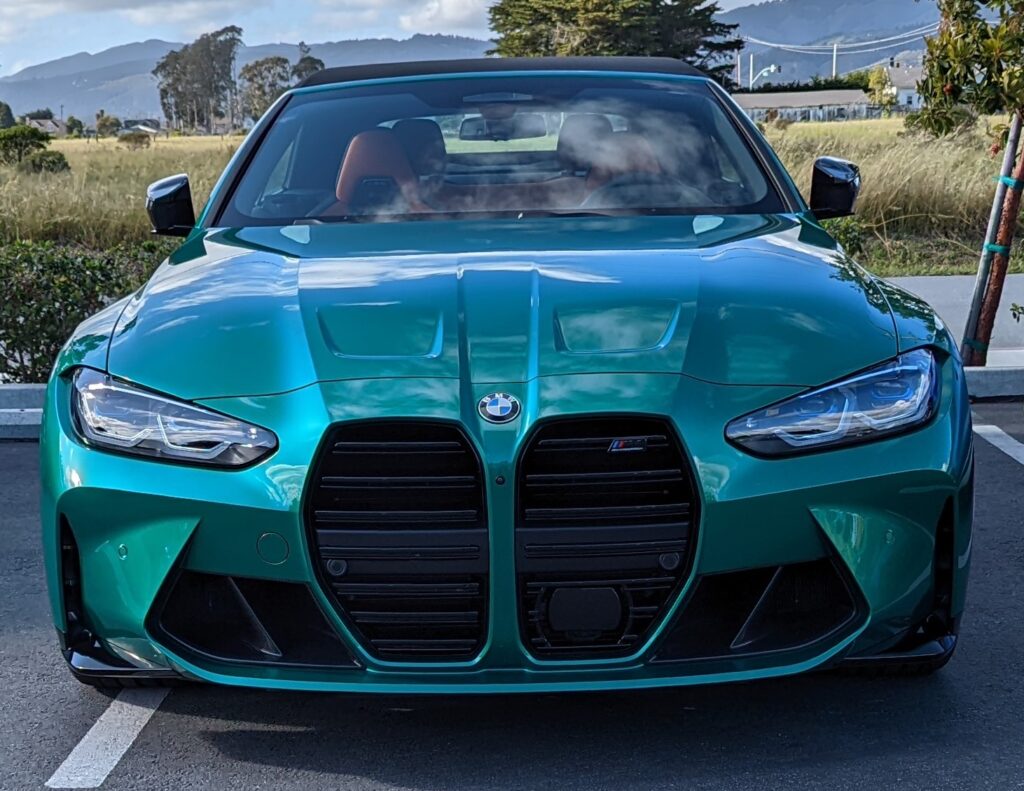 One of the interesting things about BMW is the way that non-car people who own BMWs love them and recognize there is a difference in the way they feel to drive in comparison to other cars. My thought is this was a reaction to Mercedes' superiority in almost every facet of automobility; to compete, a strong sense of a different character was vital, and it gave us The Ultimate Driving Machine ethos. IMHO BMW deliver Porsche driving dynamics for not far off Ford prices. The price you pay for that is the way the cars are engineered, which can make fixes annoying/complicated/expensive and usually all three.
But all of this is digression; the i4 M50 is a proper BMW M car that happens to be electric. We can see the future now, and driving enthusiasts need not worry.
Me, I'm still not really sure how I feel about the i4 M50. I would rather have the M4, but then I am a middle-aged Englishman who has grown up loving gas cars; I am bound to cleave to meat and two veg ahead of any new-fangled tacos or sushi.
There is a fascinating contrast between Lucid, able to create without any design baggage, and this BMW, which is every bit as futuristic as the Lucid but comes with all the design language of a century of automotive mechanical culture. Welcome to the electric M3.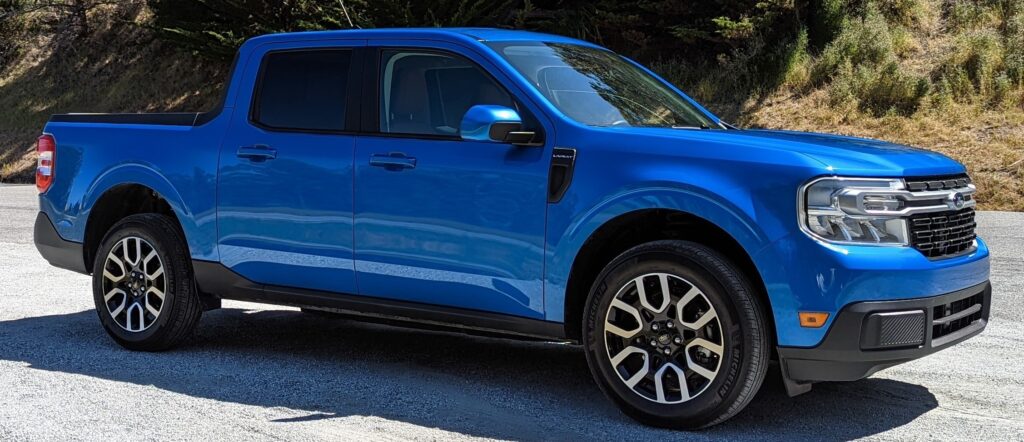 5. Ford Maverick
The Maverick was more interesting in concept than in actuality. By that I mean the Maverick does what it says on the tin. Commercially, I think Maverick is an attempt to do what the Explorer did in the nineties, to kick start a whole new niche. Or maybe it is the same niche – people who live in the city but occasionally do outdoorsy things, or at least want to look like they do. The niche is small pick-ups-used-as-family-cars, not as work trucks. Ford's small work truck is the Ranger. Maverick is the Ranger that isn't a Ranger, aimed at people who might otherwise have bought a Focus or a Fusion. Or the behemoth in the small truck niche, a Tacoma.
Maverick has a $20k price point and the entry-level model is a hybrid. That one has 191hp; there's a gas-only model with 250hp. My test vehicle was pretty pokey and nice enough inside; it did not feel bargain basement. However, the Maverick I looked at at the NY Autoshow had plain black plastic door handles which were shockingly cheap-feeling. Kinda Fordy, TBH. Overall, the Maverick ticks all the boxes.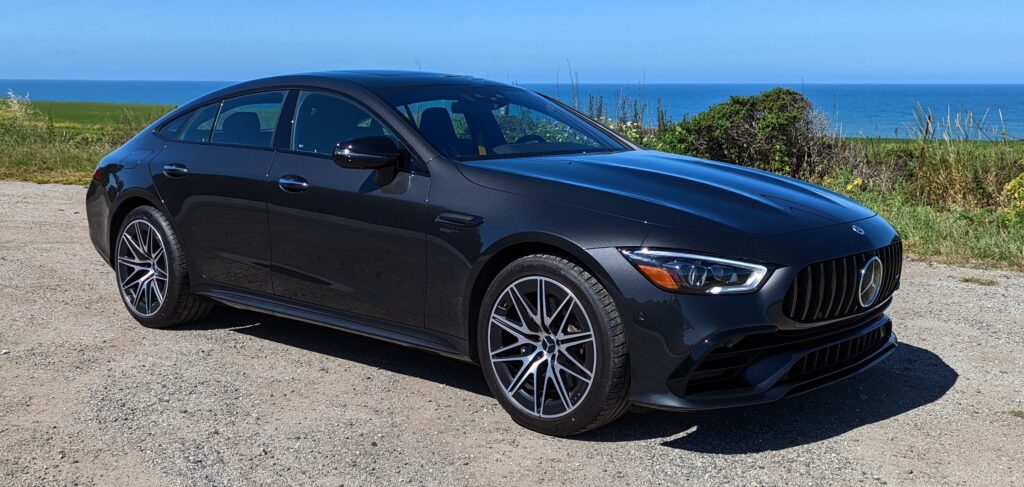 6. Mercedes Benz AMG GT53

I drive an '02 E55, a car that altered my perspective on Mercedes. When new, the E55 was down fifty horsepower on BMW's E39 M5, and had an automatic transmission. As such, it was very much second best, and of little interest to me.
However, when a tired example crossed my path, I bought it, to save it from being parted out, and to have the experience of fixing only the elements of deferred maintenance which suited me. I made it as good to drive as possible yet retained the rather shabby, "just an old Mercedes" appearance. After 27,000 miles with it I consider the E39 M5 comparison irrelevant. In everyday use, the E55 is simply the Best Car I Have Ever Owned, excellent whatever the circumstances, always comfortable, relaxing to drive, ideal in town and sublime on the highway, with a party piece of a characterful muscle car V8. Through it, I perceived the Mercedes difference, and became a convert.
So it was I was excited to drive an E53 and was underwhelmed by the powertrain even as I was impressed by the interior. At the time I thought it wasn't stirring my soul because it was a hybrid, but having driven the Tundra Capstone I can confirm that hybrids can be very exciting. The GT53 hatch evaluated here had the lovely interior, materials fit and finish of the car I sampled a few years ago. It was fast, far faster than my old warhorse without being dramatic.
In this, it was a contrast to the M4, a car I enjoyed on the day but might not have fitted into my everyday life. This Mercedes, with its proper backseat and convenient hatch trunk, might have had less appeal on a test day but might fit into my, or your everyday life very well. For the right-sized family, this might be a car alternative to the Macan/Rav4 sized SUV so popular at the moment. It might well leave you impressed in the way my E55 impressed me, a quiet competence whatever the setting or load. I say "might well" because l struggle when the engine on my 150k twenty-year-old car is better than the one in this very expensive new one. I suppose the AMG 63 models are the ones aimed at folk like me, while the 53 is somesort of frappacino decaf latte version? 
7. Jeep Grand CherokeeThis isn't really my kind of car, however I drove it as part of my commitment to pay attention to the evolution of the breed. I mean, I always want Chryslers to be good, even if I don't usually own one myself. The interior made the biggest impression; while the wood trim was lovely and there was no tachometer. I spent some ten minutes playing with the ride height adjustment feature of the (rather floaty) suspension and was irritated by the speed limit reminder. Overall, I found the Grand Cherokee to be far better than Chryslers have been in the past, while still not up to the very high standards of fit and finish seen in the Toyota/BMW/Mercedes I sampled.
I would like to offer my thanks and gratitude to everyone involved in organizing these test days – Page One Automotive, The Western Automotive Journalists #waj #wajmediaday and Brian Douglas especially, Honda for sponsoring #honda, and the manufacturers who supported the day #lucid, #toyota, #toyotatundra, #bmw, #bmwm4 #bmwi4M50, #ford, #fordmaverick, #mercedesgt53, #amggt53, #jeep, #jeepgrandcherokee #grandcherokee