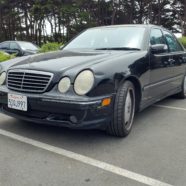 Sep

15
Tags
Related Posts
Share This
2002 Mercedes-Benz E55 AMG: 2200 miles in 10 days; reckon that has bedded in the new trans!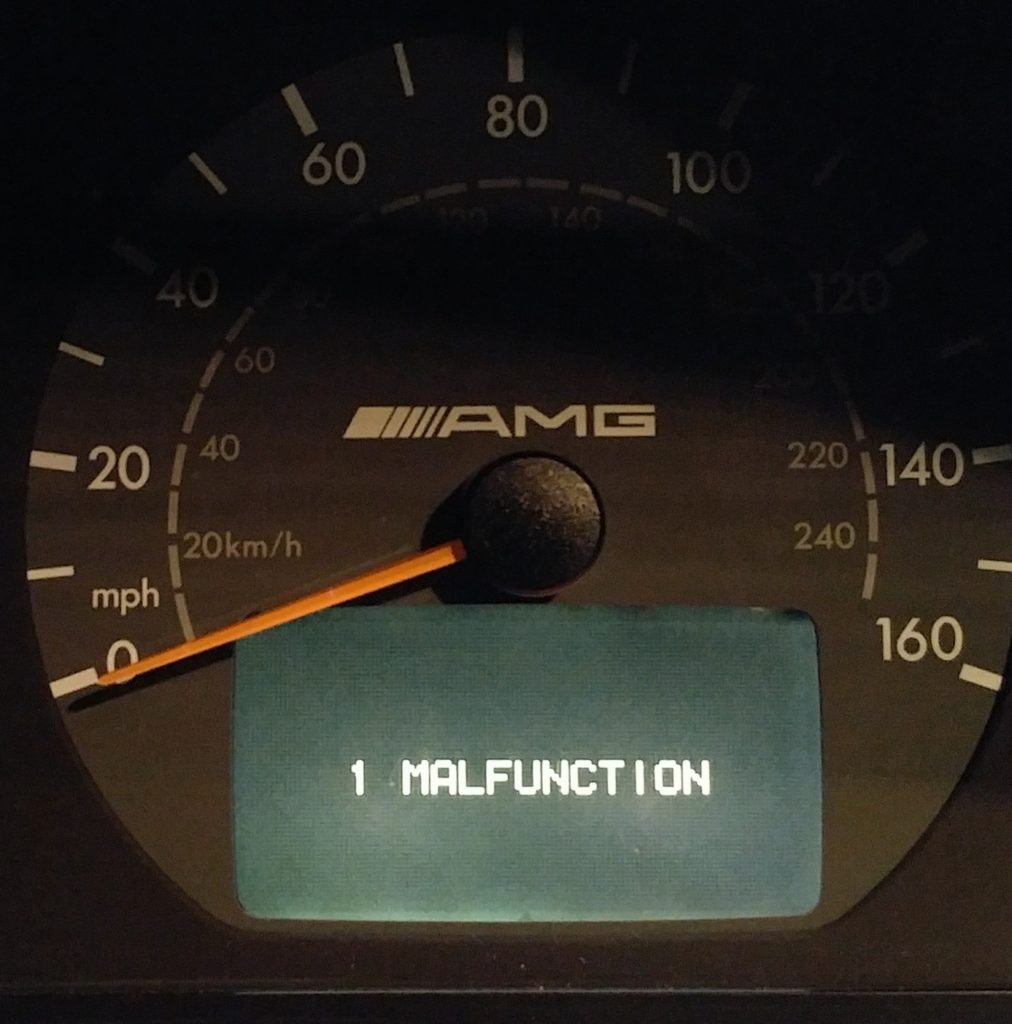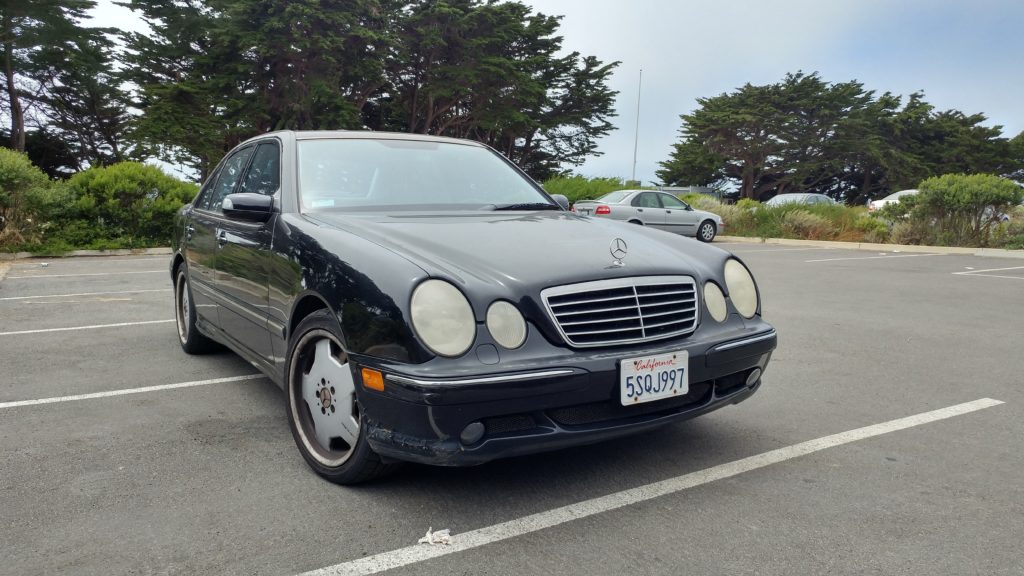 As per this little film, when I acquired the E55 it needed a new transmission. The shop, Wincos in San Francisco whom I can thoroughly recommend, offered a 90 day guarantee with it. The trans was used, so I enquired as to the mileage. Since asking this seemed to be the most amusing thing Mr Winco had heard for some time, I decided I would make the most of my 90 day guarantee, and use the E55 first for a week in LA, and then a week in Monterey for and Pebble Beach. With all the accompanying shenanygins, and a few school runs, mileage stands at 2532. I feel as if I know the car now.
Before, I talked of a Wagnerian motor. Having enjoyed 101 late at night with the sunroof open recently, I can safely say that never did Virgin Steele sound more at home. It might not be built like Earl Howe's Pebble Beach winner or Bond Villain Hugo Drax's SSK, but it still has much of their gravitas, and all of the thrust of any great Mercedes this side of a W25.
The initial impression of limo plus hotrod motor has solidified; its not that it can't corner, it is just that you, and it, are waiting for that moment when you can unleash the beast underhood. The transmission is switchable, in an unituitive left/right motion – but really, the motor has so much oomph that a prod of the throttle replaces the need for a downshift. It builds a lot of momentum easily and swiftly, and because the transmission doesn't encourage engine braking, it is easy to be very hard on the brakes.
The TCS is beautifully judged for such an old system. It allows a little friskiness, with a large dash warning light flashing before I become aware of much slippage, so unless you have plenty of lock on – for example, pulling out of a damp T junction – the intervention of the TCS is nowhere near as momentum killing as in the Bullitt Mustang. With the TCS off, some experimentation in an empty dirt carpark reveals a fairly well balanced chassis with early, forecastable dumb fun breakaway. As for the burnouts, no wonder Lewis Hamilton was ticketed….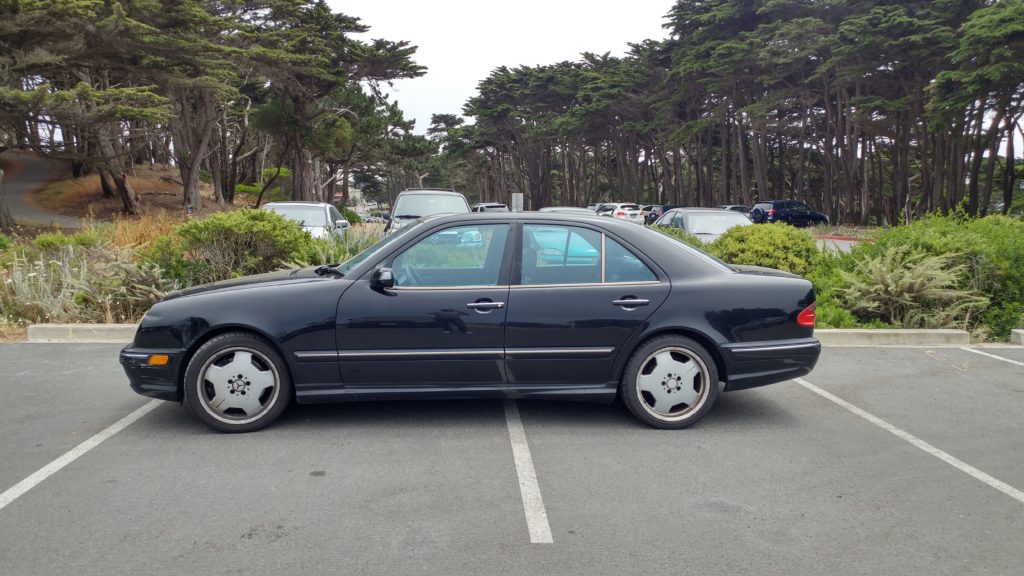 The limo qualities are beguiling – it is a sublime mile muncher on the freeway, as happy at speed on the swerves of 101 as sitting in bumper to bumper on 405 – making it relaxing to drive long distances. I completed the SF to LA drive feeling noticeably less tired than I do driving the Bullitt. The back seat is a great size; significantly bigger not just than 3 series but 5 series too. A German I met during Pebble week said it was well known in Germany that "…the W210 Mercedes was significantly bigger, but you gave up the driving pleasure of the E39 Five Series…."
The steering tie rods arrived, were fitted, and the car aligned. It is still not driving straight. The off putting "clonk" remains, to be heard when climbing kerbs – seems to be suspension/shock bushing. The point here isn't the expense, even of having the work done, it is the hassle which eliminates most punters from keeping an older, needy car like this going. The guy I bought it from was right: "It's reached a point where it needs more time and money than I am ready to give it"
While the headliner in the rear has not collapsed further, it has loosened further between the top of the A and B pillars on the passenger side, as a result of being driven with that window down.
Remember my headlight pet peeve? The miles have revealed very poor lights, especially on dip beam. Looking into replacements, I have learned the headlights are early xenon ones. Apparently, an option on 430s, and standard on E55s. Shortly replaced by projector beams. Most W210s have halogens. None mix and max. "Oh, thousand dollar for lights.." chortled Winco when I commented on replacing them. He offered to split the lenses off, and fit new ones, but confided they often leak afterwards. So, I will do this polishing treatment on the existing ones – more to follow.
In a suitable spot when the right foot was properly exercised and autobahn speeds approached, clouds of blue smoke were observed, leading to some anxious moments. Where is the best place to park up a car you think might not start again, it's innards welded solid? The pessimist in me said the Travelodge carpark, the optimist the gas station, and my stomach Burger King.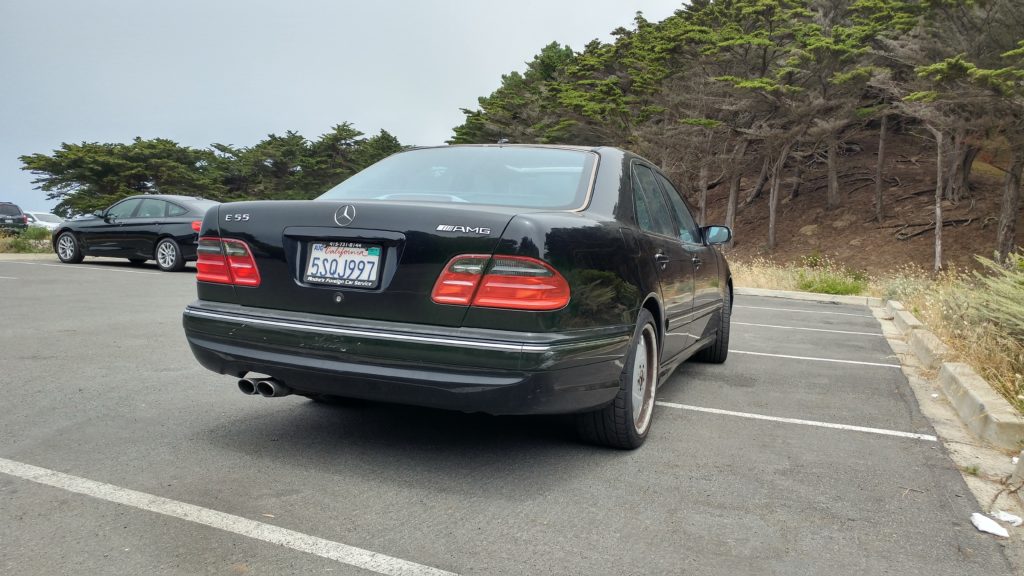 With a gut full of root beer, burger and fries, I braved the 103 degree heat once more, and observed radiator water fine, oil level fine, indeed at the same level as it has been for as long as I have owned the car. Gingerly setting off again, nothing more untoward was observed until an underhood inspection upon arrival in LA revealed a small oil leak on the front of one of the heads. It clearly predated my ownership, but there was fresh oil on the block too.
Perhaps 1200 miles later, during Pebble week, coming over Lauralees Grade, I got a dash message to Check Oil. It came on, and then went off. Stopping to check the oil (again), it still seemed fine, and at it's usual mark on the dipstick. However, the warning continues to cycle, each time I drive the car now. Reading on forums, it is likely to be a faulty sensor. However, repair requires the removal of the oil pan…
According to the gauge, the temperature cycles between 80 and 100 – which seems like a wide range to me. Replacing the sensor on the Bullitt car solved exactly this issue, maybe I do that here too ? More forum surfing required methinks.
Need to investigate that rust along the lip of the sunroof too.
So, there's a ton of little things here, which taken together explain why most E55s in this condition get broken up. Despite this, my over riding impression of this E55 is how livable, and hence how extraordinarily likeable it is. On the face of it, the materials are dour, but after my 2500 miles, and 132,000 on the car itself, the interior still feels premium, especially when stepping back into the Fiesta ST.
The comfort and ease of use under all circumstances allied with that behemoth motor make the coming storm of trivial fixes worth weathering. I hope.