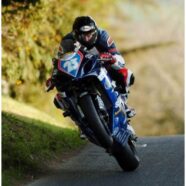 Dec

24
Tags
Related Posts
Share This
Your Own Personal Godzilla: The Miracle of Millennial Japanese Sportsbikes; An Appreciation as Collectibility Beckons
I prepared this abstract for the 2020 Historic Vehicle Association "Drive History" Conference. As with academic historians conferences, presenters had a twenty minute slot. Like it or not, that amounts to 2000 words. Therefore to ensure you communicate as much and as clearly as possible, most presenters would read a prepared 2000 word statement. What follows here is the abstract, an outline of the paper, which was accepted by the conference organizers and would have been fleshed out to 2000 words / accompanying slide show / live motorcycle to sit on / rev in the lecture theatre.
Anyway, given the date I'm sure you'll be unsurprised to learn the event was a casualty of COVID; more recently I see that the HVA seems to be more subsumed into the ever growing Old Car Empire which is Hagerty.
Paper is to use PowerPoint slides with bullet-pointed content, still photographs, diagrams, and video clips.
If at all possible I will arrange to have a bike, probably a Suzuki GSX-R, displayed during my talk and available for us to look at, sit on, start and hear run, to use as a tangible reference point.
Begin with two short youtube clips:
The North West 200 "You can hear them coming"
Isle of Man TT: Onboard with Cameron Donald:
Developed in Japan for the European and US markets, this paper contends that these "crotch rockets" are a unique cultural phenomena, their greatness largely unnoticed; these are pure racing machines that happen to be road legal
Godzilla because:
from Japan, but for the US; too big for most Japanese to ride easily; sold in tiny numbers on the domestic market
there's no steady or slow, you get bored, and then uncomfortable; there is only banzai
History:
[Pic for each bike mentioned so its scrolling pics]
Norton singles, MV inline 4s, Kawasaki K1, GSX-R
Inline 4s, contrast with the more charismatic, controllable V-twins
Great Britain: Norton, AJS, Velocette – and the fade – the Honda CB750
The "Mr Miyagi" style Gixxer creation myth, the handmade motors
The Hamamatsu triangle. Like Coventry, or Detroit
Anatomy of Godzilla:
Track performance driven by technical innovation
Evolution not Revolution ( GSX-R evolution, find a CBR evolution)
Inline 4s; pure grunt (Ferrari used them in the fifties, less power than the V12s, but not much, and tougher)
The poetry of the 4 mikuni, 4 cylinders, 4 exhausts
Fuel injection, and the steady lean of engine
Rear seats rise and disappear
Brakes get bigger, calipers float
Handlebars at ever more radical angles
Footpegs uncomfortably high
Marketing the Monster:
The alphabet soup of GSX-R, CBR, YZF-R1, EXUP, Ninja and Hayabusa; and the Buick GSX link
"Ninja" and "Gixxer" are in the urban lexicon; indeed the single most recognized cultural facet of sportbikes outside the clique of users is the "mean green" Kawasaki Ninja.
The graphics reflect the zeitgeist of the age – Honda CBR900 Urban Tiger
Like the graphic equalizer, this is unashamedly Japanese style – Manga-esque
Massive Performance:
No really. Show some numbers. Porsche / Ferrari seem the same, because the numbers are the same. But fast is a feeling, and clinging on is very different from sitting down in a leather chair surrounded by airbags.
Absurdly Low Price:
No really. Look, here's a gixxer on Facebook Marketplace: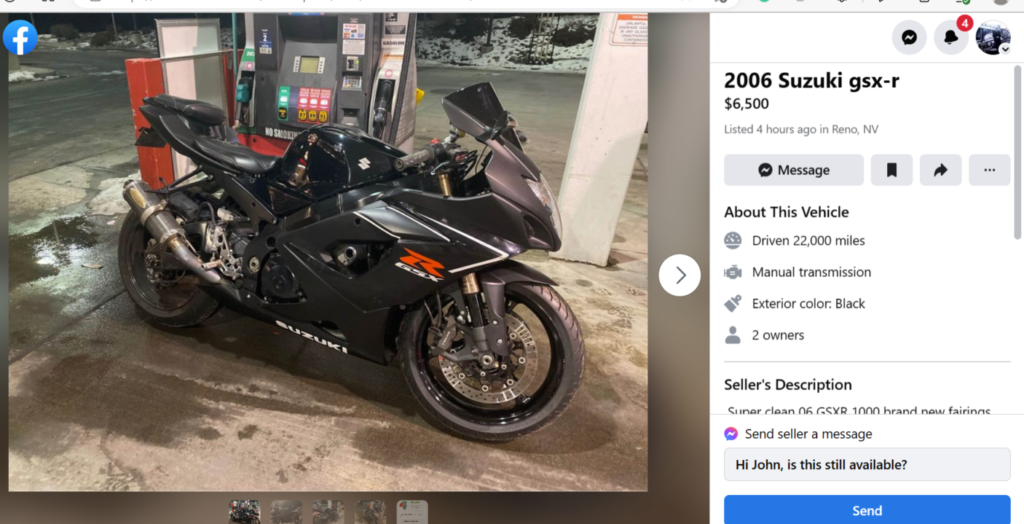 Its old, so it might only manage 150 rwhp, 0-60 in 4 seconds, and 170 mph……
Riders:
"A–holes Ride Imports" (plate surround on The Fabricator's '86 GSX-R750)
"You haf com vrom England on GSXR ? You are hardcore" (German Gixxer rider to me)
"I almost died every time I rode it" ( Chris, a Techie bloke l worked with)
Ghostrider, and a million online imitators
Collectibility:
Four Signs of the Tipping Point:
Finally, a paradox: the bikes with the greatest stories are worth the least, at least in monetary terms. Illustrated by my ZX10. More powerful than the GSX-R1000 K5 everyone goes on about now; this ZX10 is peak analog.
And what a story – (quote from the story – downed rebuilt downed again, ready for 180mph despite an oil leak)
Credit to Casey Maxon of the Historic Vehicle Association for inspiring me to collect nineties sports bikes.
Godzilla – an emotive word
Mostly the Skyline.
But the Cycle World article, and the growing myth of the K5.
Conference organizers didn't like it, had the whiff of racism and politics for them. Such is the spirit of the age.