Apr

29
Tags
Related Posts
Share This
Electra Meccanica: Am I Hot Or Not?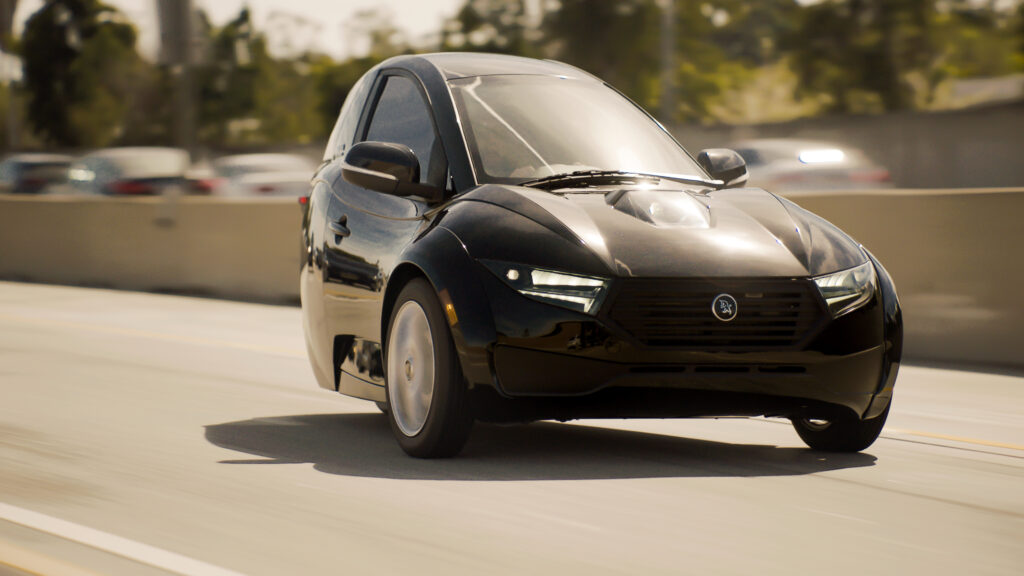 You might be thinking that hardcore V8 guy like me only drove this so I could tear it down. But no. I have written before about how I feel that this is the most exciting time for car design since the mass adoption of cars one hundred years ago. Before then, cars were artisan-made, quite literally playthings of the rich, in many cases more analogous to yachts or private planes than to cars of today. After then, there was mass production, suburbs, car payments, a new model each year. Here in 2022 we are in the exciting phase before the new EV paradigm comes, and I am keen to sample these new mobility experiments.
In that spirit, I wanted to drive the Electra Meccanica Solo after I realized it was a new approach to the old conundrum of transportation. For a moment, there, for a few years before the pandemic, the middle ground between ride-hailing (Uber / Lyft) , car-sharing (Zipcar) and peer-to-peer car rental (Turo) seemed certain to eclipse the personal car in urban and even suburban settings. Now public transport, car-sharing or riding in someone else's car has become far less attractive, the personal car seems ever more likely to survive in suburban communities. I approached the Solo with the thought that like other small, entry-level cars, it might be a commuter vehicle, a second car, a post-retirement downsizing or a first car.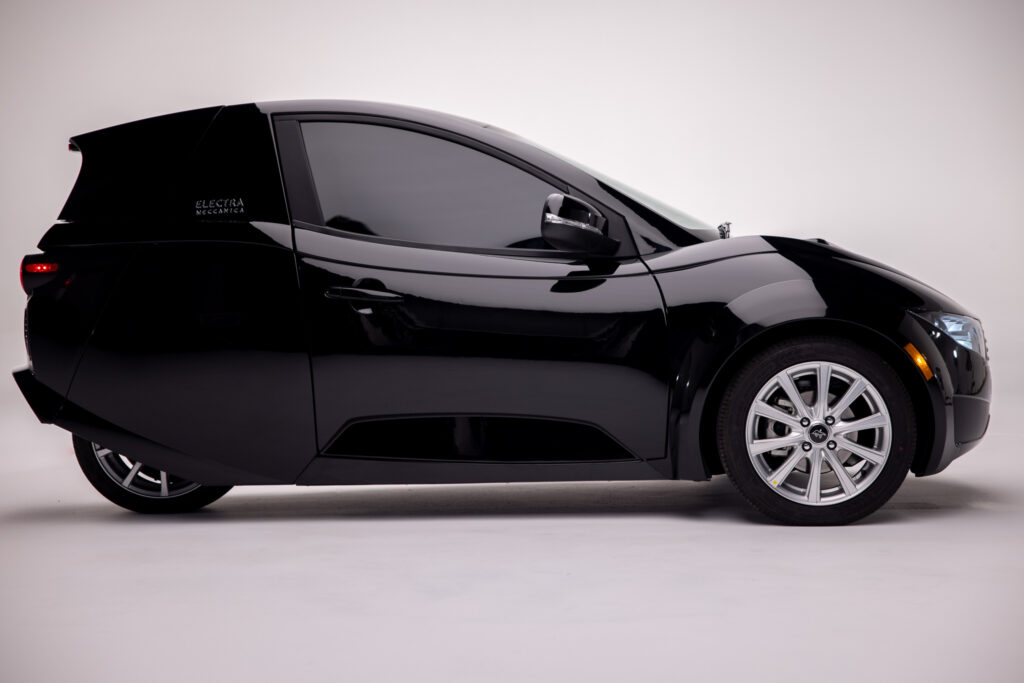 The most important thing about the Solo is that it is Fully Baked. It works. This is important because many other projects in the space do not feel baked; showrooms contain prototypes with price, performance and interior differing from the cars you could actually order! In my time with the Solo, I found lots to like and little to make me feel that I couldn't recommend one to you. If that's your bag. I mean, I collect Suzuki GSX-Rs, so, as Robert Louis Stephenson put it in "Dr.Jekyll and Mr Hyde" I'm of a mind "to let each man go to the devil in his own way" and if you're alright with the Solo based upon how it looks, and that it only seats one person, you will only love it when you actually drive it.
The second most important thing is that the Solo costs 20k. This makes it very accessible and pitches it against Civic and Corolla. Yet not, because they offer seating for four or five people and a proper trunk, while the Solo does not. So you have to really want an EV, and I think more, really be OK with that weird look, and low driving position. The small footprint isn't much of a big deal in California, but in many cities in Europe and Asia, it would be a huge boon over a normal sized car.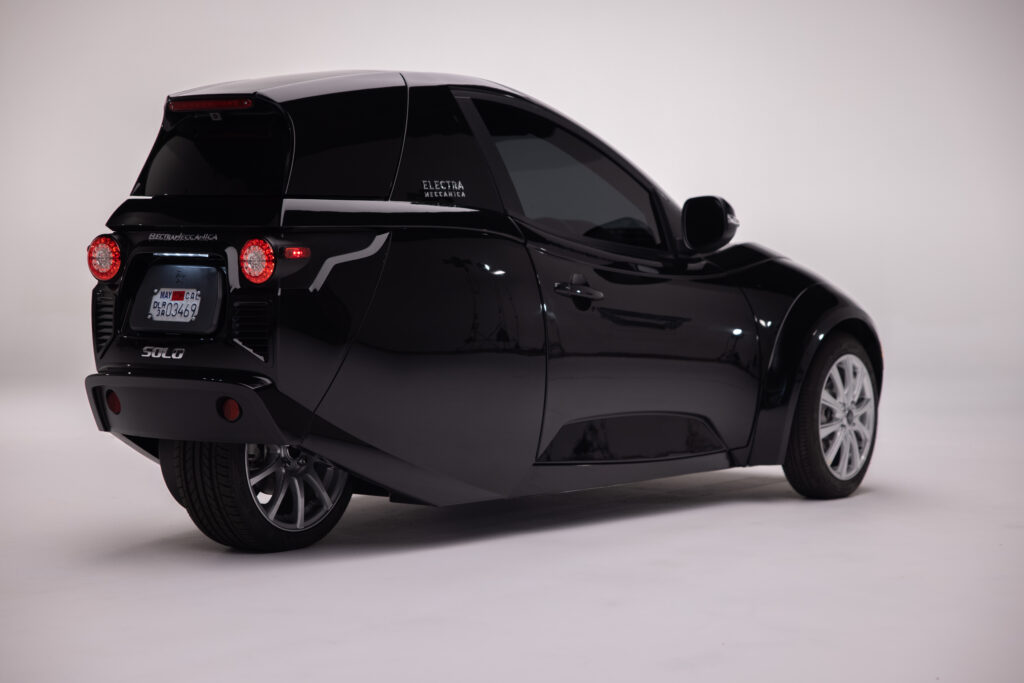 Any thoughts the Solo might feel remotely like a motorcycle are immediately banished when you sit inside. It has a door both sides, but otherwise feels like a car. It is to do with the driving position, the windshield position, the car-like controls. Since you look forwards, that odd tapering rear isn't on your mind all the time. I found adjusting to the central driving position to be subconscious. I am inclined to believe this seamless, familiar experience is a result of careful, clever design.
The main news in the driving experience is the electric drivetrain and thrust. This goes through one pretty wide tire, the kind of which you might expect to see on a lesser BMW. The two fronts are puny looking Citroen 2CV affairs. For me, the throttle response could be sharper. But I feel like that about most cars I drive, so no harm/no foul here. The test route took us onto the freeway, and here the Electra Meccanica was most impressive. Despite appearing not to be a serious car, at freeway speeds it cruises just like a Civic or a Soul. The HVAC and wipers work properly. It rides bumps well, the ride being a good blend of comfort and stability. On an off-ramp, under heavy braking on a poor surface it showed convincing composure. Pushed hard, it will lapse in disappointing understeer, but again, nothing you would not anticipate from a Versa. It is smaller and lighter than a normal car, and that, combined with the low driving position next to crossovers and suvs makes the Solo feel more like a Miata than a Corolla. Overall, the Solo is a fine drive.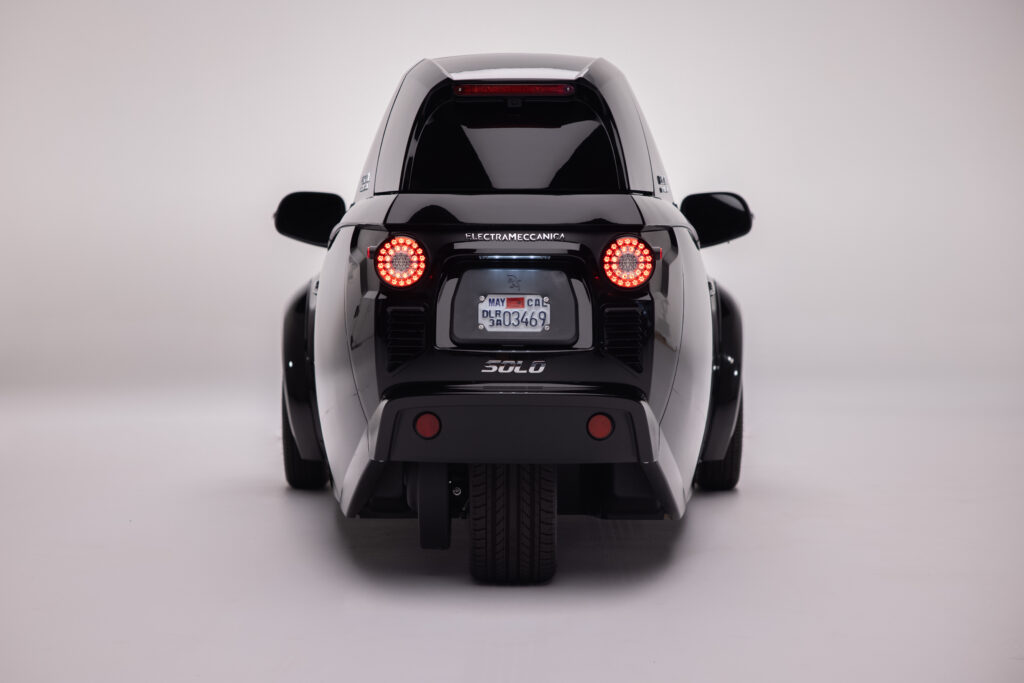 The Solo has regenerative braking, but this is so unintrusive that I did not notice it was happening for the first few miles. Only when I looked closely at the gauge cluster – a nice LCD screen set not quite straight into the fascia – did I notice the graphic showing that it was regen braking. Solos are built in China at the moment, with a new factory being built in Arizona to take over as production ramps up. According to EM, range is +/- 100 miles, although my test drive was not far enough to test or comment on this – admittedly very important – factor.
As hinted at by the gauge cluster, by far the worst thing about the Electra Meccanica is the quality of the interior fit, finish and plastics. I mean, I drive a 2001 Mustang, so I am not snobbish about acres of hard black plastic and ill-fitting switchgear, but for me to notice shows how much this lets the Solo down. That's a shame because rather than the cheap and nasty plastic showing this to be a cheap and nasty car, it seemed more to me that this was a coherent, well-priced and well-conceived product. If odd three-wheeled quadricycles with room only for you is your thing.