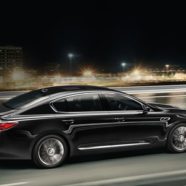 Apr

17
Tags
Related Posts
Share This
From the Archives: 2015 Kia K900 – truly an S-Class Alternative?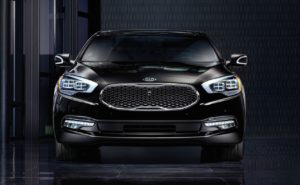 Shadowing parent Hyundai, Kia has been steadily developing their brand in recent years, and offerings such as the Optima and Soul have been impressive when tested. The bottom line seems to be that Kia offers the same as Honda or Toyota, but at a better price. With prices starting at $54k, Kia are boldly stepping beyond Honda/Toyota and into the premium luxury sedan sector with the K900. So, is this Kia a credible alternative to a second hand Benz S-Class?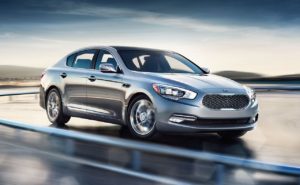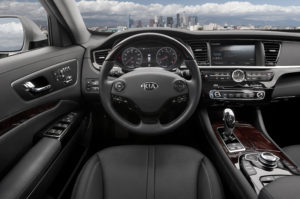 Above all, the K900 is refined. The interior feels premium German, and while the plastics and leather are nice quality, there is no more soul than you would find in a styrofoam cup. Kia has worked hard to ensure that the technological bells and whistles equal those from Munich and Stuttgart, and some seemed slightly pointless; for example, a mode which allows you to leave the car in Drive and take your foot off the brake in traffic without the car moving, i.e. removing the "creep" built into automatic transmissions. Perhaps I have missed something here, but why not just put it in Park? Kia's marketing folk were excited to show off the reclining/heated/massaging rear seats, no doubt speaking to the fact that in many markets, K900s will be primarily chauffeur-driven.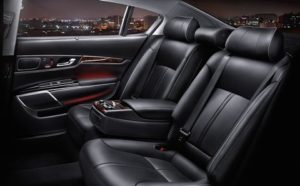 My experience with the K900 was limited to a few dozen miles around the Pebble Beach golf courses. It was easy to cycle through the four driving modes to find Sport, and, in this mode, the steering was precise and the big car easy to place, even at speed on narrow roads with surface imperfections. Throttle response was sharp without being jerky, the suspension remained compliant, and the transmission—a ZF 8-speed—shifted smoothly, always seeming to be in the right gear, without dithering before kicking down. Brakes were smooth, progressive, and unremarkable, and, under these limited test conditions, fade-free. The K900 uses a version of Hyundai's V8 producing 400hp, and while it gets you down the road in fine style, even in Sport mode, it felt just a little dull. Tellingly, your tester had no desire to max the K900, but rather was content to loaf down the road enjoying the massaging seats.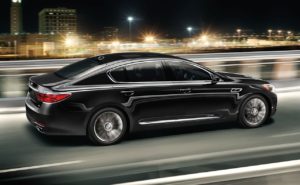 About a decade ago, VW spent billions developing the Phaeton, a big luxury sedan pitched at the BMW 7 Series/Benz S-Class customer. Despite a clever new factory, and some clever technology on the car itself, the Phaeton looked like a super-sized Passat, hence sales were very slow indeed. The whole exercise might have been a dead loss, but for VW's acquisition of Bentley. Restyled—and with a significantly inflated price—the Phaeton became a new generation of Bentleys, now much beloved by professional soccer players and hip-hop musicians. My sense is that the K900, like the Phaeton, is a bridge too far; it is difficult to see status-conscious luxury car buyers taking advantage of the value on offer here, at least in the US and European markets your writer knows well. As a result, the K900 will depreciate like it was falling off a cliff, so, in three years' time, when these early K900 are coming off lease, be ready to snap up the automotive bargain of the century….
2017 EDIT: Currently on a forecourt somewhere in North Carolina, this K900 is looking better than I remember them at Pebble: