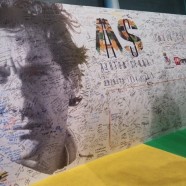 Sep

12
Tags
Related Posts
Share This
Imola Part 5: May 1, the Pilgrimage to Tamburello

Senna Gets The Warhol Treatment: like Elvis, Monroe or a Campbell's Soup Can; the ultimate accolade in pop iconography ?

Imola, start finish, taken from the Variante Alta: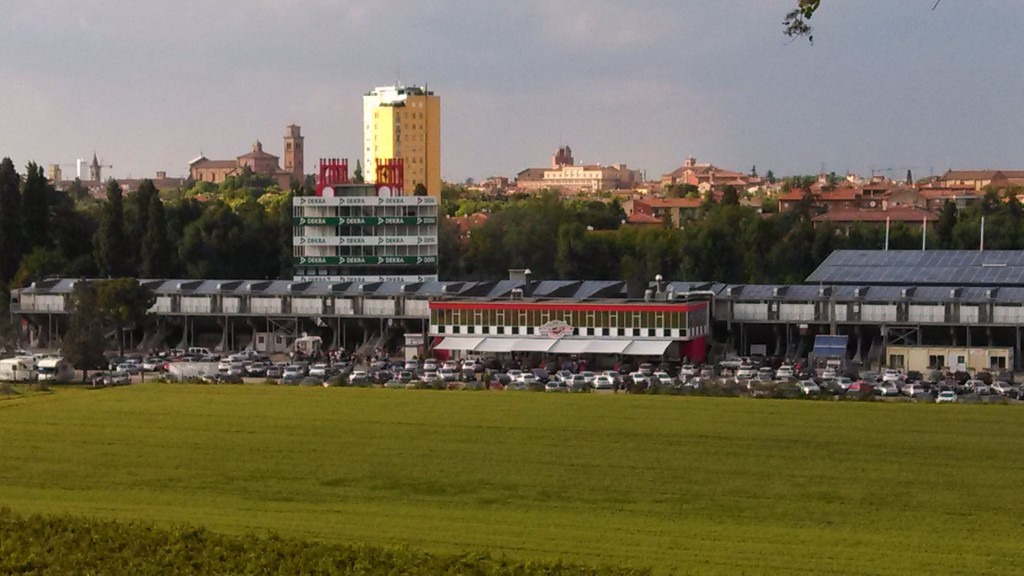 Driving from the hotel onto the Via Emilia, and out of Castel San Pietro Terme to Imola in a eurobox rental car, I found myself feeling pretty emotional – partly because I was so literally in Senna's wheeltracks, and also because the route is the SS-9, the Via Emilia, part of the route of the Mille Miglia, where, as a boy, Enzo Ferrari came and watched motor racing, and where, as a man, developed road cars which excelled on roads such as the Via Emilia was years ago. The area is beautiful, slate coloured farm houses nestling in verdant green fields. In his later years, Ferrari never wanted to leave. The world came to Maranello, the man remained in the shadow of Mount Cimone. In his memoirs, Ferrari tells a story of taking a famous actress out in a Ferrari GT car, saying:
"she had a peculiar feeling when the engine was turning at maximum revs – it was as though the hum penetrated her insides. I later told a friend of hers that I wondered what this feeling could be and he explained it to me with one of the great actress's own expressions in the expressive Roman vernacular."
All the best, the most visceral stuff of life is right here.
Simple things done well.
Either that, or I had just spent far too long on my own in the car.


Arriving at the track, I parked up outside, just by the river which runs right by Tamburello. It wasn't immediately clear whether I was really allowed to park in that spot, but other people had, so I rolled the dice. Imola is a park, and I wandered there first – here's what I found on the inside of Tamburello: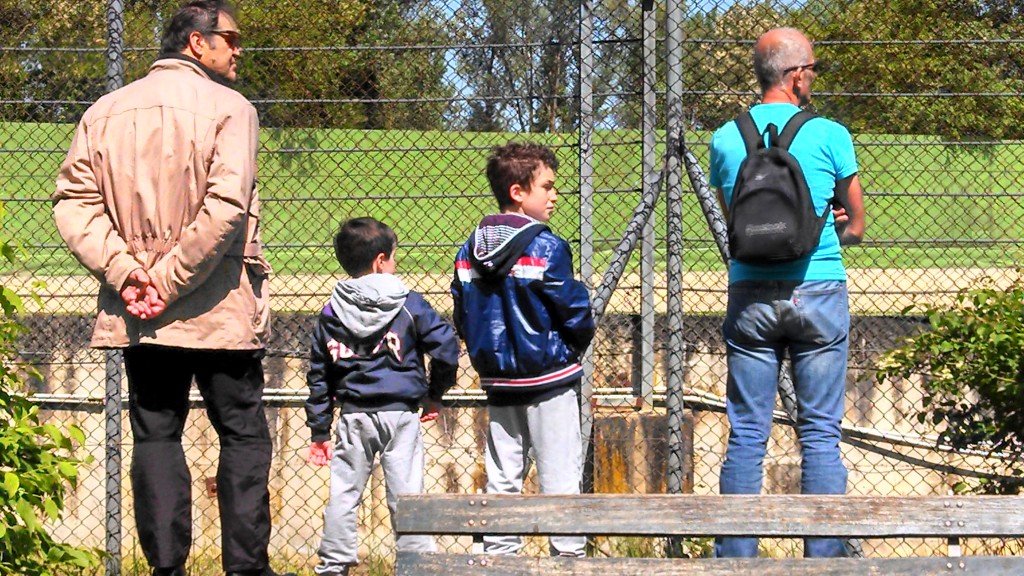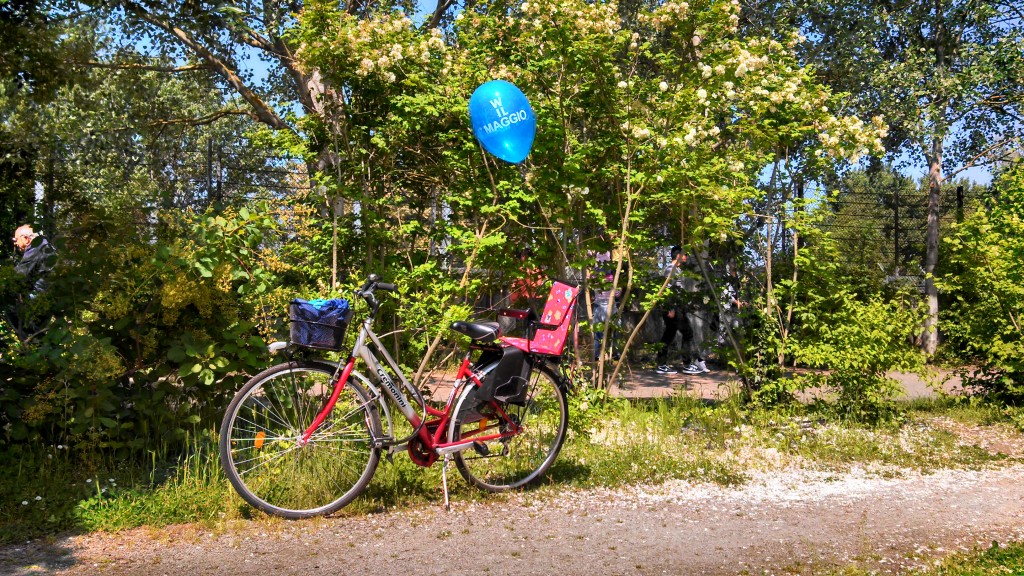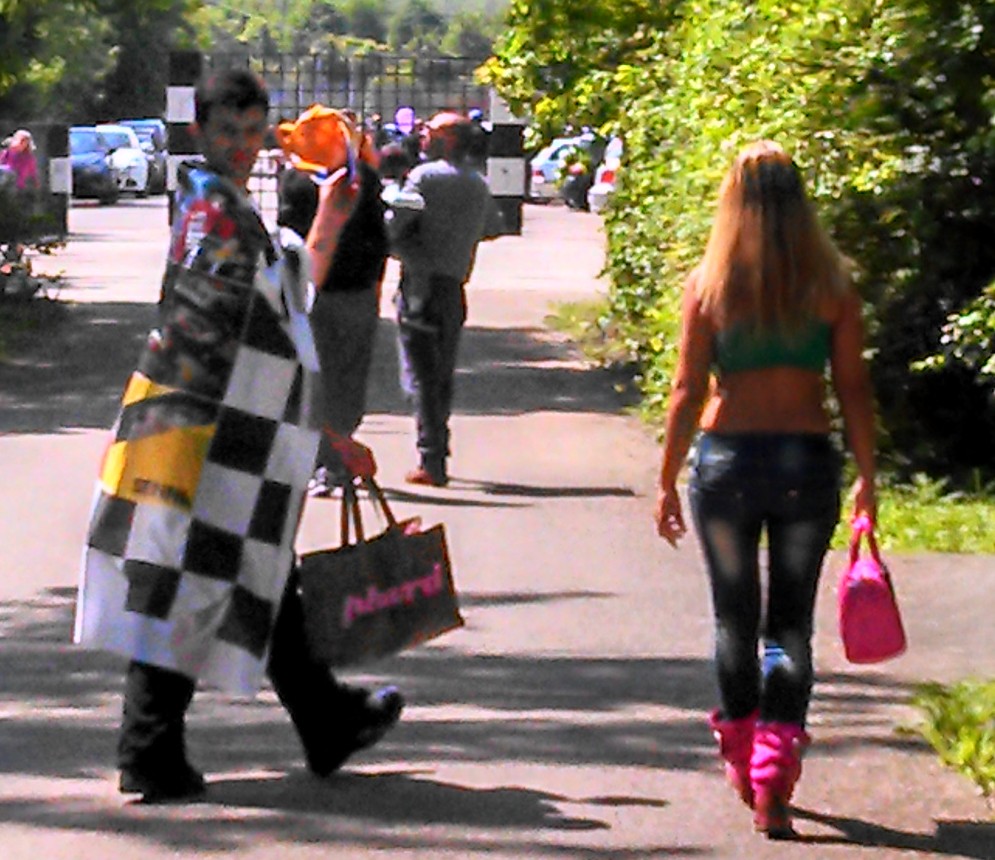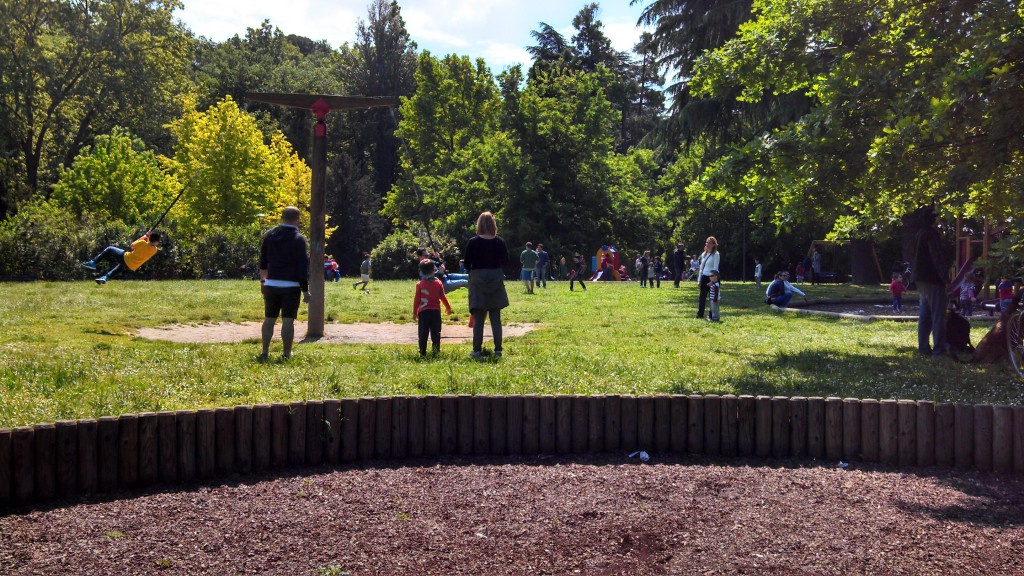 Initially I tried to get the lie of the land – there was an exhibition, cars on track and a very busy paddock. At lunch time the track day sessions ended, and I stood with a crowd awaiting the opening of the gate onto the track. The atmosphere was part rock concert sense of anticipation, part political demonstration, similar to one I once stumbled into in a rather rough town in Calabria. I hope the video captures that, with pantomime cheering and booing as it looked as if the gate was opening, but then was closed once more.


When we were allowed onto the track, it was only to walk from the grid to Tamburello, and this really did feel something like a pilgrimage. It was hot, and I was wearing shorts and flip flops; I walked barefoot in the grass, on the hot tarmac.

Who were the other people there ? Well, you be the judge, here we are entering the track, and making our little pilgrimage: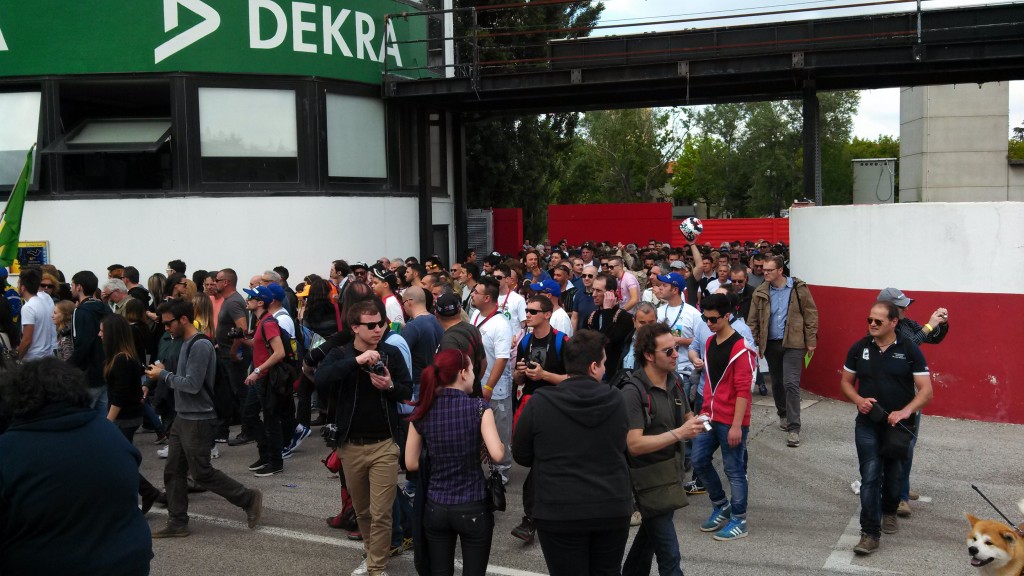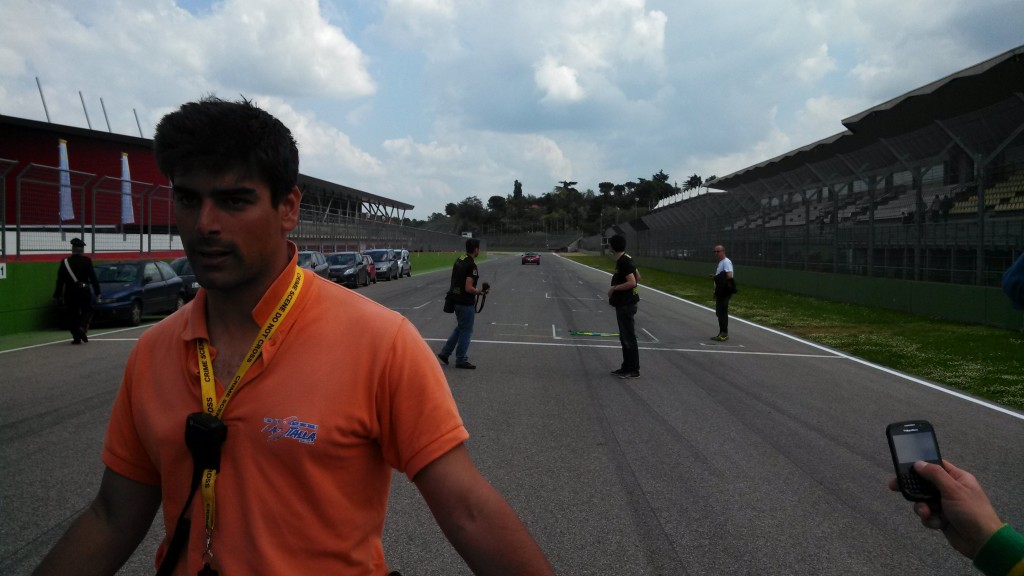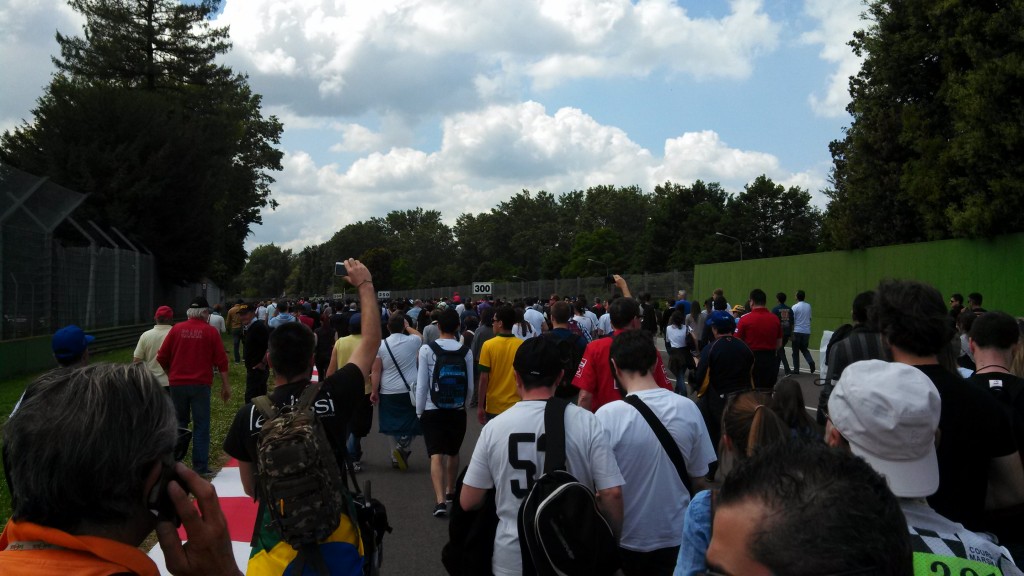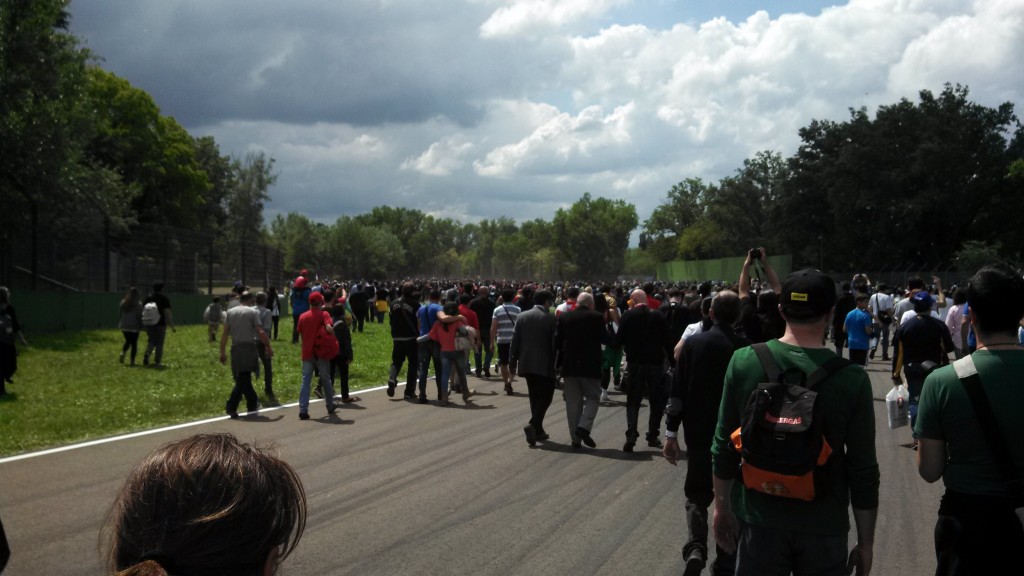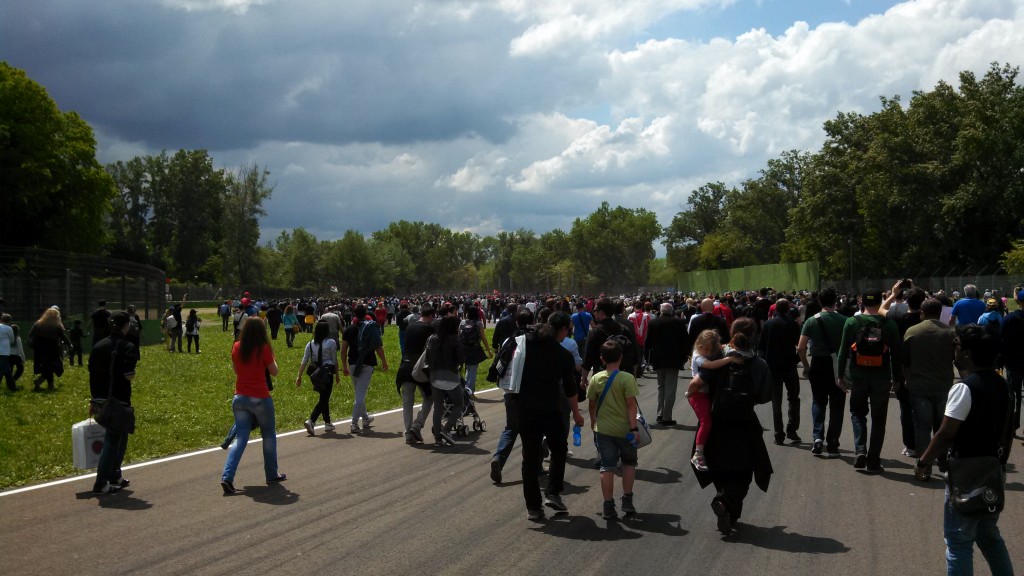 Someone must be making replica helmets too – once mine was unique: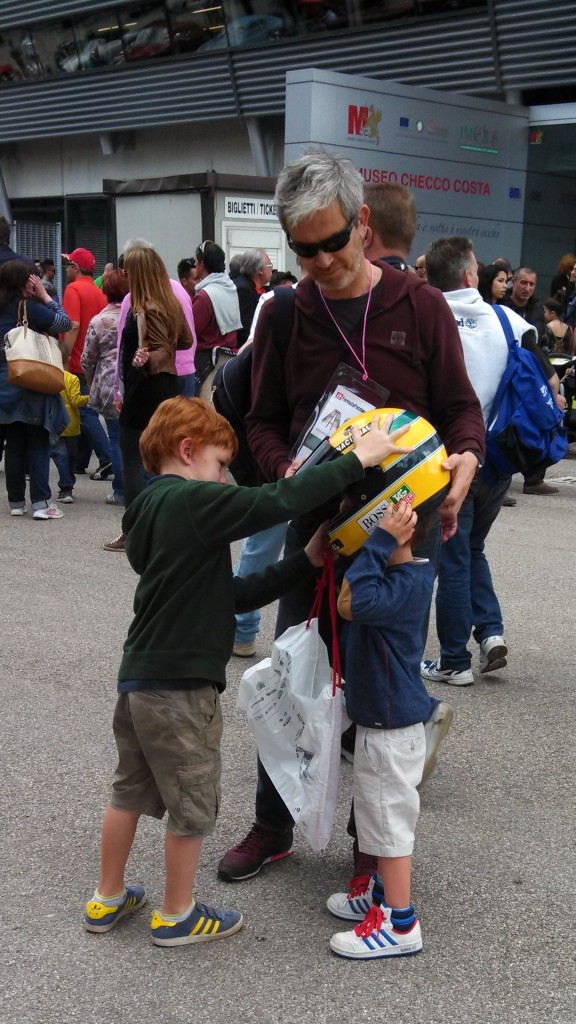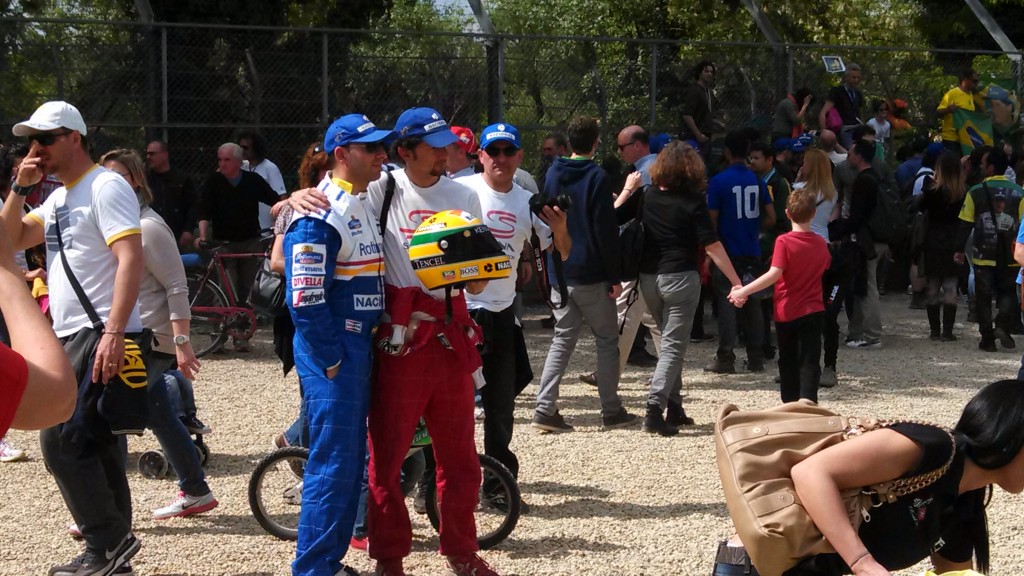 At Tamburello, we observed a minute's silence. Priest mumbled in Latin. Ferrari drivers, both contemporary and of yore spoke. Like a rock concert, it was hard to see anything, and you were carried somewhat by the ebb and flow of the herd. It was very emotionally charged; how many of these people actually remember Senna racing ? Surely no-one much younger than me, and I am 40!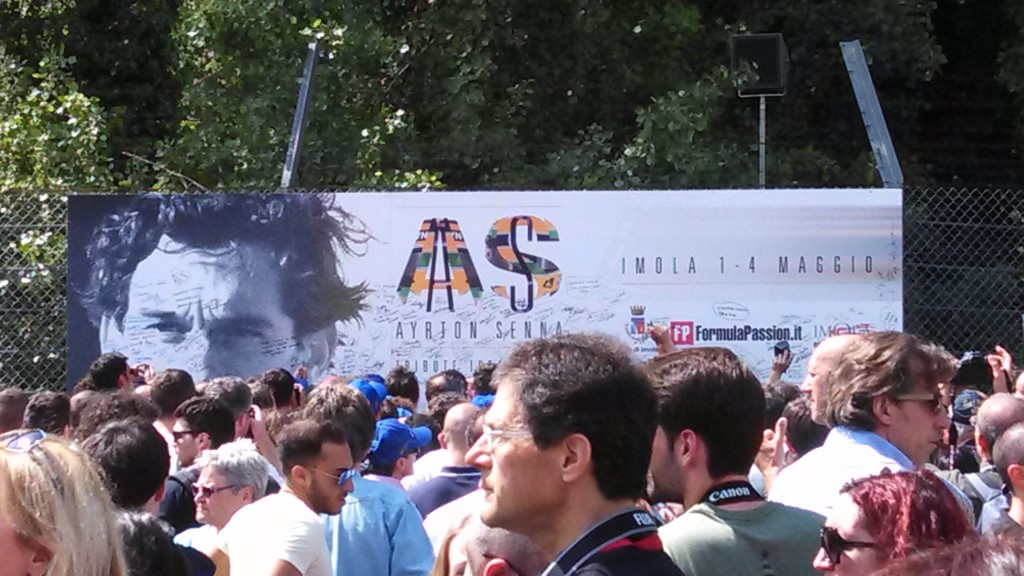 From memory, we had Raikonnen, Alonso, Morbidelli, Badoer and probably some others I am forgetting, most speaking Italian. Gerhard Berger, for many years Senna's team mate, and also a former Ferrari pilot spoke, and since he is known as a joker, the crowd half expected his anecdote to end with a funny of somesort. "Of course, I had my accident at Tamburello in '89….later, when we were teammates, Ayrton and I walked down here, and talked about what we could do. We wondered if we could push the wall back. But of course, the river is there. We thought there was nothing we could do. Of course, we could have asked for a chicane, like we have now….but we didn't think to do that…." No laugh, no funny, just an awkward pause. Then, a band struck up with the Italian National Anthem.

This is what I found on the outside of Tamburello, behind the wall which was the point of impact: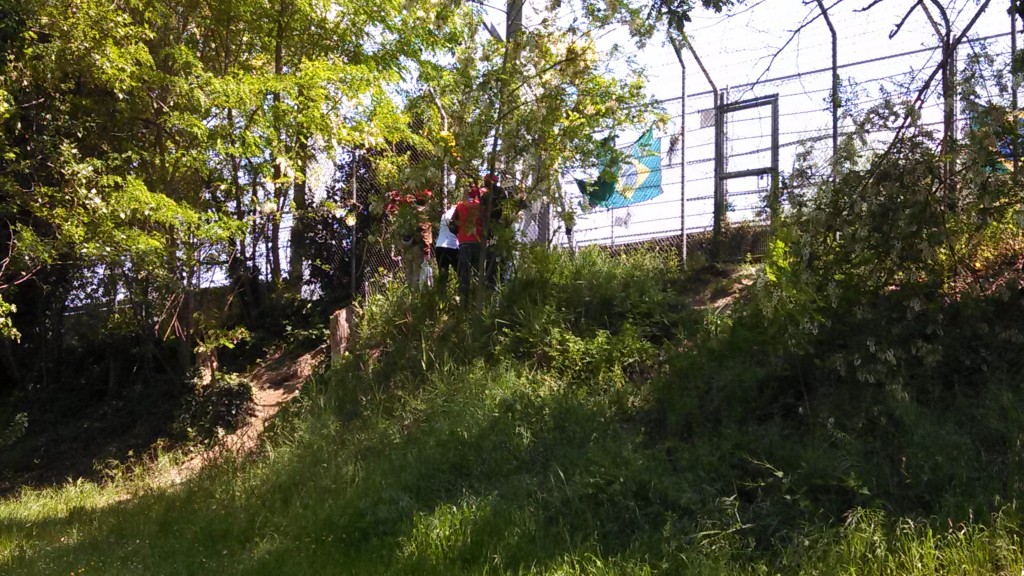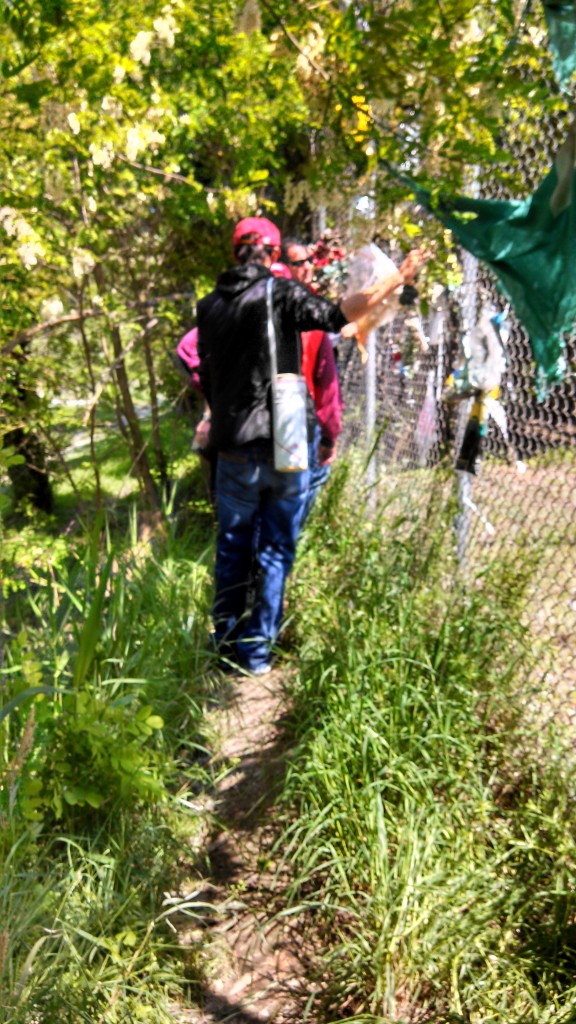 Afterwards, I walked around the track on the perimeter roads. They are named after great Italian motor racers, Ascari, Musso, Nuvolari, Tenni, cutting into the paddock as the crowds were leaving just by Rivazza.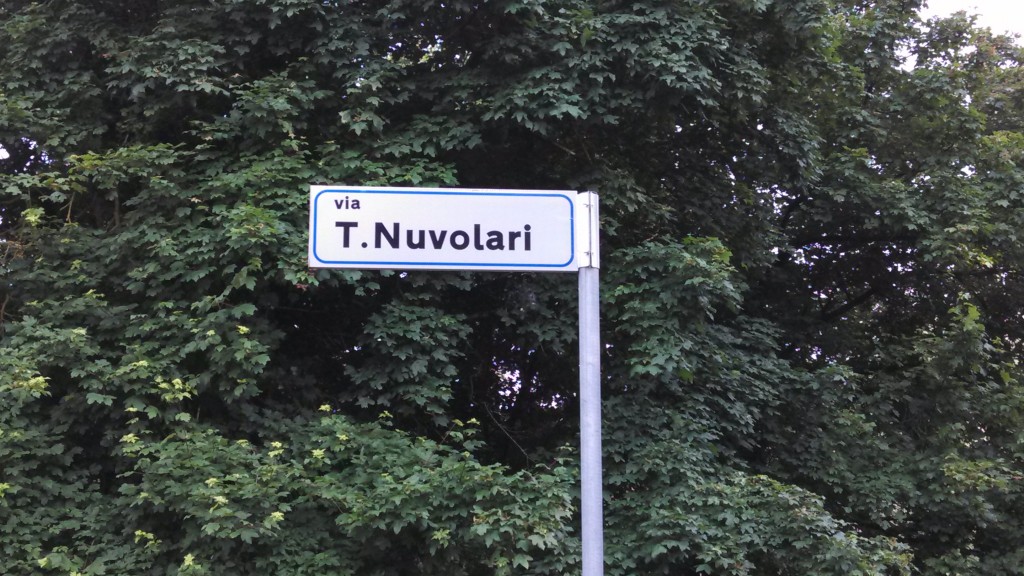 By the time I got back around to Rivazza, the long queues of earlier in the day had disappeared, and I could easily get into the exhibition. It was worthwhile, offering McLaren, Lotus and Toleman F1 chassis, and the Formula 3 Ralt with which he burst onto the european scene. I was recently lucky enough to hear some of the F1 cars run, and it tickles me that, to the ear of 2014, these cars now sound like tuner Civics – a 4 cylinder drone overlaid by the whistle of a gargantuan turbo. There was memerobilia too. Particularly poignant were some marshall's gloves, one signed by Senna, the other by Schumi. At the time, Michael had been in a coma for at least 3 months. I was particularly taken with the Warhol Senna; is anything more symbolic of becoming a twentieth century icon that being represented in the same style as Warhol's Elvis, Monroe, Campbell's soup can ? Linking everything together were about 100 large Keith Sutton photographic images, many familiar, some depicting fresh angles on familiar scenes. The large banner which had been down at Tamburello earlier in the afternoon, a few pics of Senna and virgin white, was now in the exhibition hall, bearing thousands of sharpie signatures – our activities today were part of the exhibit. You could even see the Opel Vectra GSi Pace car from 1994, which in this writers opinion was more responsible than any other single factor for Senna's accident.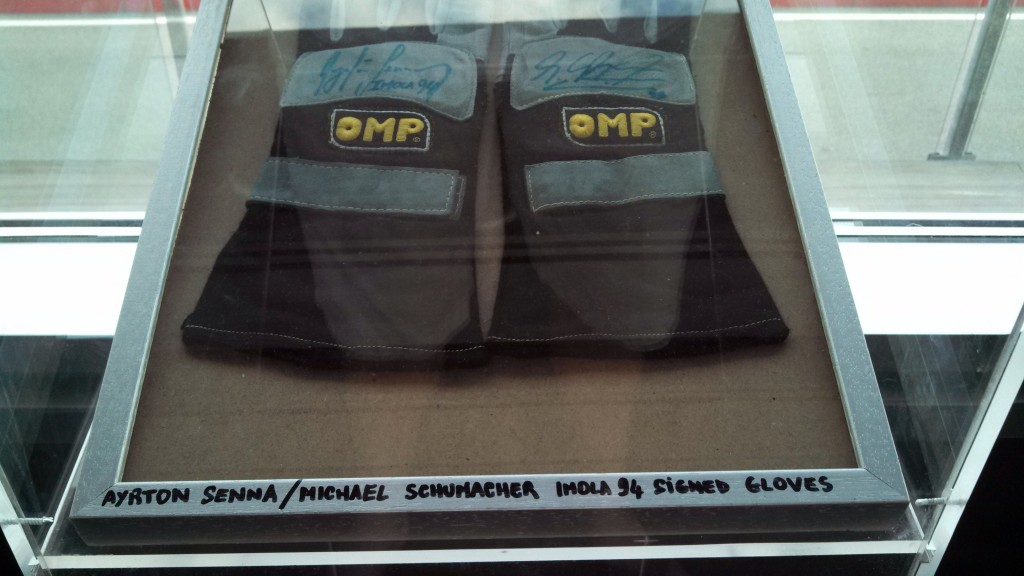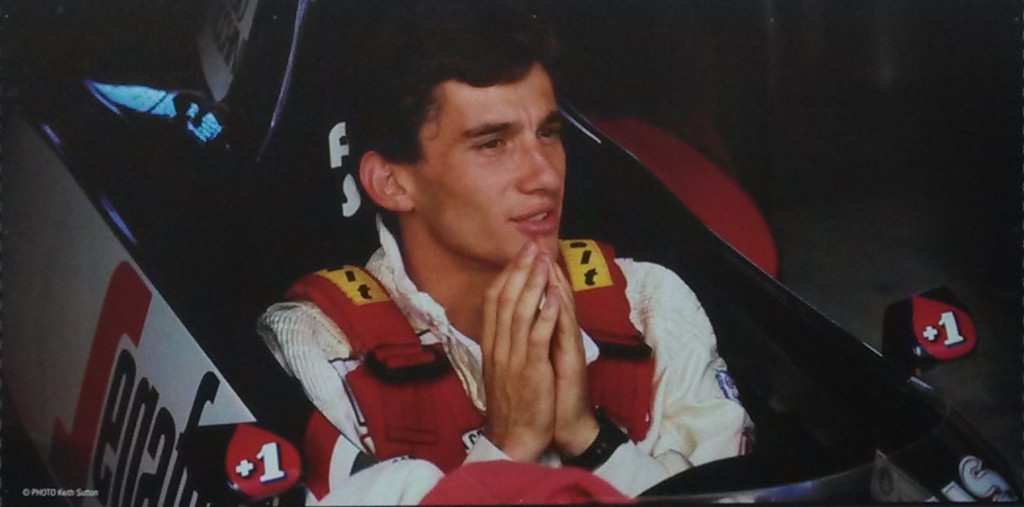 To non-Catholics the notion of Saints is an odd one, mortal men and woman who have become semi-divine, like Roman or Greek demi-gods. To anyone who knows modern Italy it is amusing that rather than directly asking God for something, you choose to work through an intermediary, a Saint who could "put in a good word" for you with God, since working around the system is a national sport in Italy. I used to wonder how one became a Saint. With a Mother Teresa of Calcutta, the qualifying criteria, if that is the term, is easy to see. In Brazilian and Italian attitudes to Senna a similar beatification seems to be taking place, a beatification which seems to forget that Senna was a flawed genius, that Prost won more races and championships.
What is going on here is not really a mystery; after all, if it was obvious to me at 12, obvious to me at 40 watching old races on youtube, that this guy really was something altogether different, inspiring, motivating – isn't this beatification, peculiar as it might seem, just another way of recognizing that Senna was special ? That his greatness lay in his approach and attitude, and that it is completely separate from statistics about numbers of races or championships won.
I had thought my trip to Imola was about death, but in fact it was about life. If there's a lesson here, it is perhaps that life is short, but if lived strikingly well, immortality is possible.