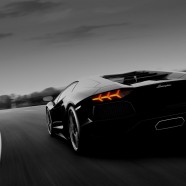 Aug

20
Tags
Related Posts
Share This
Pebble Beach: just for the rich guys ? Part 2
Two more vignettes showing that Pebble Beach is not only for the rich:
"I had significant influence in how those cars drove…."

A few years ago I did an event with Alain de Cadenet, and during our time together, we discussed how one can get paid to talk about cars, and he told me "We ( i.e. former racing drivers ) usually try to find out what Stirling charges, and then ask a bit less….." This anecdote speaks to Stirling Moss' recognition that simply Being Stirling Moss, Racing Driver, was a commodity you could sell. Perhaps no-one grasped this mantra better than Jackie Stewart, who segued seamlessly from being a Formula 1 World Champion to being a NASCAR and Indianapolis 500 commentator ( The Fabricator told me "When I was a kid, I would always watch the Indy 500 with my Dad, and I always used to wonder who that little guy with the annoying accent was……') and also a regular fixture in Ford publicity material. These badly dated commercials are now all over youtube – a particular favourite of mine is the Capri 2 launch, where Helen Stewart appears alongside husband Jackie. One of my responsibilities at Pebble this year was guiding a show field tour for one of the main sponsors. Jackie Stewart was along too, in his trademark/caricature tartan trousers and cap, and that meant my role was less talking, and more chaperoning laggards. That meant that unfortunately I missed most of his commentary/insight, which was a shame. In between the Maserati road car and competition car classes, I had a chance to have a word with him. I mentioned those old Ford ads, and asked: "Did you really think the cars were any good ?" "Oh yes" replied the Wee Scot slipping straight into Ford spokesman role "of course, I couldn't influence how the cars looked, but I had significant influence in how they drove…." – polished, entertaining, rhetorical – whether he really did influence the cars isn't important. When our conversation was interrupted by a blonde wanting a photo with the Famous Racing Driver, he made sure to reconnect with me, to finish off answering my question, and in that gesture, he demonstrated the sheer professionalism which has been the hallmark of his remarkable career. It is worth remembering Stewart raced in an era when you "retired while you still could" and when he retired, he had won more Grand Prix than anyone else before him, a record he held for more than a decade.


"Wanna Sit in the Aventador ?"
I have a little spot at the side of Carmel Valley Road where I park up to eat lunch – this year I even took a photo of the Bullitt car in situ: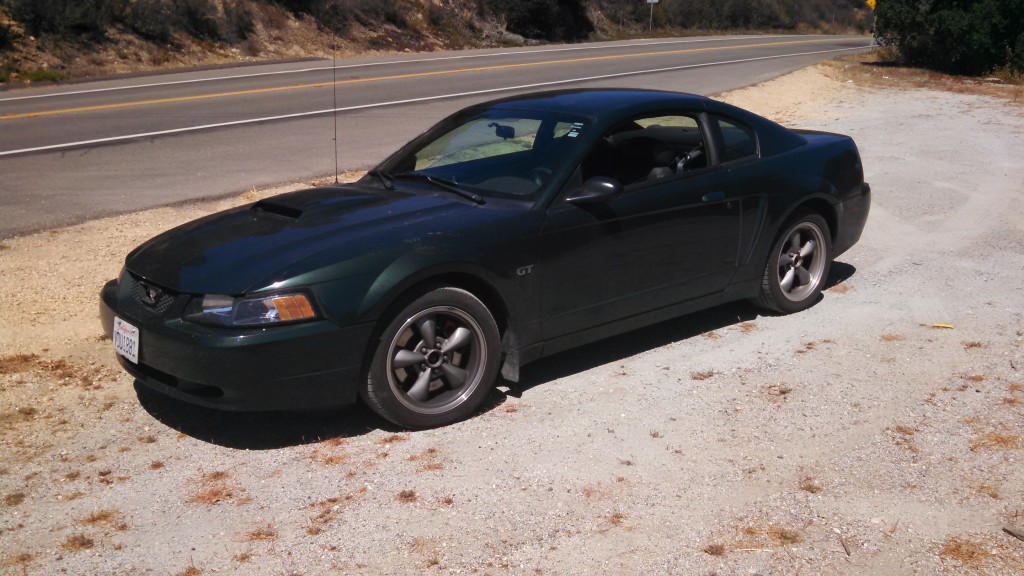 The passing traffic is always stupefying. Last year, half the Trans Am historic field came by on their way from Laguna Seca – a dozen 400hp+ side pipe muscle cars. Brian Johnson, lead singer of AC/DC in his 1928 Bentley with two attractive women. This year, my little spot happened to be on the Lamborghini test drive route. I counted seven of this new Huracan affair in convoy, impressing even a jaded old fellow like me. Near the Baja Cantina, I defeated the parking hassle in my usual way of parking a long way off and hiking. Having looked at Sunbeam Tigers and Superformance Cobras and GT40s, I made my way towards the Quail. En route I passed the Lambo test drive base. The new car seems to have rather predictable styling, but the old big Lambo, the Aventador, is different, at least it is to me. The sculpture is more aggressive, the edges evoke the electrifying Reventon. I visited the Lamborghini factory in 2004 and was shocked by how the old 1960s facade and amazing museum full not just of cars but speed boats were now surrounded by newly surfaced car parks full of Audis on Ingolstadt number plates; before Audi, each new Lamborghini looked like a UFO; now they have a corporate look, and the brand knows its place in the VW hierarchy, forever below Bugatti but edgily styled next to Porsche. I know they are reliable and well made now, but I want a Lamborghini, not an Audighini, don't you ?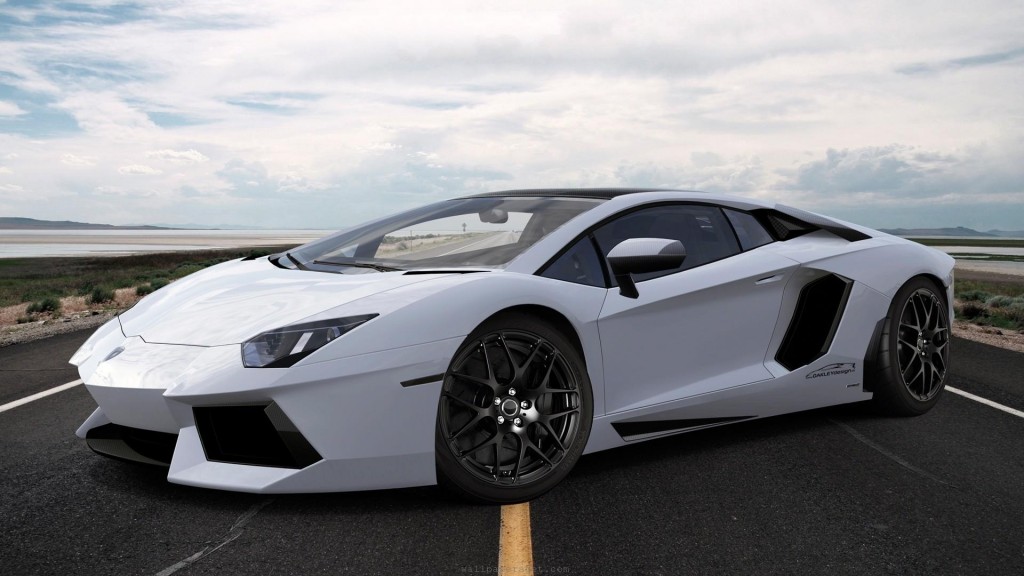 I was brooding in this vein when Valentino Rossi's doppelganger approached, and said "Wanna sit in the Aventador ?" with a heavy Italian accent. Astonished to be mistaken for a potential Audighini customer, I said sure. Inside it was black, and the windscreen seemed wide and low. You're conscious of the huge shoulders, and of three simple controls: go, stop and steer. I felt the license losing potential of 700hp+, brakes this good and tyres that wide, but I didn't feel the lust I do for sixties Lambos. I asked Rossi about the marques older cars, not directly, just probingly, and he volunteered "Of course, we would all have a Miura if we could, mine would be in lime green…."
There it is: even salespeople are now acknowledging that the technology of fifty years ago is superior – more desirable – than the uber-tech of 2014.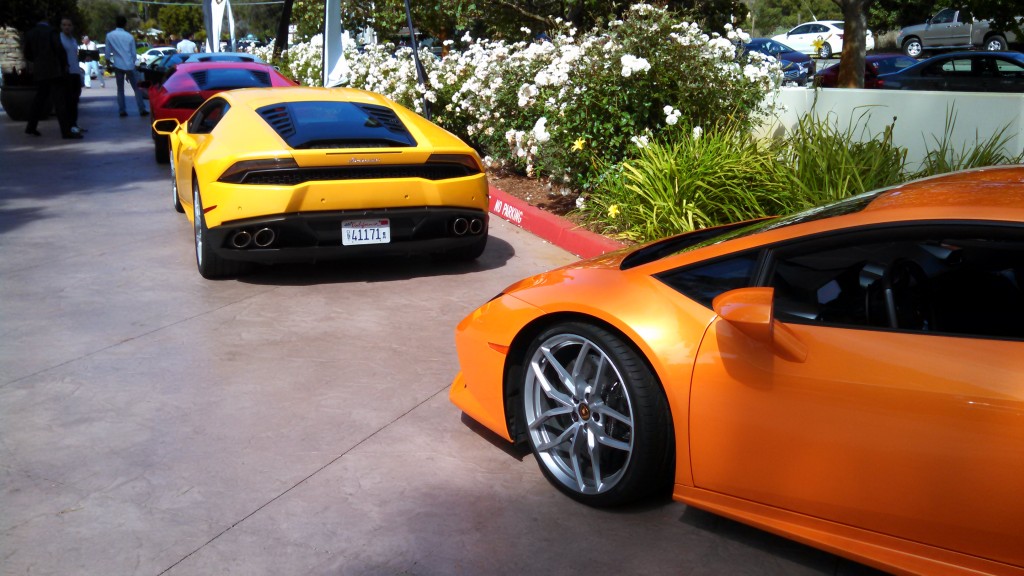 Some more of those Jackie Stewart-flogs-Ford commercials: