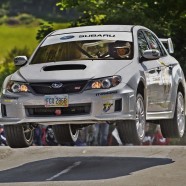 May

02
Tags
Related Posts
Share This
Subaru Impreza vs. Isle of Man TT
Towards the end of last year I learned about Subaru's attempt to set a new lap speed record for cars around the famed Isle of Man TT course. This involved a specially prepared Impreza, with Mark Higgins, a former British Rally Champion, at the wheel.
With this onboard film in mind it is easy to see why the race organizers are reluctant to allow cars on track, isn't it ?
There's a lot of comment online about how stoical the journalist was, "he must have twelve bollocks" and suchlike. My contact at Subaru, who was there in the island, told me that rather than being stoical, he was infact so stunned by his near death experience he wasn't sure quite how to react…..