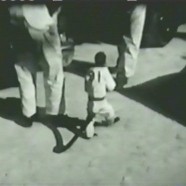 Jun

06
Tags
Related Posts
Share This
Jocko Flocko, the NASCAR Monkey

I have been reading a history of early NASCAR, written around 1980; it features first person accounts written using tapes made in interviews carried out by the writer, Sylvia Wilkinson. Wilkinson is a published novelist from NASCAR's spiritual home, North Carolina, and the stories are deftly told. Many of the people she spoke to are now gone – including Tim Flock, Grand National Champion in 1952 and 1955:
"That was back when I had my monkey in the car, Jocko Flocko. He had his own lil' racing suit an' goggles. I had him strapped in there with belts an' he could look out on the people in the stands. Poor ole Jocko. He got loose in the car at this race in Raleigh once. We had this chain to check the wear on the right front tire*. Well ole Jocko had been watching me do that and soon as he came unstrapped he went right for the hole and stuck his head through. The tire zipped him on the head and he liked to have went crazy. I had to grab hold of him and make and pit stop to hand him to one of the mechanics. That was the only time in Nascar history a driver had to make a pitstop to let a monkey out of his car. Cost me $750. While I was getting rid of Jocko, Speedy Johnson passed me for second."
*Ingenious, really, you pull the chain and open a little steel window, cut into the inner fender well to observe the tire. See any white ? That will be the canvas, so you better pit 😉
Tim Flock was one of eight children, growing up dependent upon a widowed mother. His elder brother, Bob, learned moonshine running as a way to make ends meet. That kind of extreme poverty explains the financial motivation of nearly all the early NASCAR stars. The Flocks were, according to Tim "A family of daredevils"– for example one of his sisters was a wingwalker in airshows. In all, four of the Flock siblings raced NASCAR.
Like all good legends, a little research reveals different versions of the story; $600, not $750 was lost; Jocko was looking when he was hit between the eyes by a stone thrown up by the tire; Jocko clawing at Flock as he was driving. Whatever the reality, I think we can be sure Jocko didn't enjoy the speed and noise of NASCAR racing like the other Flocks.
Apparently the team owner bought him as a publicity stunt – noticed him in a shop window already called Jocko, and decided on his name, Jocko Flocko, right there and then. The idea was carried right through – look at Jocko's name pinstriped on the roof of the Hudson, above.