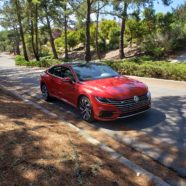 Sep

09
Tags
Related Posts
Share This
2020 New Model Driving Impressions: Corolla, Arteon, Genesis, E53
Toyota Corolla XSE – having been impressed with the Telluride, we carried this budget conscious mindset to our 2020 new model driving impressions of the Corolla. I am not predisposed to love Toyotas, and certainly not small ones with front wheel drive and automatic transmissions. However, this new Corolla manages to be a disarmingly strong package. The thrashy, unappealling motor is to be expected, however this was offset by unexpectedly competent handling, and reassuring brakes. An interior which compares well with cars costing $10 or $15k more, and fresh exterior styling which combines Toyota's current I-say-edgey / you-say-ugly design language into quite an elegant shape creates a jolly charismatic package, at least in the gussied up XSE top-of-the-range I sampled. Unless you're zinging up the gearbox, or hurling it into a turn, this is a much, much better small car than my Fiesta ST for barely any more money. Ah Toyota, I don't love you, but I respect you.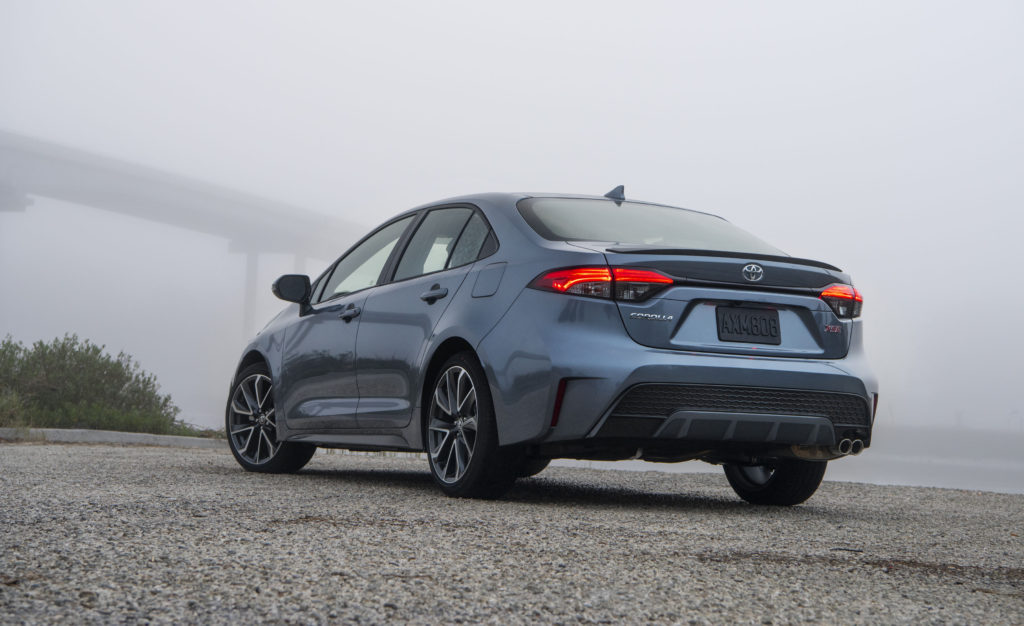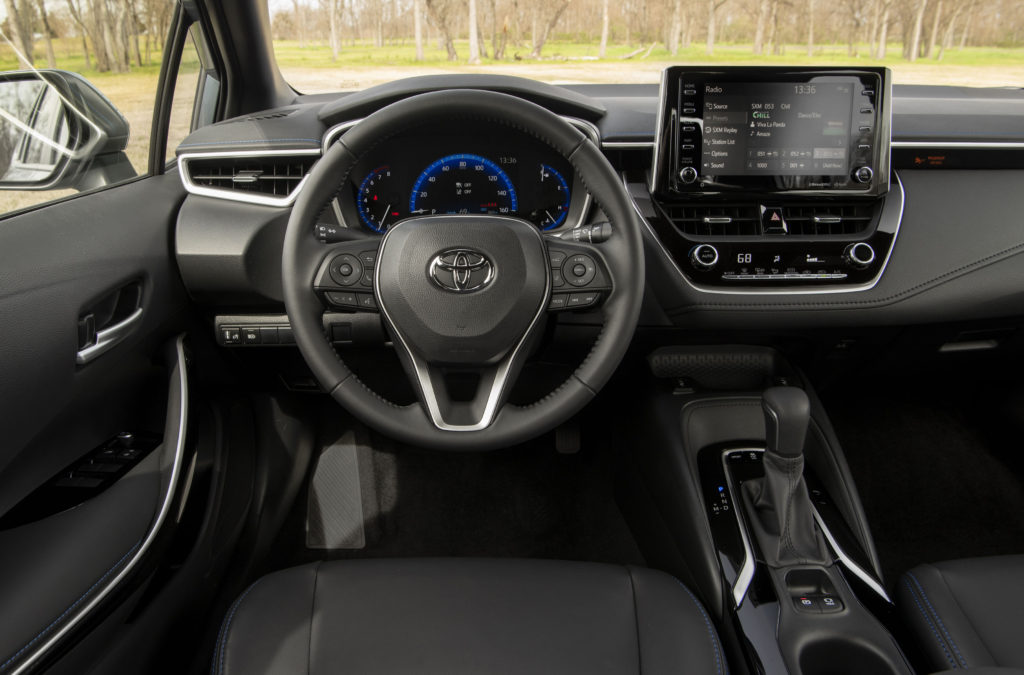 #Corolla #LetsGoPlaces

Arteon 2.0 SEL Premium R-Line w/4Motion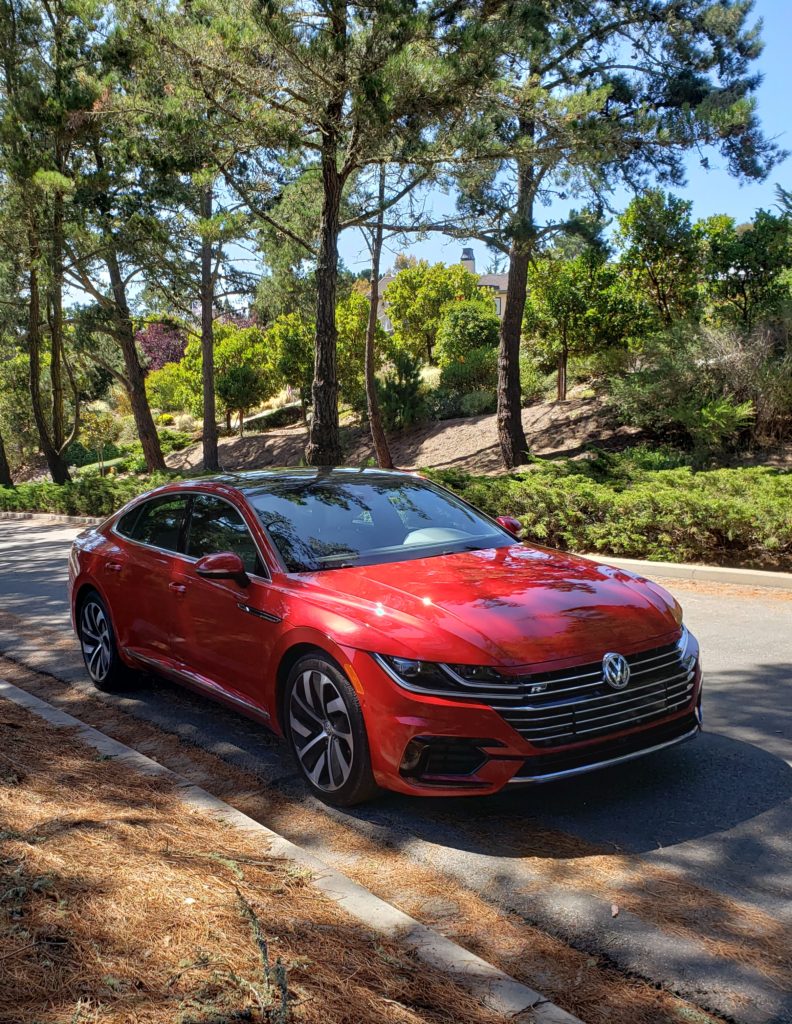 Next I turned to a larger, higher priced version of the Corolla, in that it was four cylinders and felt front wheel drive, although I subsequently learned it was infact all wheel drive, or 4 motion in VW-speke. Is the Arteon worth about $15k over the Corolla? The aesthetics, especially the front three quarter view is really most impressive element here. And indeed so plush and premium feeling it is that it seems surprising it has only four cylinders, but such are the engineering miracles of the twenty first century. It was fine to drive. In extremis, of course, a little understeery, and heavy, but even working it hard on sweeping bends with poor surfaces it was fine, if not fun. I found the ubiquitous screen rather busy looking. But my, that grille; the way that line runs around the car from the top of the headlight, through the mirror, around the trunk….the sizzle here is impressive, the substance not quite to my palate.

#VW #Arteon @VW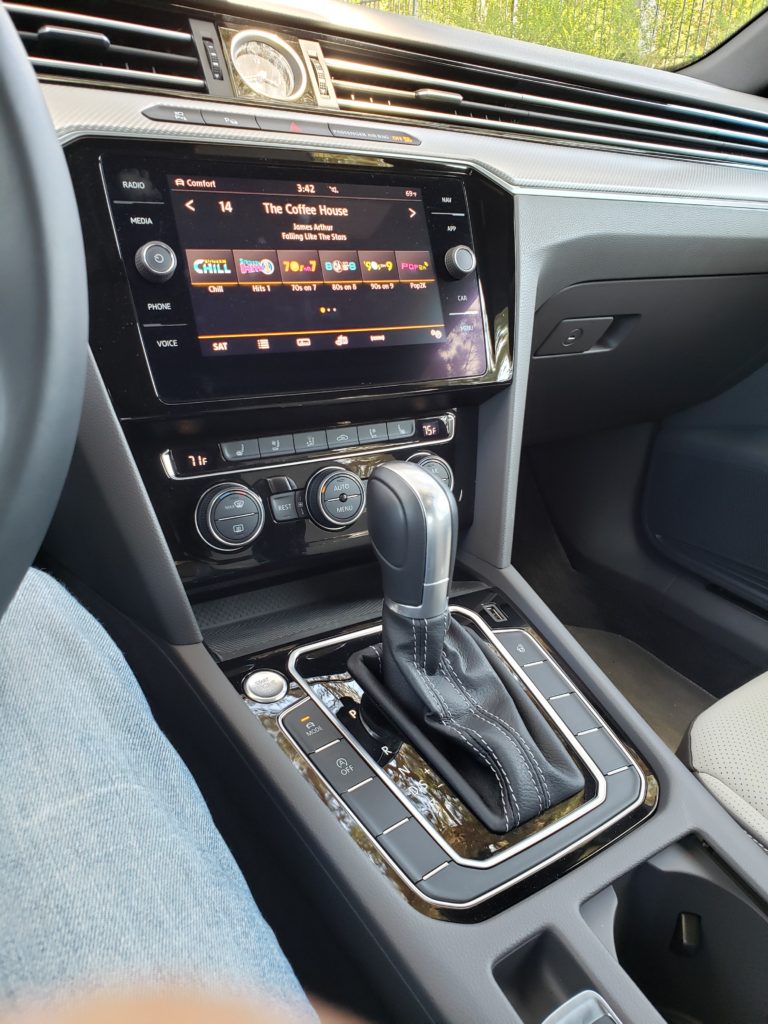 Genesis G70 RWD 3.3T Dynamic Edition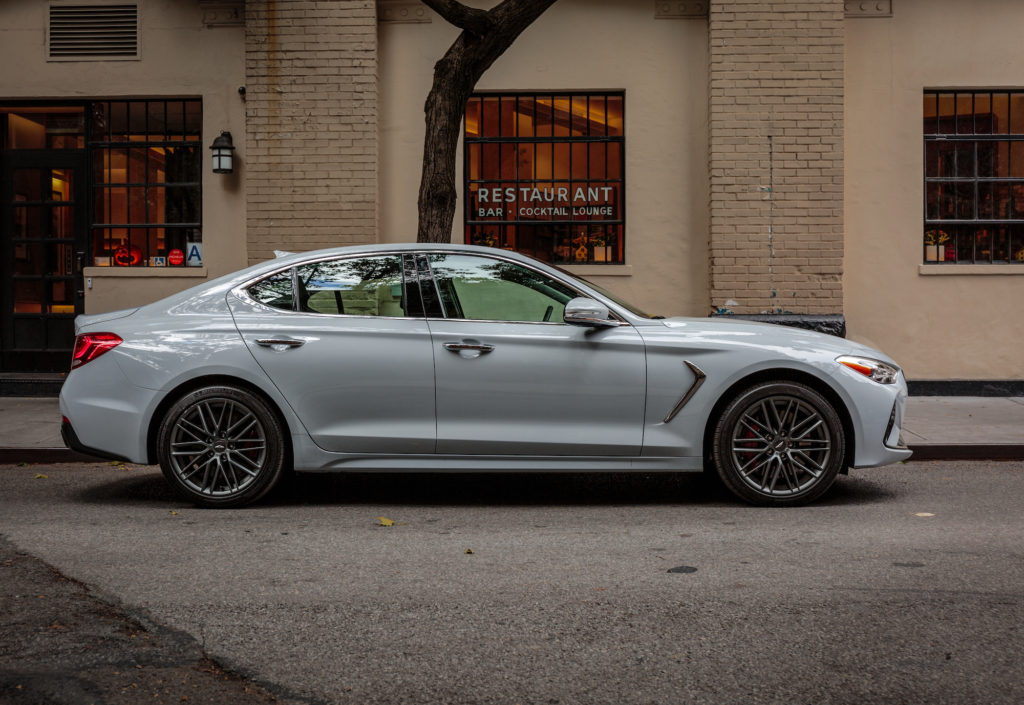 There seems little doubt this was the best car I drove all day, both objectively: it is better than other cars at this, and many higher price points; and subjectively: it was fun, full of interesting design features, and delivered its not inconsiderable performance with panache.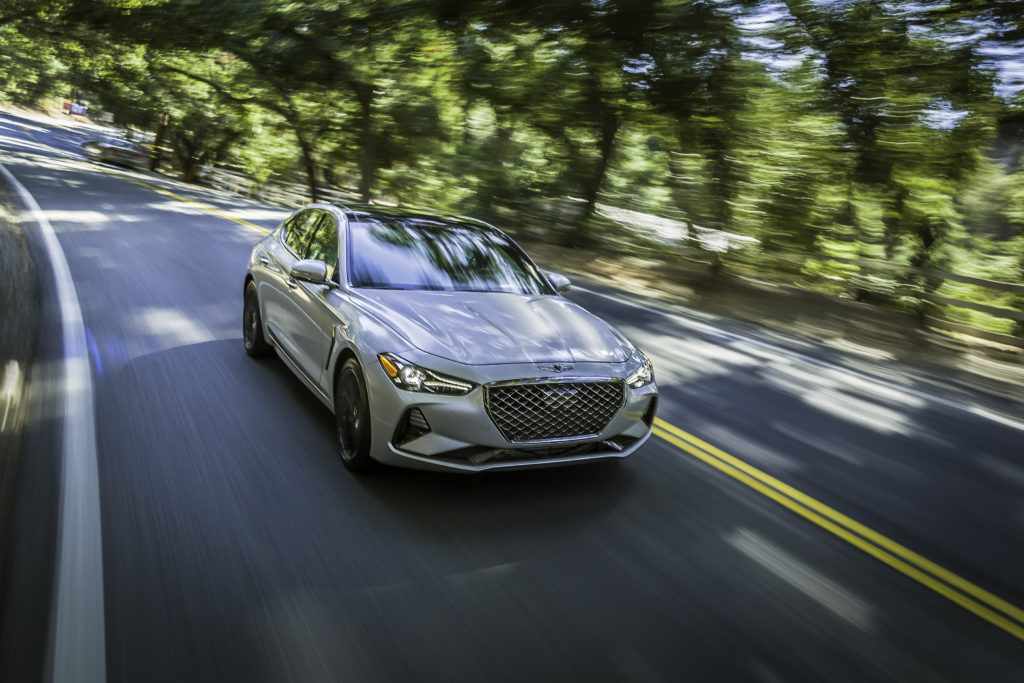 This is a similar price to Arteon but a rear wheel drive V6. If it was the 80s, this a BMW E30 against Arteon's Buicks/Oldsmobiles. Icing the cake, the test car was a special edition. To my cynical eyes, the grille/c-pillar "shoulders"/stance are just right. Oh sure, there's not much which you haven't seen before from Audi or Tesla, but G70 is executed so well. I am reminded me of the 1992 Nissan 300ZX when it launched. I saw one in provincial England, thought it was a Camaro! To succesfully break new styling ground for the brand is the G70s trick.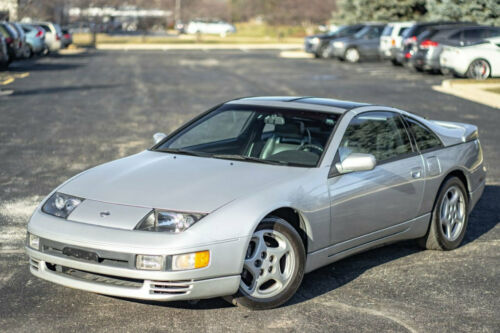 On the road, the interior is lovely quality, if a bit cramped due to the high transmission tunnel. The power delivery is exciting, visceral, and far more Corvette than traditional Hyundai.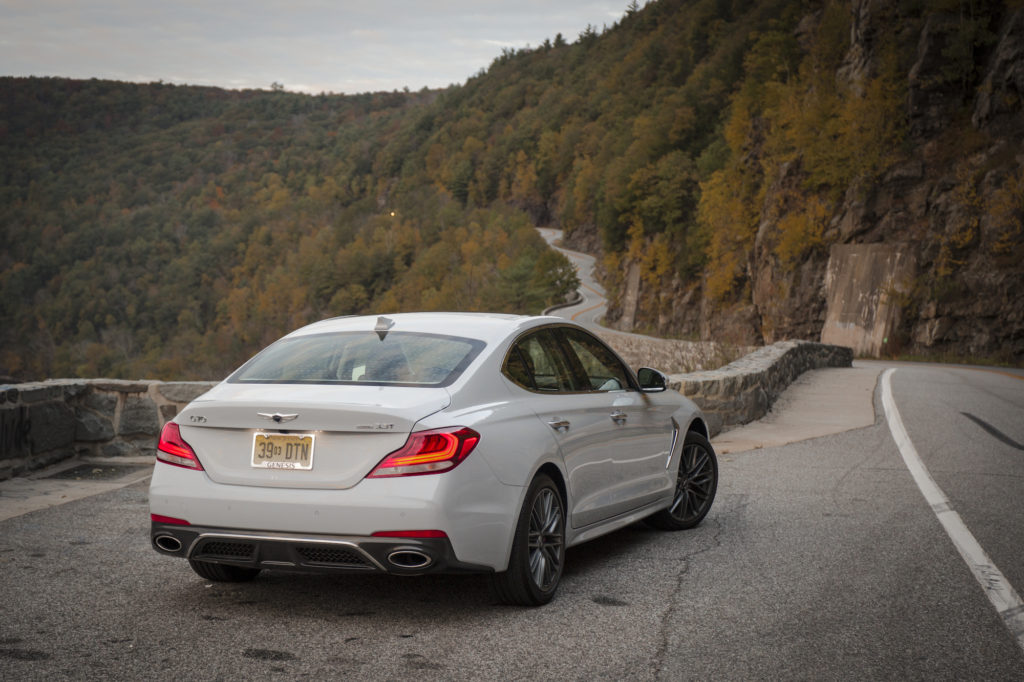 The talk over lunch was that it is made at a loss to establish market share. A $50k car for $40k. Certainly, it seemed this way to me: I expected to be impressed, and still G70 exceeded, and the difference was in the subtle details. The things only a sensitive, car loving driver feels/notices/cares about have been designed with the completeness we feel from BMW, Mercedes-Benz or Porsche. Bravo indeed, Genesis.
#G70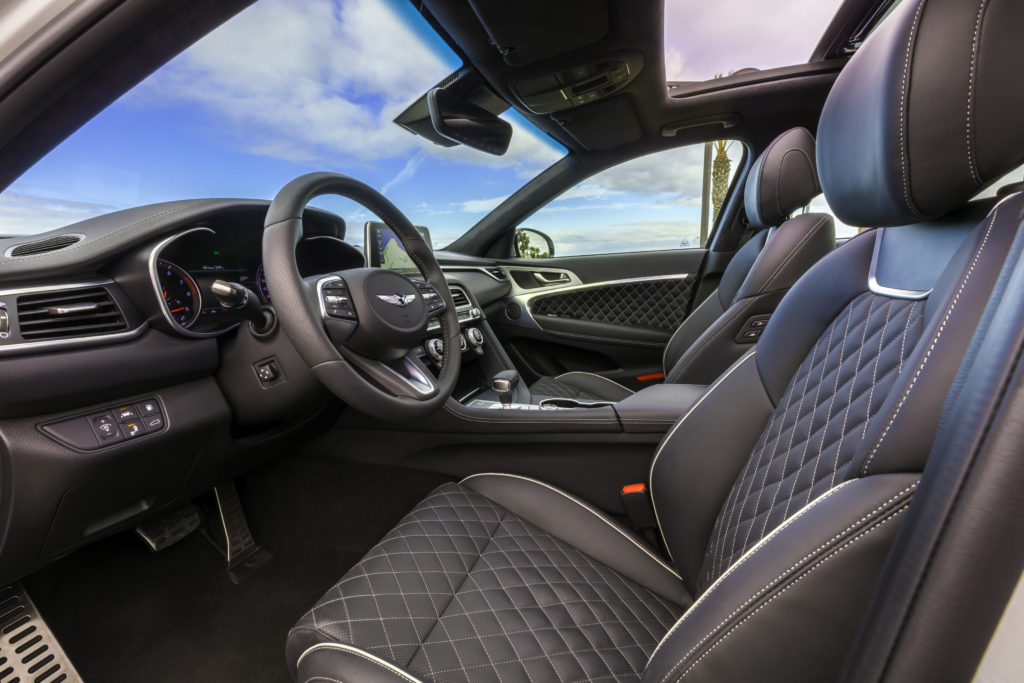 AMG E53 Cabrio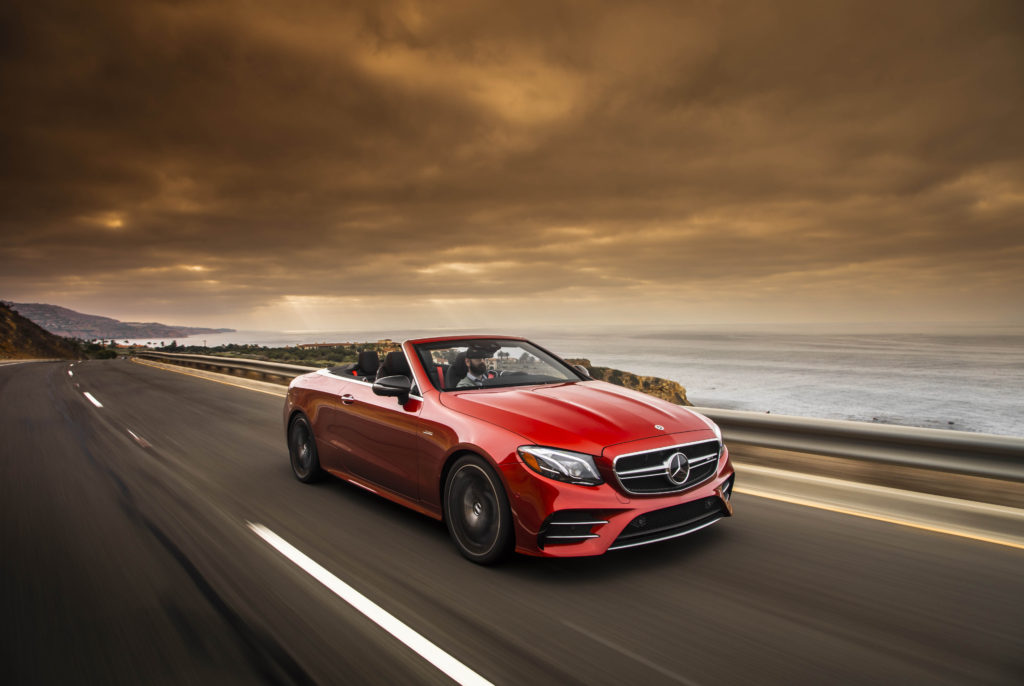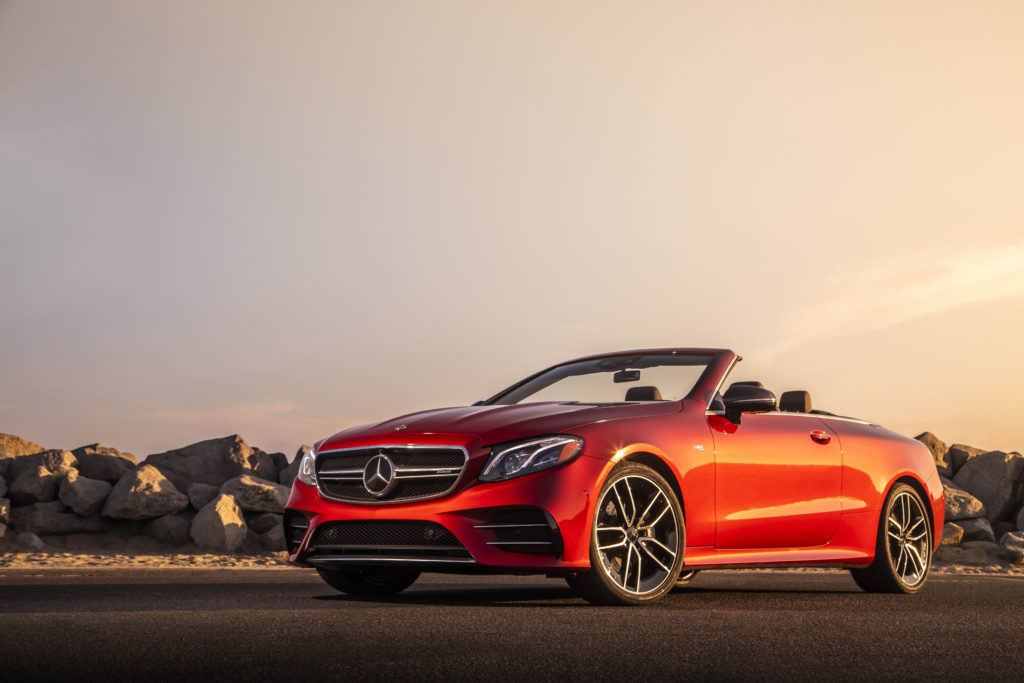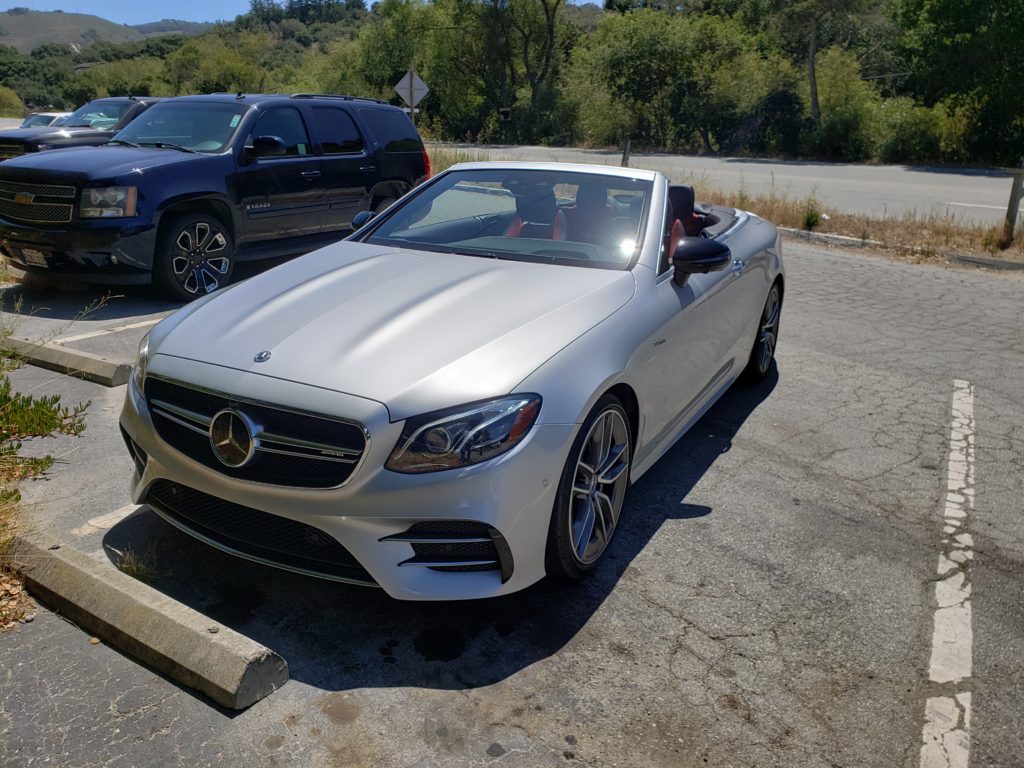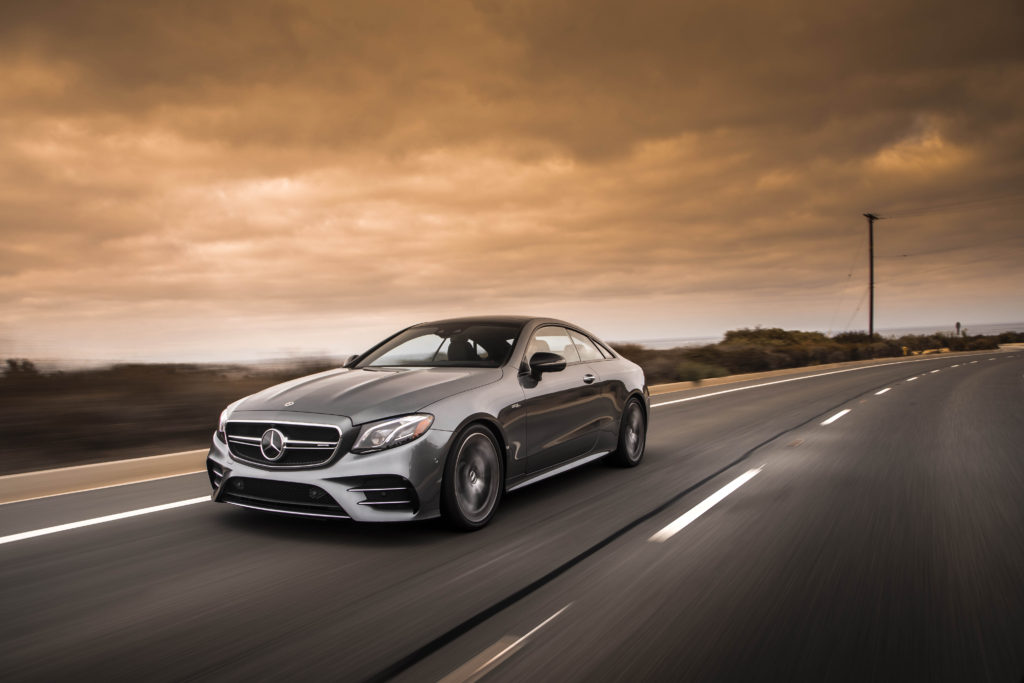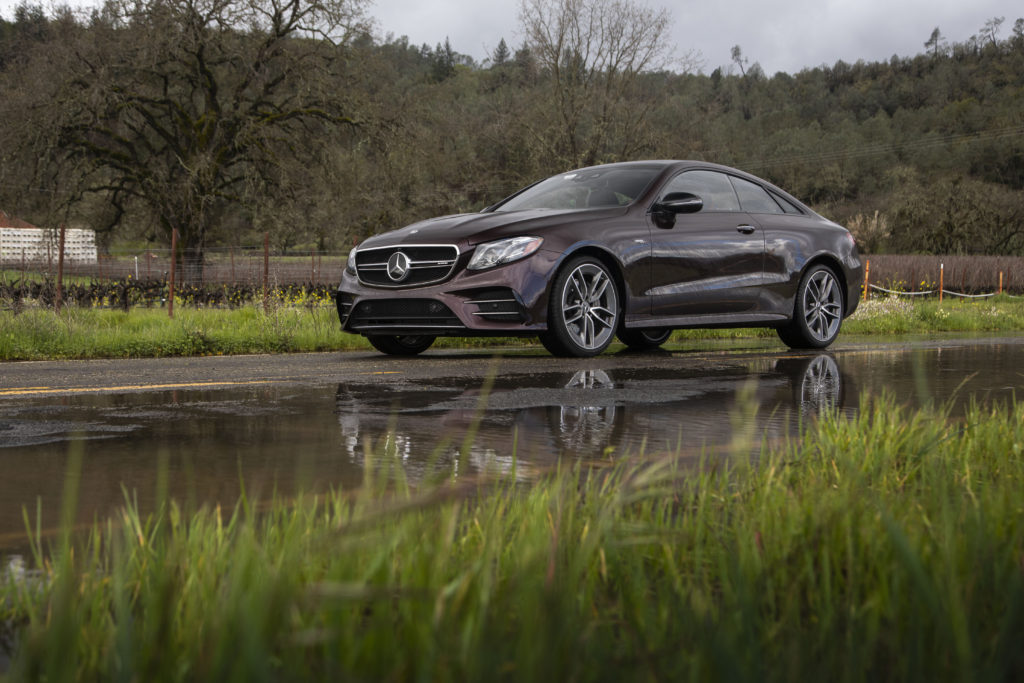 Full disclosure: l am a recent AMG convert, and relished the chance to get to know a new example of the breed.
The E53 has spectacular interior and exterior design. I have used some of Mercedes PR images here to show how a coupe in grey has a very different vibe from a burgundy cabrio, and it is important to appreciate this about the E53! The not so good pics of the silver cabrio are mine, and depict the test car. It stood out from across the car park, and matched that elevated experience when you sat inside. You need to see the media images to get a proper feel for the car – it really did have quite a sense of occasion. For me, it was a little too attention getting, especially in cabrio form, but, my word, what a pleasing exterior design, both with the roof up or down. Interior details and design are spectacular.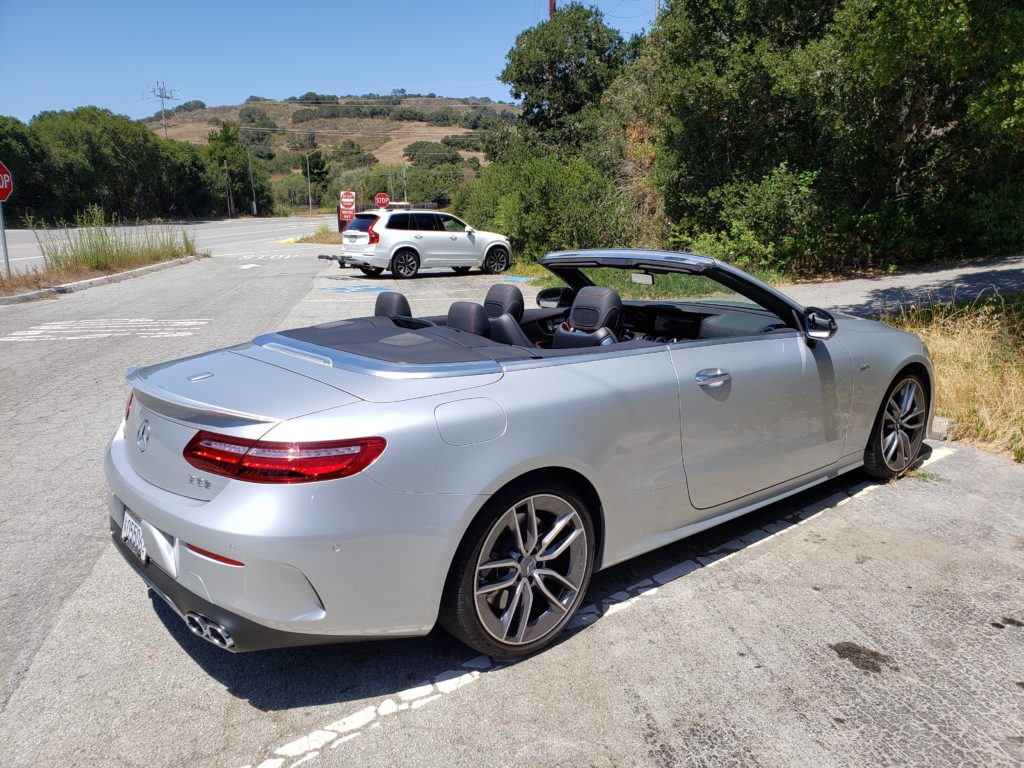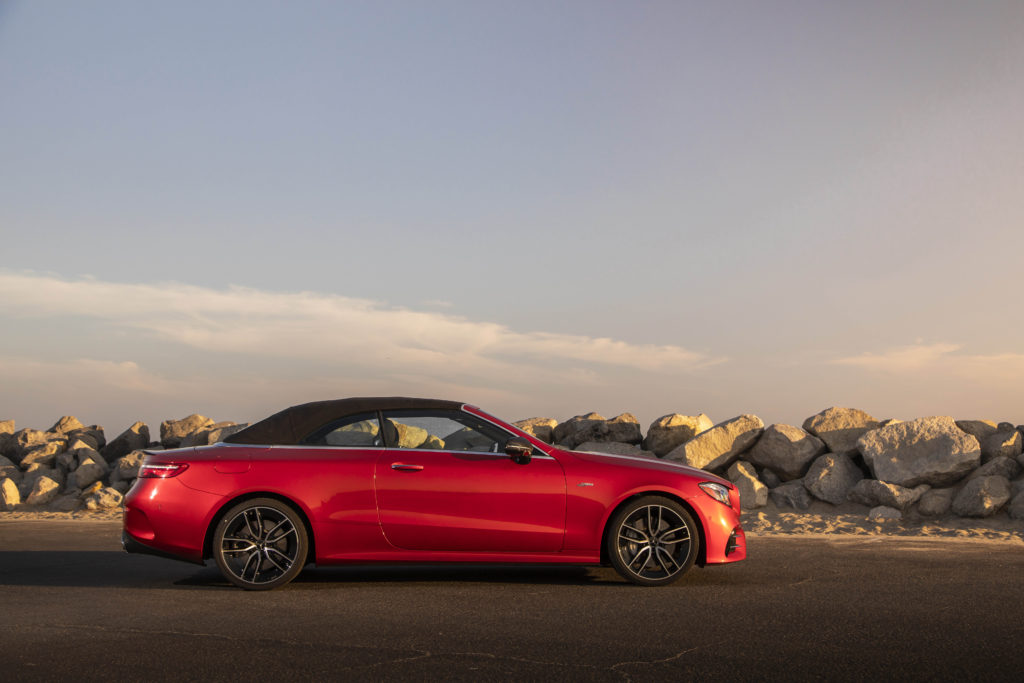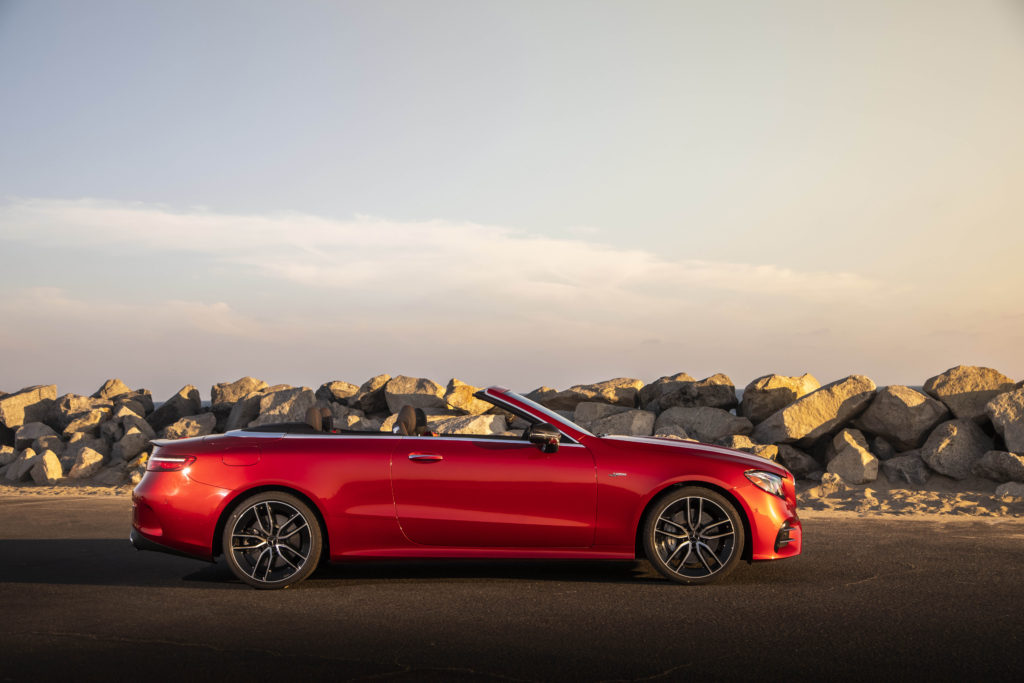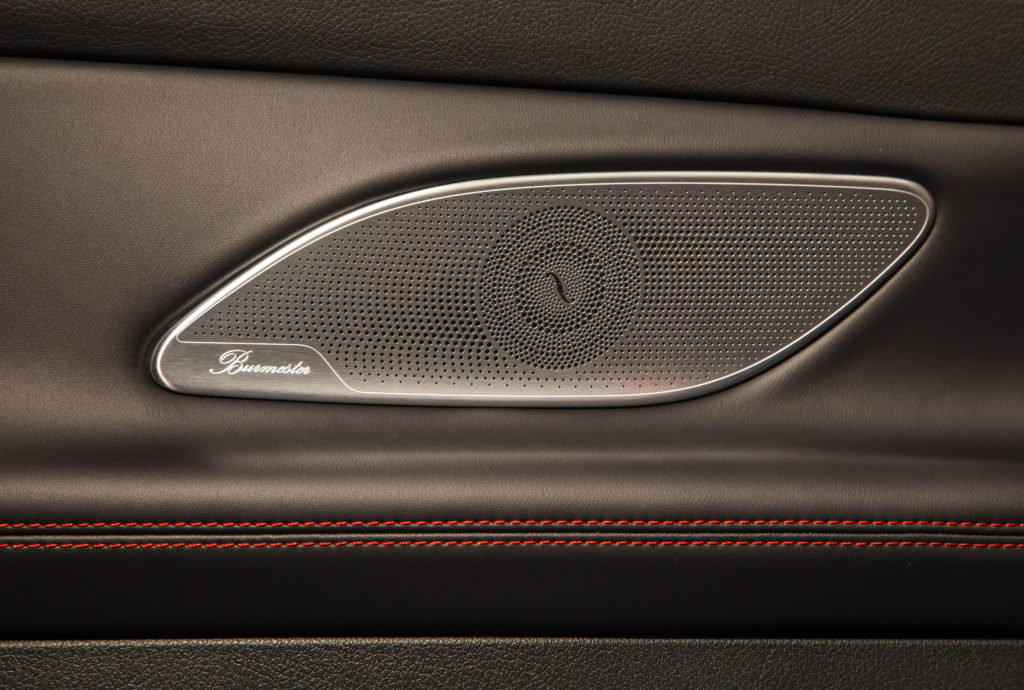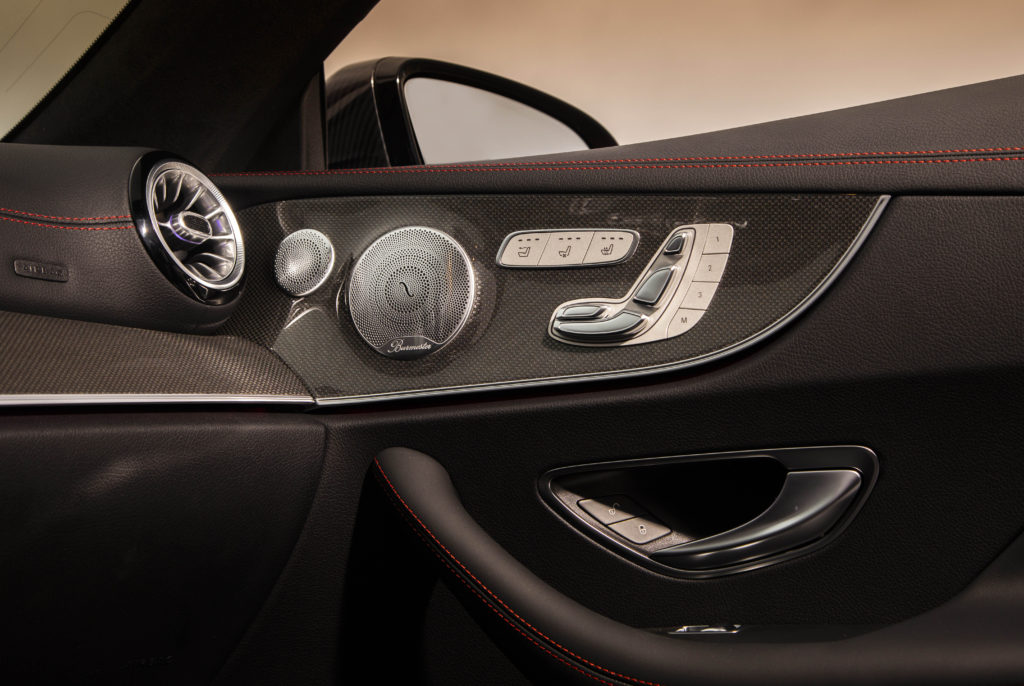 On the road, it handled in a more more planted way than the Genesis; G70 communicates well, lets you know just what is going on; E53 seemed to simply Panzer over the bumps. Hammering my tired 2002 E55 along the test route harder than l had any of the test cars, l found the same Panzer quality over the bumps. It is reassuring and real world fast: a poor surface, gravel, or a little dampness can be ignored, you still feel confident push on.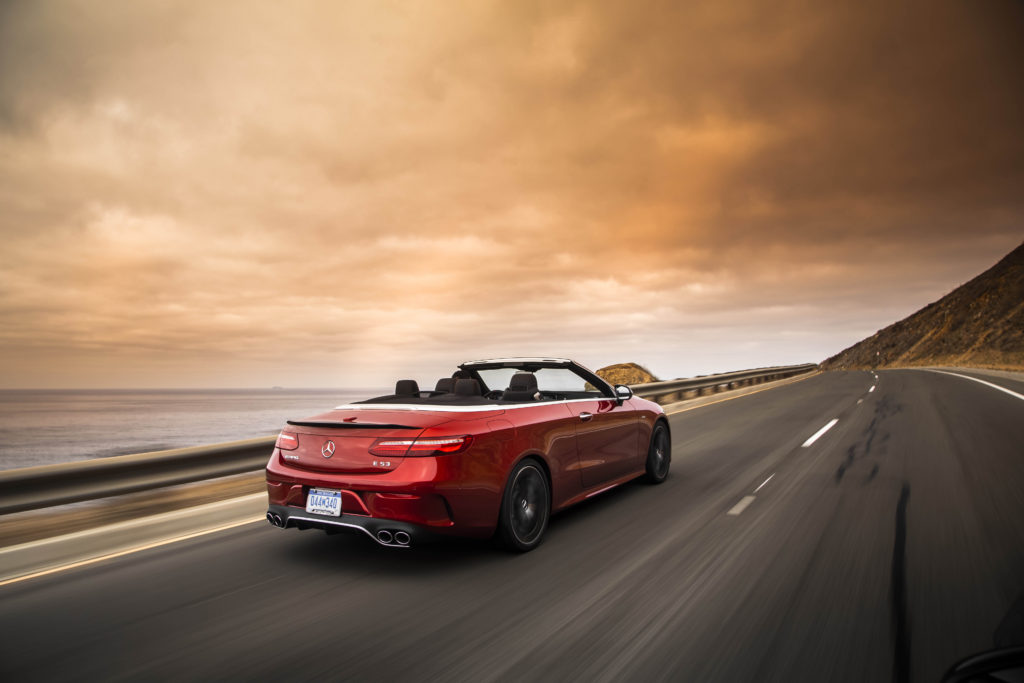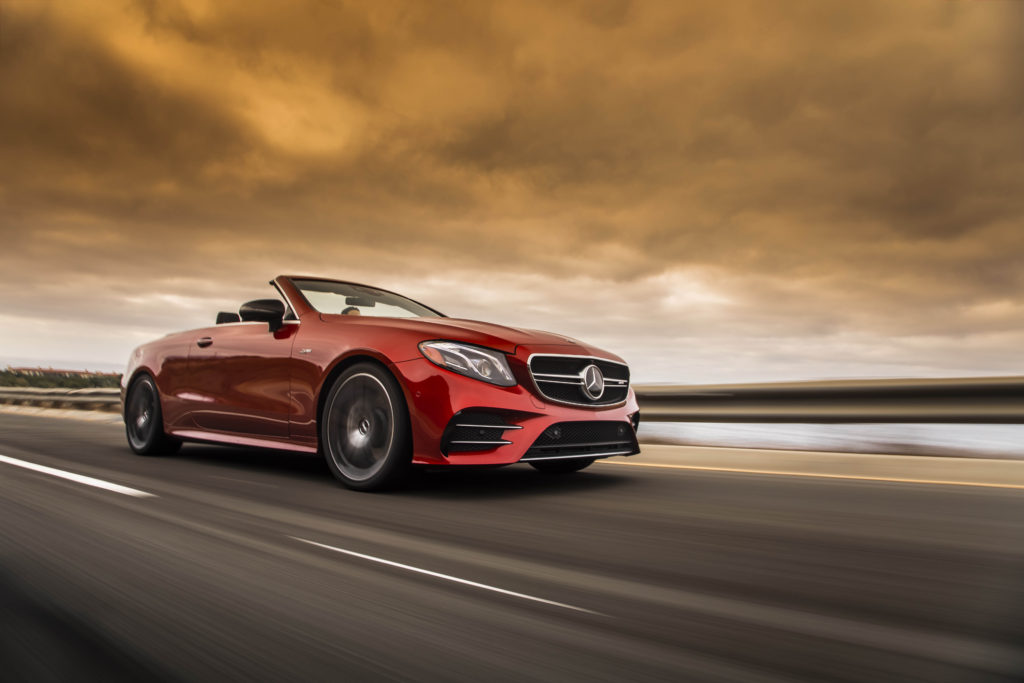 The E53 is a hybrid, and I was not aware of this until after a few miles of getting comfortable with it. When an open section of road appeared and I felt confident to fully open the throttle, the power came in a different way from my normally aspirated E55, and a different way from modern turbo mills; I felt the electric motor assist providing the low end torque and tailing off as the gas motor got into it's stride.
Overall, impressive as it was, the E53 left me cold. I read the average car buyer is 54; l bet the average E53 cabrio buyer is a good deal older than that.
In the final analysis, this new car doesn't offer really offer much more than my 02 E55. I like the nice interior but don't like how ostentation has replaced understatement. Also, you cannot beat the power delivery of a large displacement gas motor, Amen.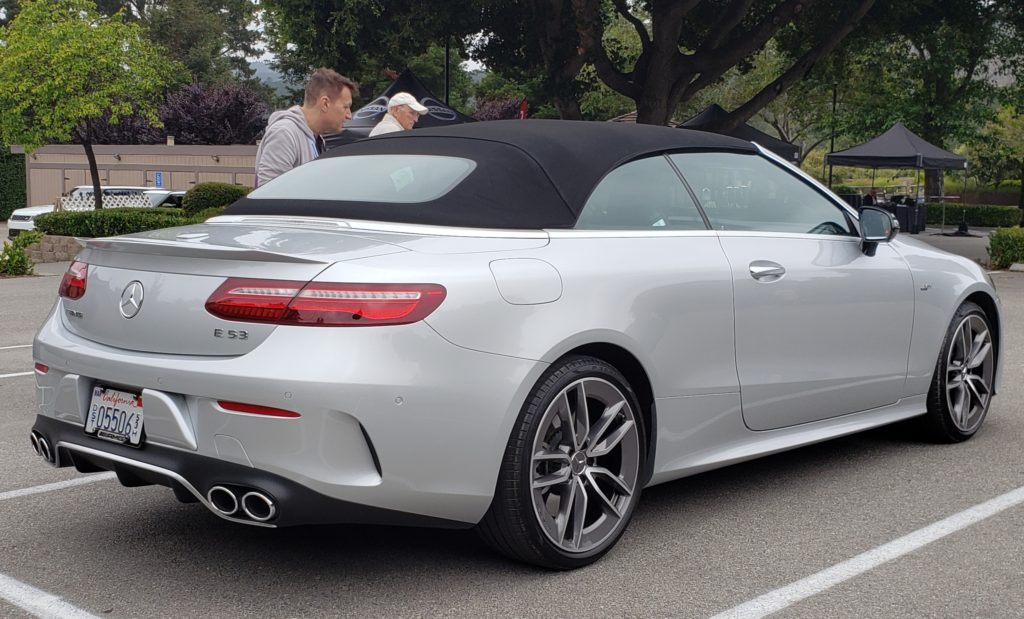 #MercedesAMG #E53AMG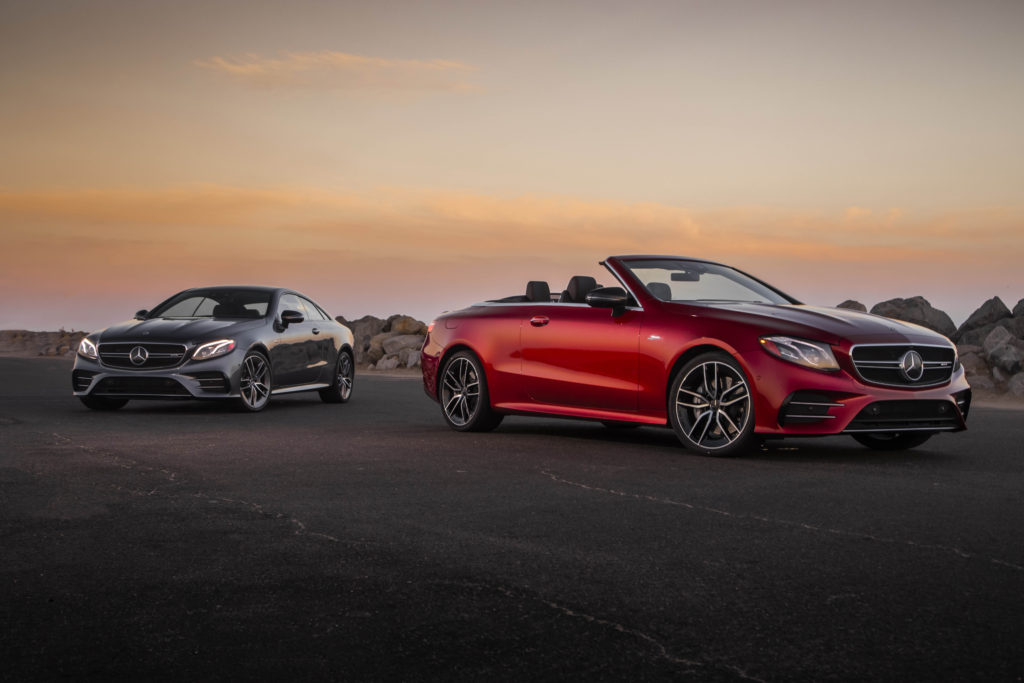 #MercedesAMG #E53AMG
Concluding Remarks:
Clearly the Genesis was best car here; the Benz was a fine car too, if uncharismatic. Which brings us to the $65k cheap glovebox 400hp three row SUV….it was fun, practical, and editing this story a few weeks after the event, the most memorable vehicle of the day. Suppose I really should try that Durango SRT, right?

With many thanks to everyone at the Western Automotive Journalists, Jaguar-LandRover, Page One, Ford, Chevrolet and Kia who made the day possible.
#WAJMEDIADAY19