Mille Miglia North America – Or Summers Gone Viral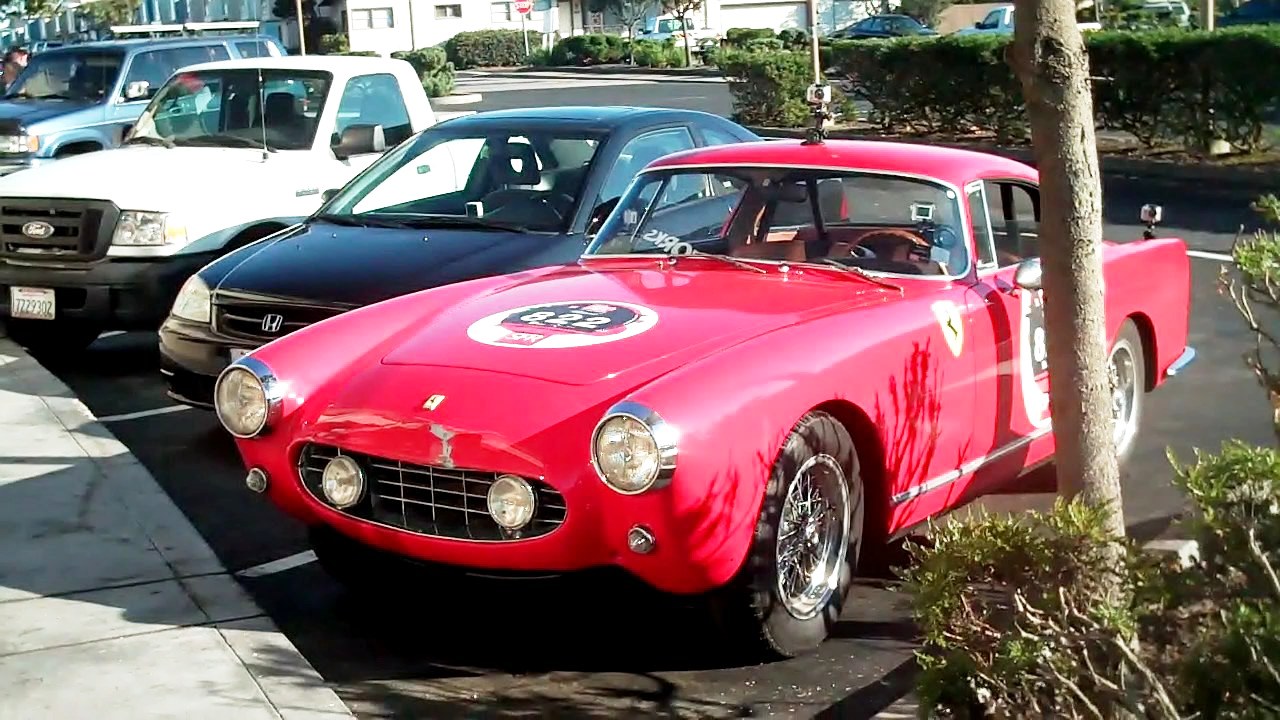 At the end of last year I was lucky enough to be invited to co-drive the Mille Miglia North American Tribute, alongside none other than Le Mans and "Victory By Design" legend, Alain de Cadenet. The car we used for the event was a 1956 Ferrari 250GT, with a Boano body, and the Columbo V12.
The event was filmed for Velocity, Discovery's motoring-specific channel, and the production team liked the idea of de Cadenet sharing a car with another Brit; an English accent is such a boon in North America. Amusingly, I appeared in the script, such as it was, as "Sidekick". The program aired at the end of last year, in glowing soft focus, and although I do say so myself, I looked alright. It has been fun showing it to friends and family, and even better on the couple of occasions when people have said to me "Oh, I know you, from TV….."
Now I know how Lindsay Lohan feels, drowning in celebrity…..
Naturally I have been meaning to write a magnum opus on the event and everything I learned from de Cadenet; he is every inch the Racing Driver you would hope he might be, full of unrepeatable politically incorrect comments, amazing racing stories ("Did I tell you about when I ran a Formula 1 team ? I was Graham Hill's boss….", or my favorite "…had a bad crash at the Targa, couldn't see out my left eye. I first realized it was working again a couple of weeks later when I was on the Mulsanne at Le Mans – I realized I could see Hunaundiers….") but I haven't managed that yet 😉
In the meantime, my celebrity has been looking after itself. You see, the Ferrari was inadequately prepared for the event. The go was OK, other than a sharp clutch making it easy to stall, but the stop was a real issue. Even after we stopped to bleed the brakes – see my video – it would take an ineffectual pump of the pedal to wake them up, and then a second or third pump to begin to retard the car, all the while with a vicious pull to the right.
So, it was a driving masterclass watching de Cadenet learn the car on day one, and then drive around the issues, while still really motoring on the event. The car, for its part, seemed to warm to the task in hand too, revving more cleanly and freely at the end of the three day 1000 mile event than it had fresh from the mothballs of storage at the start, and cornering and riding much better than it had before. Moral of the story – if you're going to buy an old Ferrari, make sure you drive it, since usually the owners don't, and these old cars seize up like geriatrics if they are left sitting too long.
The sharp clutch and grabby brakes came home to roost at the end of the event, as we stopped on the finishing ramp -to avoid stalling stage left, de Cadenet gave it some revs….
We didn't realize what happened at first – I remember de Cadenet saying "F*ck, I didn't hit them did I? How could I?" and then "Well, I'd better get out to help Miss Mille up…." I had already begun to decompress from the stress of navigating for a professional racing driver, while being filmed for a TV program, so remained in the car, stunned.
I saw the clip shortly after the event, however I was involved in writing a presentation about the Mille Miglia last week, and was amazed to see that almost a year on, the film has 1.2 million hits ! Including lots of comments from tossers who weren't there and therefore don't seem qualified to reject the dodgy brakes story.
I made my own film of the event:

With Alain de Cadenet on the 2011 Mille Miglia North America, Ferrari 250 GT from Jonathan Summers on Vimeo.